Canada Fishing Guides
Fishing Charters, Outfitters & Lodges in Canada
Come fish our oceans for salmon, tuna and halibut. Come cast for trout, northern pike, walleye, arctic char and more on our lakes and rivers
Canada fishing guides are specialists in ocean and fresh water fishing. Fishing in Canada is so popular we enjoy many fishing television shows, online influencers and media personalities. Visitors can fish throughout Canada in every province and in every territory. Travelers from around the world visit Canada to fish for salmon, tuna and halibut in our oceans and trout, northern pike, sturgeon, pickerel, walleye, arctic char and bass in our thousands of lakes and rivers.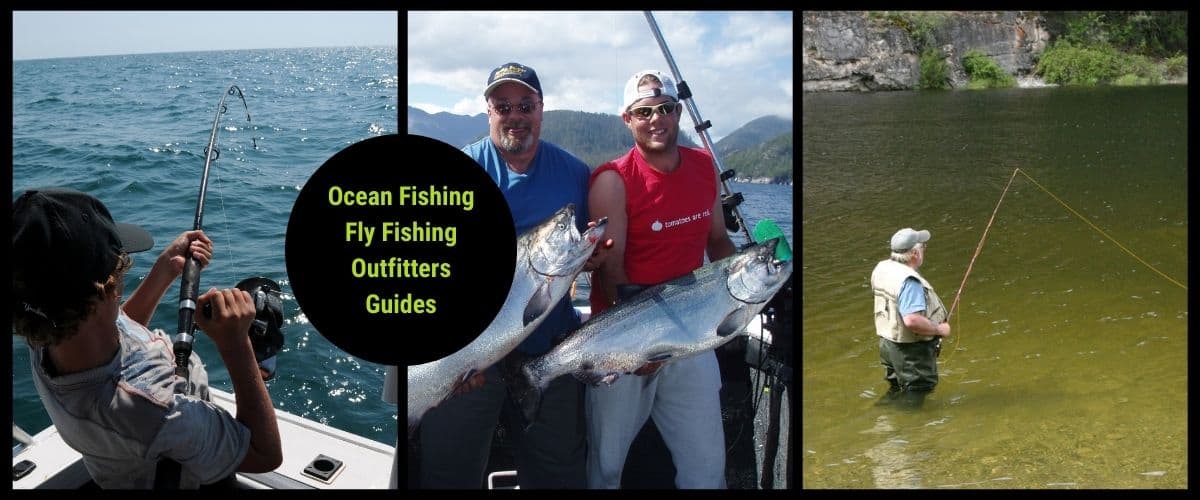 Canada Fishing Guides and Lakes, Oceans, Rivers
Canada enjoys over 31,700 lakes and 8,500 rivers. We are a coast-to-coast-to-coast fishing country. Therefore visitors can fish the Pacific Ocean, Atlantic Ocean and the Arctic Ocean. And there are various ways to fish our waterways in Canada including angling, fly fishing, trolling and shore fishing. In all instances fishing licenses are required and regulations are strictly enforced.
Fishing Seasons
There are fishing seasons opening and closing for various types of fish in certain regions of the country all year long. In many areas there are catch limits in place to protect from over fishing. On some Canadian lakes and rivers catch and release fishing is enforced. Canada is a very big country so the best time to fish is based on regional location. However, to summarize, the best time to fish is between May to September. If scenery is part of the fishing experience, September with its Autumn colours is the best season.
Canada Fishing Guides
Fishing charters and guides provide the expertise, equipment and knowledge of the local waterways. All Canadian charters provide a boat, fishing rods and tackle. All river guides provide rod, hip waiters and tackle. Some of the other extras that may, or may not be, provided include accommodations, meals, transportation, on site freezers and fish packaging. Ask questions for the details of your fishing vacation package. Refer to our fishing guides listed in each community.
Fishing Lodges in Canada
Canada enjoys the worlds longest coastline measuring at 243,000 kilometres long. There are ocean fishing lodges on all three coastlines. Add in the remote fly-in lakes and you have a lot of Canadian fishing lodges. There are fly-in lodges located throughout the back country of Canada on some of the remote lakes and rivers. Remote Canada fishing lodges may only be accessed via a floatplane , bush plane or long gravel roads. Most ocean, lake and river fishing lodges provide accommodations plus meals, equipment, transportation, guides and entertainment.
Canada Fishing Guides
Plan your next fishing charter, outfitter and guide with us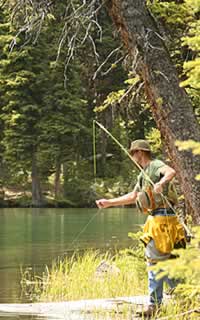 Some Canada Fishing Tips
- bring hat, sunglasses and sun screen.
- must have fishing license.
- Canada fishing guides, tours and lodges provide the best results for visitors.
- fishing guides and tours are available near most popular fishing
destinations.
- fishing lodges provide equipment, guides and accommodations.
- pack water proof matches and lighter.
- have good hiking boots for shore fishing and hiking to fishing holes.
- always lock vehicle in parking lot while fishing.
- fishing outfitter stores are a good source for fishing advice.
- be quiet as you fish gets best results.
- choose your location well for best results.
- dress in layers as weather changes quickly out on the water.
- check weather prior to fishing.
- switch up your bait if fish are not biting.
- pack a waterproof flashlight.
- do not litter on the water.

Let your Canada fishing outfitter, charter or guide know you researched fishing on ehcanadatravel.com