Canada Wind Sports
Wind Sports in Canada
Coming Soon - | P.E.I. || Nova Scotia || Newfoundland || Quebec |
Canada wind sports are enjoyed on the many lakes and ocean coastlines throughout some of the windiest regions of Canada.
The most popular Canada wind sports include sailing, windsurfing, kite surfing, hang gliding, ice boating, parasailing and hot air balloon rides.
Wind surfing, kite surfing and parasailing are enjoyed on windy Canadian lakes and oceans during the summer. There are many parks and day use picnic sites in Canada with easy access to shorelines for launching wind sport equipment. There are rentals, guides and lessons provided in some communities.
Ice boating (ice sailing) is a growing winter activity enjoyed on the frozen lakes in Canada. After the temperatures drop and the lakes freeze over one can sail across the frozen surfaces at break neck speeds. There are equipment rentals and lessons in certain communities.
Canada hot air balloon rides are enjoyed where ever and when ever the wind is blowing. Tours in a hot air balloon are available in a few selective cities in Canada, usually near the major urban centres. They are a great way to sightsee from the air.
There are wind surfing and kite surfing rental shops near the major resort centres in Canada providing equipment rentals. In many cases these same communities provide tours. Guides and lessons are an ideal option for the beginner as they include the wind sport equipment and instructors.

Some Canada Wind Sport Tips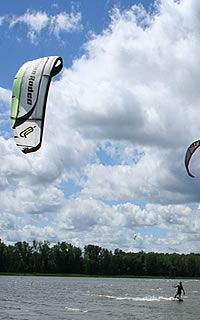 - beginners should always take lessons.
- be prepared to swim and get wet on water wind sports.
- should always wear a life jacket.
- research area for rental availability.
- pack sunscreen.
- bring a spare set of dry clothes.
- pack sunglasses and hat for when not enjoying an activity.
- rest before you get tired as wind sports can be exhausting.
- when falling into water close your mouth to avoid flushing your lungs with a whole bunch of water.
- beware of boats and other water craft.
- always wind sport in the company of others in case of emergencies.
- lock your vehicle and hide valuables while enjoying a wind sport.
- pack a lunch as you will build up an intense hunger.
- drink plenty of water.