Canada Wind Sports
Canadian outdoor adventures powered by wind
wind surfing, kitesurfing, kiteboarding, paragliding, hang-gliding,
ice boating, parachuting, air ballooning
Canada wind sports are enjoyed on the many of our lakes, mountains, valleys and ocean coastlines. The most popular wind sports include kitesurfing, kiteboarding, paragliding, wind surfing, hang-gliding, ice boating, parachuting, and air ballooning.
Coming Soon - | P.E.I. || Nova Scotia || Newfoundland || Quebec |
Types of Wind Sports in Canada
Wind sports in Canada covers a large swath of activities. The many oceans, valleys, mountains and lakes provide plenty of opportunity for riding the winds. Canadians enjoy wind sports including kitesurfing, kiteboarding, paragliding, hang-gliding, ice boating, parachuting, wind surfing and air ballooning.
Guides and Tours
Resort communities, remote towns and lakes near Canadian wilderness backcountry and lakes tend to be prime locations for many recreational wind sports. Often these destinations provide rental shops and guides which provide the equipment, lessons, and sometimes the transportation to and from launching staging areas.
Self Guided Wind Sports
For those who arrive in Canada with wind equipment in hand and for those who live in Canada and travel the country seeking wind, there are many public staging areas for launching your next adventure.
Canada Wind Sports

Some Canada Wind Sport Tips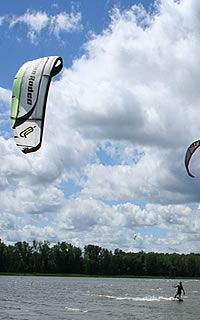 - beginners should always take lessons.
- be prepared to swim and get wet on water wind sports.
- should always wear a life jacket.
- research area for rental availability.
- pack sunscreen.
- bring a spare set of dry clothes.
- pack sunglasses and hat for when not enjoying an activity.
- rest before you get tired as wind sports can be exhausting.
- when falling into water close your mouth to avoid flushing your lungs with a whole bunch of water.
- beware of boats and other water craft.
- always wind sport in the company of others in case of emergencies.
- lock your vehicle and hide valuables while enjoying a wind sport.
- pack a lunch as you will build up an intense hunger.
- drink plenty of water.