Canada Resorts, Ranches, Retreats
Stay with any of our Canadian guest ranches forest retreats, mountain and beach resorts
Canada golf resorts, guest ranches, wilderness resorts, health retreats, hot springs, scuba dive resorts, ski resorts and many others
Canada resorts, lodges, guest ranches and retreats provide some of the most complete accommodation and activity vacation experiences in Canada. Many of our Canadian resorts, retreats and ranches are embedded into nature surrounded by wide open spaces and the thrill of adventure outside your front door. Resorts, ranches and retreats in Canada vary greatly in location, size, price, packages, amenities, services and proximity to adventure. Do your research.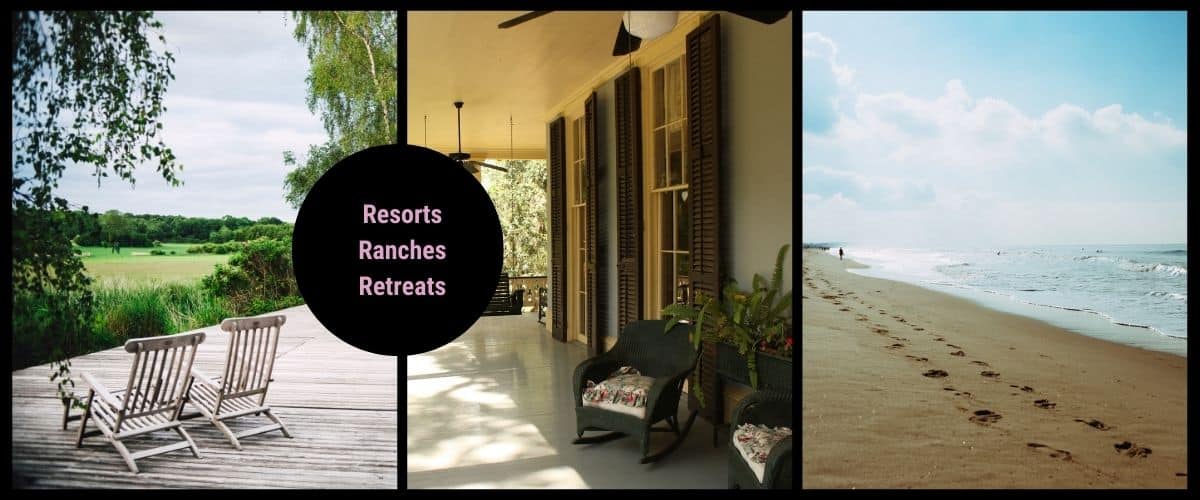 Canada Resorts
Canadian resorts and retreats are very location specific and activity focused. Not all but most. Some are located in a remote picturesque setting while others are located centrally in an urban centre. There are ranches, retreats and resorts in Canada fronting beaches, hiding in forests, lounging on lakes, hugging ocean coastlines, hanging with mountain peaks, and relaxing on a rivers edge. Then you have the urban resort close to services in full view of the public.
Canadian Adventure Resorts
Canada retreats and ranches usually cater to a specific group of travelers from the adrenaline junky to the relaxing couple soaking up the rays at the pool. Some of the types of specialty resorts and retreats in Canada include horseback riding guest ranches, spa clubs, outdoor wilderness resorts, health retreats, golf course resorts, fishing lodges, hot spring retreats, scuba dive resorts, business retreats, mountain ski hill resorts, snowmobile resorts and many others.
Resort Amenities
Not all resorts are created equal. Some of the extras that Canada resorts and retreats may provide include access to spas, restaurants, bars, golf courses, tours, guides, marinas, ski hill, conference facilities, banquet rooms, sports equipment rentals, casino, theatres, gift shops, coffee shops, room service, car rentals, liquor stores, multi-media rooms, swimming pools and workout rooms.
Canada Resorts, Ranches, and Retreats
Canadian horseback riding, spa, golf, ski, wellness, beach, hot springs, scuba diving and more

Canada Resorts, Retreats and Lodge Accommodation Booking Tips
- confirm what is the price of the accommodation with taxes included?
- confirm what exactly is included in your package?
- confirm travel arrangements coming and going from resort?
- confirm if transportation to and from airports, ferries, etc is provided on arrival? (if necessary)
- book any activities and attractions prior to your arrival to avoid disappointment.
- pack proper clothes and sporting toys for booked activities.
- confirm if parking is free or paid? Is it underground or outdoor parking? Is there security?
- confirm what amenities are included that are important to you? tub not shower, balcony, jacuzzi tub, internet, room fridge, satellite tv, size of beds?
- ask about a special price for extended nights? (if applicable)

- and please mention you saw their Resort, Lodge, Guest Ranch or Lodge on our ehCanadaTravel.com website.