Canada Flightseeing & Air Tours
Sightseeing Tours and Adventures From The Air Throughout Canada
Floatplanes, Bush Planes and Helicopter Tours treat visitors to some of the most remote Canadian scenery
Canada flightseeing and air tours located throughout the country provide an opportunity to sightsee from the air some of the most amazing Canadian landscapes and remote backcountry wilderness areas in Canada. Sightseeing tours from the air are courtesy of the many floatplanes, bush planes and helicopters with dot our country from coast-to-coast-to-coast.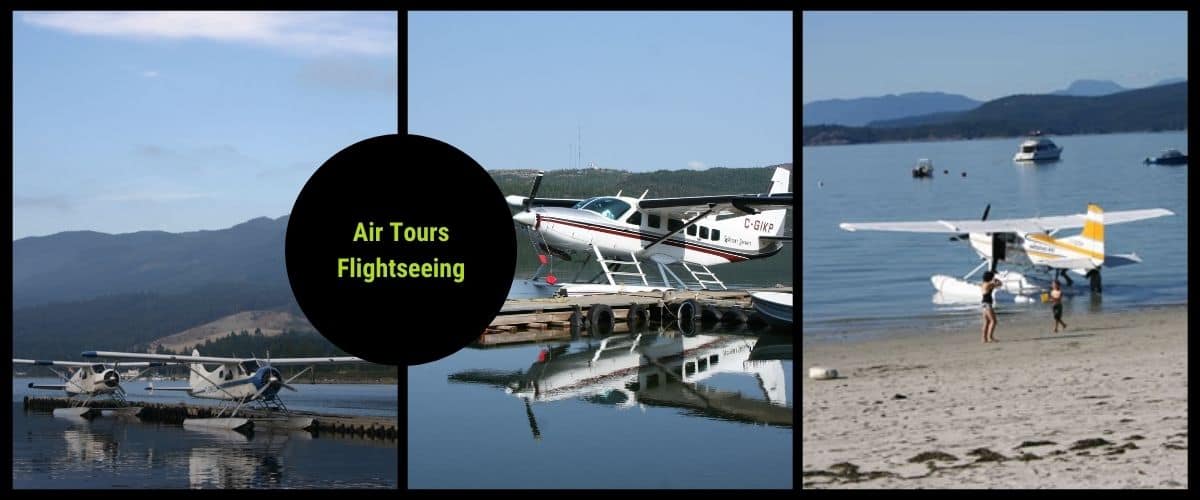 Canada Flightseeing Transporation
Canadian flightseeing operations provide their tours via air transportation. Most popular mode of transportation includes floatplanes (sea planes or hydro planes), helicopters and bush planes. The type of transportation largely depends on the geography of the region and if landing is part of the sightseeing tour.
Remote Wilderness Adventure Activities
Canada flightseeing tours and guides also provide access to remote wilderness adventure destinations. Floatplanes, helicopters and bush planes transport groups to remote locations for backpacking, wildlife photography, wilderness camping, hunting, fishing, surfing, canoeing, snowboarding and backcountry skiing. Canada flightseeing tours and guides provide opportunities to view glaciers, waterfalls, wildlife, mountain ranges, remote parks, historic sites, hot springs, islands and lakes and rivers.
Best Time For Flightseeing
Most Canadian flightseeing companies operate their tours from local airports and float plane bases. The type of flightseeing tour depends on the local geography and the type of plane. Tours run year round depending on the weather conditions.
Flightseeing tours range from 1 hour flyovers to a full day of sightseeing bliss, Some Canada flightseeing tours land their planes and helicopters so the sightseeing groups can explore on foot, have a picnic and/or take pictures.
Canada Flightseeing and Air Sightseeing Tours

Some Canada Flightseeing Tips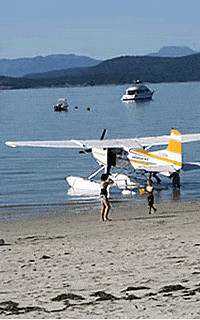 - research various types of flightseeing tours as prices vary.
- ask what is included?
- ask if their are opportunities to touch down and explore on foot.
- ask tour operators what you should bring?
- rain is not an issue in most cases as it makes for better waterfalls and rainbows.
- camera is a must item and make sure you use a fast film (ASA/ISO 400 or 800) and a polarizing filter to cut glare if you have one.
- ask if the tour company includes a video - as some do. This will allow you to enjoy your tour as opposed to looking through a lens the whole trip.
- bigger groups can sometimes customize your flightseeing tour so ask the tour company.
- if you are easily air sick then you may want to consider some motion sickness medication prior to your flight.
- morning is usually the best time of day to enjoy a flightseeing tour.
- if you are in a group, the front seat is the prime spot to book. Ask for the seat when booking.
- if you have a set of binoculars make sure you bring them along.