Canada Campgrounds & RV Parks
Canada National and Provincial Parks: Created to protect and preserve ecological sensitive areas and wildlife species in Canada. Managed by Parks Canada and provincial park boards. National and provincial parks may or may not include serviced and powered sites, beaches, boat launches, equipment rentals, picnic areas, washrooms, showers, concession stands, playgrounds, amphitheaters, hiking, backpacking and mountain biking trails. Selected Canada parks include campgrounds, rv sites and wilderness backcountry campsites. Some are easy access campgrounds via paved roads close to urban centres while others are more difficult to access. Paid admission for most campgrounds.
Canada Campgrounds and RV Parks come in all shapes and sizes - there are wilderness campgrounds, commercial rv resorts, campground retreats, private campgrounds, provincial and national parks, backcountry campsites, recreation forest sites and regional and community campgrounds and rv parks.
Canada Regional, Municipal and Community Campgrounds and RV Parks: Canada campgrounds managed by local communities and regional districts. Tend to be easy access campgrounds located within city limits. Campground hosts are, generally, on site. Some of the parks are managed by local interest groups. Amenities could include serviced and unserviced sites, washrooms, showers, picnic shelter, beach, boat launch, food concession, equipment rentals, playgrounds, walk to town, etc. Paid admission for campgrounds.
Privately Owned Canada Campgrounds: Campgrounds and RV Parks owned and managed by the private sector. Campgrounds vary on all fronts - from size of campsite to quality of service to amenities provided. Campsites tend to be smaller and more packed together. Private campgrounds are located within city limits and throughout rural areas of Canada. Owners tend to live on site. Amenities could include serviced and unserviced sites, washrooms, showers, beach, boat launch, food concession, equipment rentals, playgrounds, pools, gift shops, etc. Paid admission for campground.
Canada RV Campground Resorts: Campgrounds designed for RVs only. All RV pads tend to be serviced and with power and tv hook ups. Most RV Resorts are located close to urban centres while some are located in remote wilderness areas. Most are accessed from paved roads. Amenities could include a club house, bbq shelter, games room, tv room, common lounge area, group fire pits, washrooms, showers, beach, boat launch, food concession, equipment rentals, gift shops, restaurants, etc. Paid admission for RV campground.
Canada Wilderness and Back Country Campsites: Remote wilderness campgrounds accessed via a hiking, backpacking, mountain biking, horseback riding, boating, canoeing or kayaking adventure. No road access is available to most wilderness campsites. Campsites are bare-bones, no frills camping. Many provide a tenting area, pit toilets and food caches. Some provide huts and cabins. All supplies are packed in and must be packed out leaving no trace behind. Most of the wilderness campsites are located in remote national and provincial parks. Paid and free admission for wilderness camping.
Canada Recreation Campsites: Canada campgrounds maintained by the forest industry located in remote areas and in communities. Most are accessed via extremely rough roads and not suitable for RVs. Forestry sites are not available in every province. Forestry sites are most suited for 4x4 campers, outfitters and backcountry tenters. Recreation sites provide little services besides a campsite, fire pit and pit toilet. Free admission and paid admission campgrounds.

Canada Campground and RV Parks Camping Tips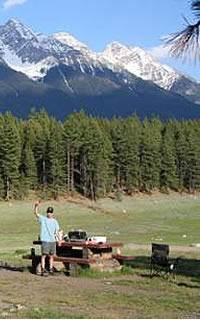 - book prior to arrival on weekends and holidays.
- specify size of RV, camping party and number of vehicles when booking so you are fitted with a proper sized campsite. In most cases 1 campsite permits 1 vehicle and 1 camper only.
- plan for all weather conditions. Bring bug repellant, rain gear and sun screen.
- obey any campfire bans that may occur during the summer seasons.
- leave the campsite clean for the next group.
- bring an axe for cutting wood (bring wood as wood is expensive on site)
- bring a flashlight for power outages.
- bring your toys like fishing gear, canoe, golf clubs, book, etc
- bring both, cold and warm clothing for layering during day and nights.
- bring water (if applicable)
- boil water in the back country.
- do not feed wildlife.
- respect noise bylaws.
- in campgrounds with showers - shower prior to 7 AM and after 12 PM to avoid the morning rush. Make showers short.
- and please mention you saw their Canada Campground on the Canada EH Tourism Network.