Sandy Beaches in Canada
Come and de-stress, relax and/or have fun at one of our many Canadian beaches
Canada beaches rest on our lakes, rivers, and ocean coastlines from coast to coast to coast
There are many sandy beaches and pebbled beaches in Canada. Not sure if there is an official count? But what we do know is that Canada enjoys 240,000 kilometres of coastline, 31,700+ lakes and 8,500 rivers and that equals a lot of beaches. We are fortunate to have all types of Canadian sandy beaches, from the long remote white sand beach all to yourself to the populated sandy beach resort communities with all the night life, amenities and services one could ask for.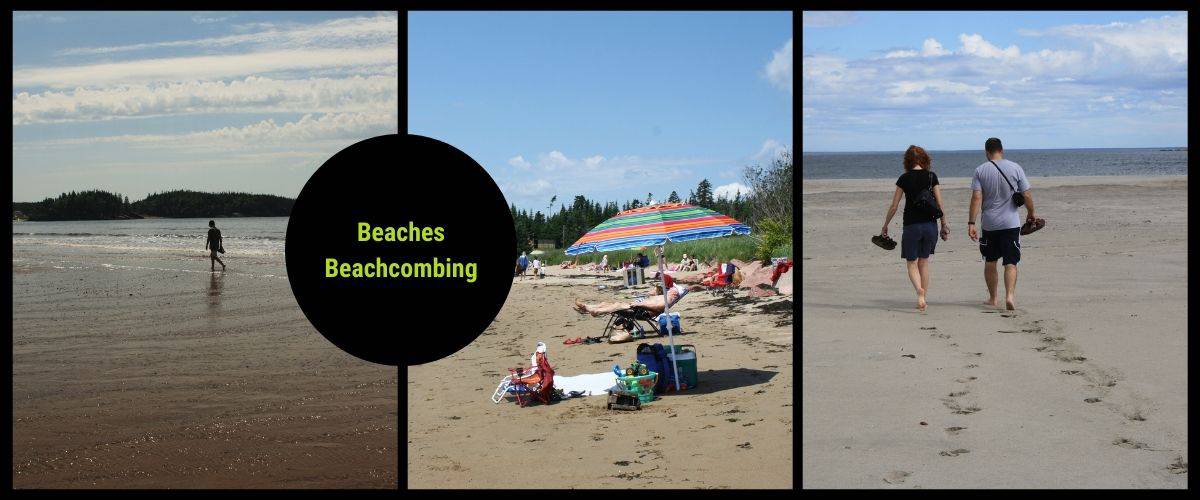 Community, Provincial, Territorial and National Park Beaches
Canada beaches which are the most popular for fun, activities, amenities and services are, generally, easily accessible. Therefore these beaches attract larger crowds and are destinations for relaxation, sun tanning, socializing, popular events and activities. Located on many of these beaches may be vacation home rentals, campgrounds, B&Bs and resorts. Some of the more popular activities enjoyed on these Canadian beaches include swimming, beachcombing, volleyball. kayaking, camping, canoeing, birdwatching, wind surfing, boating, sailing, kite surfing, concerts, dances, scuba diving, etc.
Types of Canadian Beaches
Canada beaches are all not created equal. Some are warmer than others. Some are white sand, some red, some pebbled and some boulder. Depending on the beach some are a mix of sand, pebble and boulder. Some beaches are decorated in broken sea shells, seaweed, driftwood logs, polished rocks and/or flat rock. However, it is safe to say every province and territory has Canadian beaches. The type of beach depends on your mood. Sun tanning, beach activities and relaxation tends to match well with sandy beaches. Beachcombing, exploring sea life and accessing waterways tends to suit the boulder and pebble beaches. This is not written in stone.
Popular Sandy Beach Destinations in Canada
Canadian beaches make many top 10 lists because of the lack of grounds and length of the beach. Therefore, it is safe to say these beaches attract crowds. Many of the more popular commercialized sandy beaches include concession food stands, picnic areas, docks, swimming areas, life guards, volleyball nets, playgrounds, showers, paid parking, washrooms and/or fairgrounds. Most of these beaches are easily accessible by paved roads and not hard to miss.
Remote Wilderness Beaches
The remote wilderness sandy beaches located in Canada tend to be accessed by a long gravel road, hiking trail or a long-haul backpacking trail. in the wilderness sandy beaches tend to be less populated, more rugged with a lot less services (and in many cases no services at all).
Remote Beach Vacations
Boating, off roading, kayaking, canoeing and flightseeing tour companies provide transportation to some of the more remote sandy beach resorts and wilderness retreats located on some of Canada's far away islands and wilderness back country regions. Price, means of transportation, what is included vary per tour company. There are tour companies providing day trips and there are some providing multi day excursions. What is included in each multi day tour varies. Some tour companies, may or may not , include camping equipment, sleeping bags, accommodations, meals, lessons and entertainment.
Canada beaches come in all shapes, colours and sizes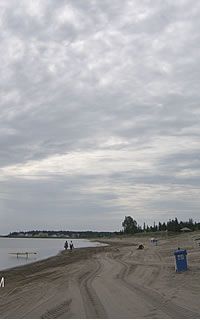 Some Canada Beach Tips
- bring hat, sunglasses and sun screen.
- watch children as not all beaches have lifeguards.
- swim within the roped off swimming area.
- arrive early for best beach spots.
- time your arrival with the tides.
- pack a picnic as not all beaches have food concessions.
- do not swim near boat launches.
- do not leave children unattended.
- show consideration for others.
- do not play loud music.
- please respect beach operation hours.
- be aware parking at some beaches is at a premium.
- bring un umbrella for shade as some beaches have no tree cover.
- do not litter.