Houseboat Rentals in Canada
Canadian houseboating adventures, lakes and rentals
Book a houseboat today or sign up for a houseboating tour or guide.
Houseboat rentals in Canada is largely a summer season activity enjoyed on some of our larger fresh water lakes. Therefore these houseboating-friendly lake destinations in Canada are home to some very large houseboating rental fleets, houseboating events and sightseeing tour boating companies.
Houseboat Rentals In Canada
The majority of the houseboat adventure companies in Canada operate in the provinces of British Columbia and Ontario. These provinces are houseboating destinations because of the high number of lakes, the warmer weather, longer seasons and the abundance of larger communities located on or near these lakes.
When To Go Houseboating in Canada
In most cases the Canadian houseboating season begins in May and continues until late September. Canada houseboat rentals for self guided adventures are generally popular for small private group functions like reunions, family gatherings, business retreats and weddings.
Where To Go Houseboating
The Canadian houseboating season is relatively a summer season activity. For long weekend bookings it is advised to book months, if not years, in advance. Popular destinations across the country include Mactaquac in New Brunswick, Réservoir Gouin in Quebec, Lake of the Woods in Ontario, Tobin Lake in Saskatchewan, as well as, Lake Koocanusa, Shuswap Lake and Cowichan Lake in British Columbia.
What Is Included In Houseboat Rentals in Canada
Houseboat rentals vary in quality, amenities and price - most noticeably in quality. Some of the features included with a Canadian houseboat may include a hot tub, ski doo, bar, sleeping quarters, viewing deck, kitchen, diving board, satellite tv, dinghy and sound system.
Houseboat Rentals in Canada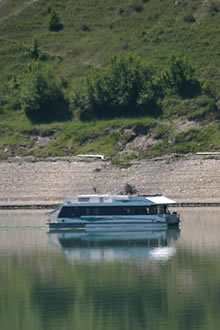 Some Canada Houseboating Tips
- research houseboating companies as per your likes and dislikes.
- confirm size of houseboat.
- confirm people capacity of houseboat.
- confirm the amenities included with your houseboat.
- book in advance for best selection of houseboat.
- listen carefully to the orientation session which is provided for every houseboat rental.
- travel slow and gas will last allot longer.
- prepare for rain and pack entertainment for the indoors if required.
- make sure to tie up the houseboat properly when exploring on shore.
- have someone always at the controls when houseboat is in motion.
- pick your mates carefully as the quarters are tight and wrong mates can quickly ruin a vacation.