Canada Boating and Sailing
Boating and Sailing Marinas and Marine Destinations
Canadian boating and sailing charters, tours, guides, and rentals
Canada boating and sailing are popular marine activities on our oceans, rivers and lakes. Boating and sailing is a Canadian adventure within many other adventures as well, On our Canadian oceans, lakes and/or rivers boating and sailing can include fishing, sightseeing, island hoping, houseboating, bird watching, water skiing, tubing, wake boarding and so much more.
Canada Boating and Sailing Marinas
Boating and sailing in Canada is serviced by the thousands of marinas dotting the shores of our waterways. Canada' boating industry enjoys 3 ocean coastlines, over 31,000 lakes and over 8500 rivers in Canada. Marinas vary depending on location and services. Some provide gasoline only. However, on the popular waterway routes and ocean destinations there are full service marinas with restaurants, pubs, washrooms, lodging, ship yards, engine shops, pubs, boat lifts, showers, power, moorage and more.
Boating and Sailing Charters, Tours and Guides
Both boating and sailing charter companies provide, either, day tours and multi day adventures or both. Charter and tour companies, both ocean and lake, provide the thrill of the water with many of the luxuries of home including sleeping quarters, meals and entertainment.
Arrive With Boat In Tow
For those who visit Canada with a boat in tow there are plenty of boat launches and marinas on Canada's major waterways. Self guided boating and sailing groups must be experienced with undertows, currents, changing weather conditions, fishing regulations, reading depth charts, tide tables and maps. The prime boating season in Canada is during the late spring, summer and early fall seasons.
Boat Rentals
Some Canadian businesses, resorts and retreats located on the oceans and on the bigger lakes and rivers in Canada provide boat rentals for fishing, water skiing and wake boarding adventures. There are also a few leasing companies which arrange rentals of large yachts and cruisers for multi day adventures.
Canada Boating and Sailing

Some Canada Sailing and Boating Tips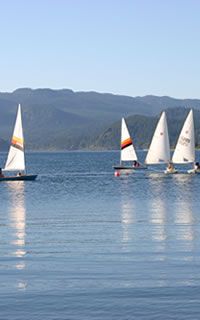 - bring hat, sunglasses and sun screen.
- bring camera, video and binoculars.
- always wear a life jacket.
- laws prohibit drinking and boating.
- be considerate of others.
- always lock vehicle in parking lot while boating.
- pack a picnic for when you find that special spot.
- do not cause waves near public areas.
- follow navigation buoys when boating on the ocean.
- carry tide tables and marine charts when on the water.
- check weather prior to boating.
- beware that weather changes fast on the water.
- tie up boats well when on shore.
- be courteous of others at the boat ramps.
- do not litter on the water.

Let your tour, charter or guide know you visited ehcanadatravel.com