Canada Hiking Trails

Canadian hiking trails explore our mountains, grasslands, coastlines, lakes, rivers and more.
Hiking Trails, Walking Paths and Wilderness Backcountry Trails in Canada
Canada hiking trails and walking paths are enjoyed year round in every province and territory, however, access to the trails is largely dependent on the weather, terrain and the geography of the region. There are thousands of day hikes in Canada which are level, casual and easy going - taking less then an hour to complete. However, there are hundreds more trails which will challenge the hiker with high elevation climbing, crossing treacherous terrain and covering many kilometres.
Quality of Hiking Trails in Canada
Canada hiking trails vary in maintenance across the country. There are Canada hiking trails that are in good and bad shape. The popular day hikes which experience high usage are generally the best maintained trails. These trails tend to have trail maps, large parking lots and pit toilets located at the trailhead. More importantly, these quality Canada trails tend to be well signed with tree markers, flags and painted tree rings.
Hiking Groups and Clubs
In the major hiking destinations throughout Canada there are hiking tour groups. These groups include an experience guide. Guides provide the experience in planning routes, preparing for weather and providing extras which may include meals, accommodations and entertainment. Some extreme guides provide trail blazing adventures as well.
Prepare for Hiking in Canada
All hikers, group or alone, need to be properly prepared for the Canadian wilderness when hiking. Never hike in the Canadian wilderness without leaving notice with someone on where you are and when you will be back. There are some necessities when hiking in Canada which should not be ignored. It is important to have a good pair of hiking boots, dress in layers and bring a hat, bug spray and sunglasses. Always make sure to pack water, food, matches, warm clothing and rain gear (especially in the high elevations) for unpredictable weather. Always keep your distance from wildlife. And pack out what you pack in.
Hiking Trails in Canada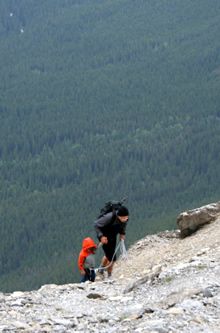 Tips for Canada Hiking Trails
- research hiking trails based on your fitness level.
- always prepare for weather as conditions change fast in Canada.
- wear good hiking boots.
- do not approach or feed wildlife.
- pack plenty of water.
- pack sunglasses, hat and sunscreen.
- always have bug repellant available.
- let others know your hiking destination in case of emergency.
- dress in layers.
- lock vehicle and all items should be stored out of sight.
- always stay on the trail - no short cutting.
- pack out garbage. Do not litter.
- do not pick wildflowers or take items from the trail.
- trails are shared with other activities in some areas. Keep your head up.
Let your hiking guide know you researched hiking on ehcanadatravel.com