Canada Surfing
Lessons, rentals and surfing schools in Canada
Plan & book surfing with our participating surf shops & schools
Canada surfing adventures are enjoyed on the Pacific Ocean (west coast of Canada), the Atlantic Ocean (east coast of Canada) and some of our fresh water lakes and rivers. Some Canadian surfing locations are easily accessible by car and bike while other surfing destinations are more remote and secluded and can only be reached via floatplane, helicopter and boat. Our ocean, lake and river surfing destinations help make the country a top year-round surfing destination.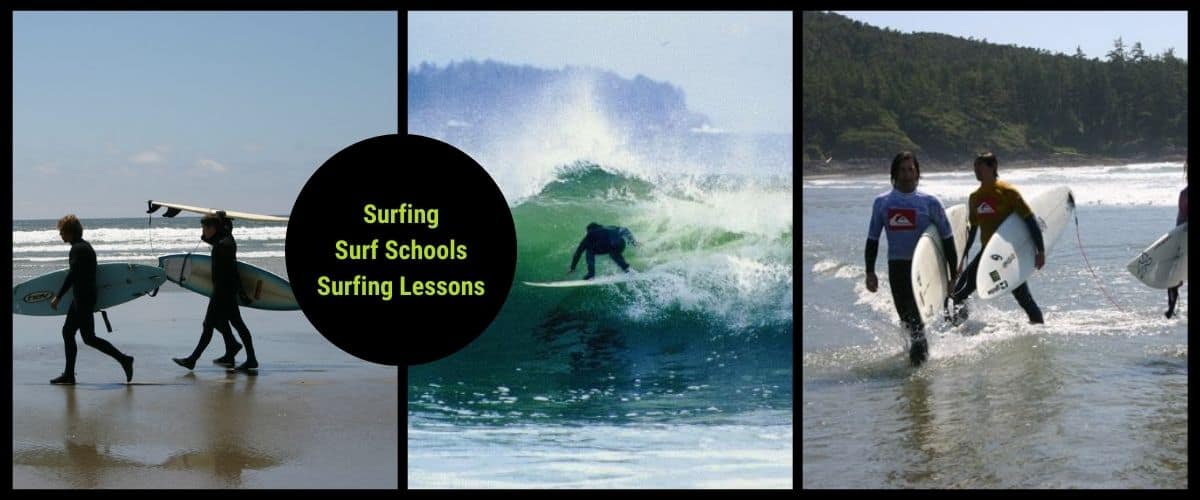 Popular Canada Surfing Destinations
Some of the most popular surfing destinations include Long Beach, Cox Bay, and Chesterman Beach near Ucluelet and Tofino, BC; Sturgeon Falls, Whiteshell Provincial Park in Manitoba; Lake Huron, Kincardine in Ontario, as well as, Terrace Bay, Lake Superior in Ontario; St. Lawrence River, Habitat 67 near Montreal and Lawrencetown and Summerville in Nova Scotia.
When to Surf?
The number of surfers on the waves increases dramatically in the summer months because of the warmer weather and the influx of people learning to surf. It is during the summer that the waves are manageable for beginner and intermediate surfers. Extreme surfers like their waves big and powerful, so they tend to watch for the winter season when storm waves roll in hitting the coastlines with massive force.
Surf Shops and Surfing Schools
In Canada many of the waterfront communities that are near a surfing destination will have surf shops and surf schools. The surfing shops provide rental equipment, wet and dry suits, lessons and, sometimes, transportation. The surf schools provide extras like instruction and accommodations in many cases.
Surfing in Canada
Surf Schools, Lessons and Shops

Some Canada Surfing Tips

- surf to your abilities only.
- never surf when exhausted.
- beginners should all take lessons.
- surf boards should be suited for your ability.
- become familiar with rips and currents.
- learn to read a wave.
- pick your waves - not every wave is for you.
- respect others on the water and stay clear of each other to avoid
collisions.
- select a surfing beach suited to your abilities.
- good paddle techniques are crucial for surfing enjoyment.
- surf with leash attached to your ankle.