Canada Whale Watching Tours
Orca, Humpback, Gray, Minke, Beluga, Blue, Fin, Pilot Whales
Plan & book your next wildlife tour with our participating tours and guides
Canada whale watching tours and wildlife sightseeing tours explore all 3 oceans in Canada - Atlantic, Arctic and Pacific Oceans. The diversity of the oceans enables Canada to be the home to over 30+ species of whales. The oceans are also home to other wildlife sightseeing opportunities like walrus, grizzly, black bear, seal, dolphine a nd a vast variety of seabirds.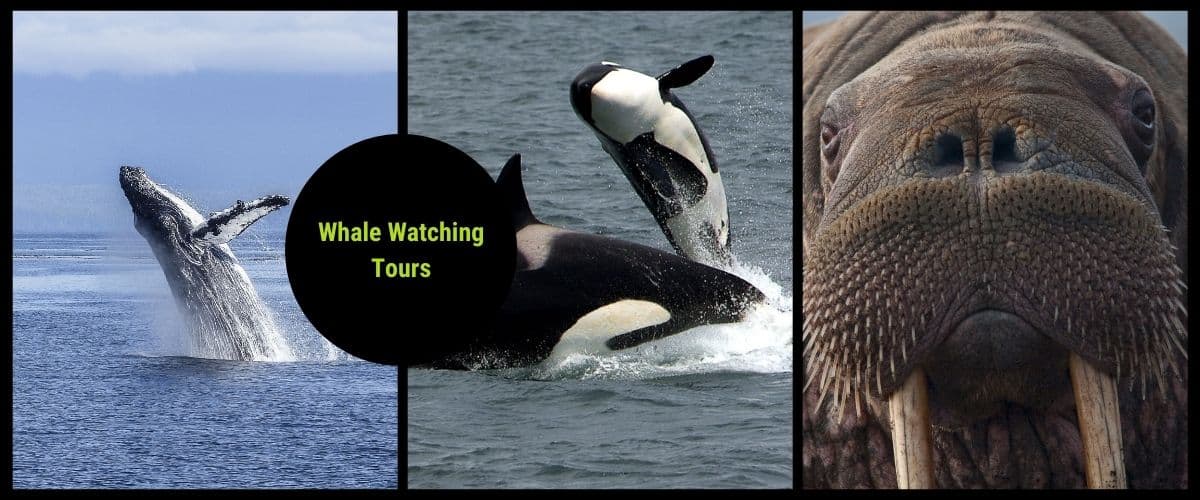 Types of Canada Whale Watching Tours
Whale watching tours vary in price, mode of transportation, interpreter and time on the water. Up and down each coastline there are whale watching companies with interpretive guides providing sightseeing tours in zodiacs, float planes, kayaks and from heated cabin cruisers. The zodiacs are for speed and getting wet, the float planes are for aerial views, the kayaks are for down low encounters and the heated cruisers for comfort.
Types of Whales
Canada enjoys over 30+ different species of whales. Each coastline provides a different marine environment, therefore different whales, and viewing experiences. Some of the whales one may see breaching while enjoying a tour include Gray, Minke, Fin, Beluga, Blue, Fin, Pilot, Orca, and Humpback Whales. However, whale tours are generally more wildlife tours as sightings include a wide variety of marine wildlife like bald eagles, puffins, polar bears, seals, dolphins, walrus and more.
Wildlife Watching Tour Communities
Some of the community destinations for whale watching tours include Ucluelet, Tofino, Prince Rupert, Telegraph Cove in British Columbia; Cape Breton Highlands in Nova Scotia; Twillingate in Newfoundland; Tadoussac in Quebec; and in Churchill Manitoba.
Whale Watching and Wildlife Tours in Canada
Canada Outfitters, Tours and Guides