Canada Snowshoeing
Canadian Snowshoeing Guides, Tours, Clubs, Rentals, Nordic Centres and Trails
Snowshoe adventures and tours are enjoyed in almost every part of Canada during the winter months.
Canada snowshoeing, in some parts of Canada, is a part of everyday life and is a necessary means of transportation after a big snowfall to travel from one end of a community to the other. In most snow covered winter destinations here in Canada snowshoeing is a recreational activity. In the Great White North, snowshoeing is our winter hiking.
Advertise Your Snowshoe Tours, Resorts, Guides With Us
Canada Snowshoeing Trails
After the snow has fallen and the temperatures have dropped many communities have designated areas for snowshoeing like recreation trails, bike paths, golf courses, frozen rivers, large frozen lakes and backcountry gravel roads. When snowshoeing season begins directly depends on the elevation of the community you are visiting. In many communities it may not snow enough to snowshoe, however a drive into the nearby mountains one can snowshoe for days.
Snowshoe Resorts
Up in the snow covered, ice fueled mountains, many ski resorts provide snowshoe trails, lessons, equipment and guides. Some of the snowshoe trails are designed for snowshoeing only while others are shared trails with cross country skiing. Many of the trails are located on the lower mountain slopes below the downhill ski runs. There are also backcountry resorts located in the remote regions of the country which provide wilderness accommodations and snowshoe adventures.
Snowshoe Guides and Tours
Canada snowshoeing can be a self guided or guided adventure. Self guided snowshoeing in the backcountry is for the experienced outdoorsman. Prior to any self guided snowshoe adventure make sure to check the weather conditions, check for avalanche warnings, check your route, check your equipment, pack a gps and dress warmly in layers. For beginners interested in snowshoeing in Canada it is best to hire a guide or join a tour when exploring unfamiliar wilderness regions. Snowshoe tour companies are experienced in the backcountry. Tours provide lessons, equipment and guides who are trained in first aid and avalanche survival skills.
Snowshoeing Tours and Guides in Canada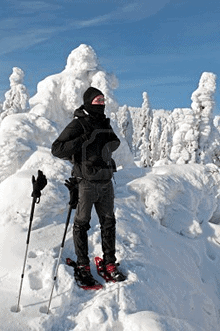 Some Canada Snowshoeing Tips
Snowshoeing for beginners should always be with guides.
- prepare for very cold weather and, sometimes harsh conditions.
- pack a video, camera, tripod and binoculars because there is going to be some amazing scenery.
- pack a warm hat, neck warmer (scarf) and/or bella clava.
- check for weather and avalanche conditions.
- always stay on the main pathway.
- wear contact lenses instead of glasses (glasses fog up).
- pack clothes that you can layer (up to four layers).
- tie pieces of ribbon to each zipper so you can zip with mitts on.
- purchase some hand warmers.
- charge up batteries prior to arrival.
- ask questions on what is and not included with snowshoe tours.
- confirm transportation to and from snowshoe trailhead.
Remember to tell your snowshoeing guide and tour company about ehcanadatravel.com