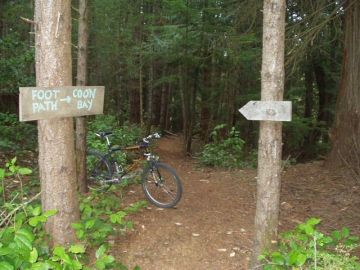 Park Size:
142 hectare
Park Amenities
:





Dionisio Point Provincial Park is prime recreation destination park located on the north end of Galiano Island overlooking Porlier Pass. Galiano Island is part of the Gulf Islands Group which are positioned off the west coast of British Columbia, Canada.

The 142 hectare park is best accessed by ocean as there are few trails and no roads leading into the park. Exploring the park by boat or kayak reveals a coastline rich in intertidal marine life, private coves, wildlife sightings and pebbled and sandy beaches.

Besides kayaking, boating and sailing, Dionisio Point Provincial Park is a popular destination for other activities as well. Some of the other adventures enjoyed in the park include scuba diving, hiking, beachcombing, swimming, wildlife watching, birdwatching, picnicking and wilderness walk-in camping.

Coon Bay Hiking Trail is an easy grade access trail leading to a waterfront day use area in the Dionisio Point Park when on Galiano Island. The short maintained trail leads visitors to a small, private cove with marine views and a long First Nation history.

Dating back 3000 years the park was once a beach used to shuck shells by the First Nation people. The large mounds along the shore indicate the site of shell middens (discarded pile of shells).

Coon Bay is surrounded by weather ravaged limestone rocks and arbutus trees. The pebbled rocks on the beach are mixed in with crushed white sea shells and driftwood. Some of the amenities in Coon Bay include picnic tables, a park information sign, access to cold water and pit toilets.

The Dionisio Point Park enjoys around 30 walk in wilderness campsites on the east side of the park. The campsites are used by kayakers and boaters. The campsites are separated into two groups. There are no fires permitted in the park. Camping is permitted your round with a camping fee charged during the summer months.

Some of the possible wildlife sightings viewed from the Dionisio Point Park include whales, seals, sea lions, otters, sea birds, waterfowl and predator birds.

Dionisio Point Provincial Park, Galiano Island, Gulf Islands, BC, Canada
Address:
Dionisio Point Provincial Park
How To Get ToDionisio Point Provincial Park
:
How to Get Here:
Travel from the ferry on Sturdies Bay Road to Georgeson Bay Road for about 3 kilometres. Look for Porlier Pass Road and turn and drive for another 18.5 kilometres to Cook Road. Take a right and drive another 5 kilometres to the trailhead.

Boat and kayak is best to access the wilderness walk in campsites, the private sandy beaches and secludes coves. Most of the park is accessed best via the ocean.
No reviews yet for Dionisio Point Provincial Park.