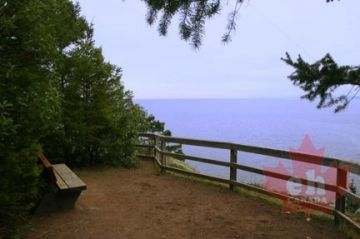 Park Size:
125 hectare
Trail Length:
1.5 km
Difficulty:
Moderate
Park Amenities
:




Boyle Point Provincial Park is located on the southern point of Denman Island, which is part of the Gulf Islands Group, on the west coast of British Columbia, Canada. The 125 hectare park is a day use park best known for its jagged cliffs and bluffs, wildlife sightings and for its far reaching marine views.

Every spring the herring runs off the coast of the Boyle Point Park attracts many species of wildlife to the area - both land and water. The herring runs become feeding grounds for Bald Eagles and California and Stellar Sea Lions.

There is a hiking trail in the park which leads hikers to the top of a bluff. The 1.5 kilometre long trail explores along cliffs and through old growth forests. Take your time and the trail should take about a 1/2 hour to complete. Once at the viewpoint the whole south of the island opens up with views of Baynes Sound, Gravelly Bay and the Chrome Island Lighthouse.

At the end of the trail is a viewing bench and a grassy knoll on a bluff. It is an ideal spot for a picnic and wildlife viewing. Great for birdwatching and possible sightings of seals, sea lions, eagles, osprey and sea gulls. Bring good binoculars!

Baynes Sound and the Chrome Island Lighthouse are the two big sights from the lookout. Twice a year the tides are so low one can walk out to the island and the lighthouse. Look closely and one can view the First Nation petroglygh markings on the rocky coastline.

Boyle Point Provincial Park is a user maintained park. There is a pit toilet in the parking lot. User maintained means it is important to be clean - leave no trace behind.
Boyle Point Provincial Park on Denman Island, Gulf Islands, British Columbia, Canada
Address:
Boyle Point Provincial Park
How To Get ToBoyle Point Provincial Park
:
How to Get Here:
Travel Hwy #19a on Vancouver Island to the community of Courtenay, BC, Canada. Just south of Courtenay is the Buckley Bay Ferry Terminal connecting travelers to Denman and Hornby Islands. On Denman Island follow Denman Road to East Road near the Hornby BC Ferry Terminal. East Road leads to the park.
No reviews yet for Boyle Point Provincial Park.