Snapping Turtle in Ontario Canada Rescue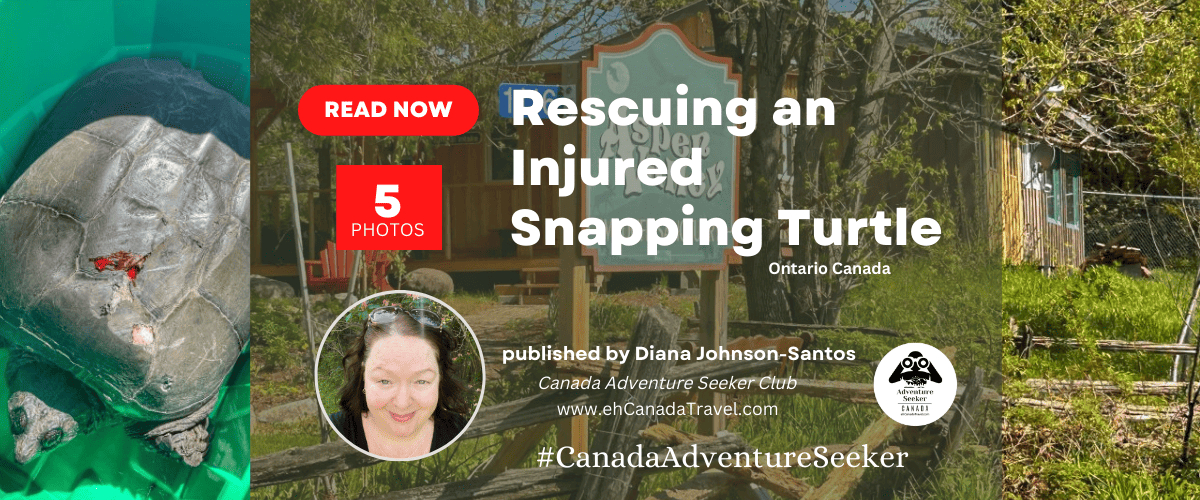 Rescuing an injured Snapping Turtle on the Trans-Canada Highway

Please watch for turtles on the road, especially from May thru July!

Snapping Turtle in Ontario Canada - My husband and I rescued an injured snapping turtle while driving the Trans-Canada Highway from Sudbury to Toronto on the May long weekend. We were driving home from visiting family in Sudbury when I noticed traffic slowing down ahead and oncoming vehicles were avoiding something in their lane just north of Parry Sound, Ontario, Canada.

As we drove by, I saw a large snapping turtle in the Northbound lane. I quickly decided that we needed to make a U-turn and try to get it safely off the highway. We turned around and parked near the turtle with our Emergency Lights on. Thankfully, the cars we saw managed to avoid hitting it. I waited for a break in traffic and moved the turtle to the side of the road.
Rescue of a Snapping Turtle in Ontario Canada
This was on a small section of highway between Toronto and Sudbury that is still being converted into a divided highway. Traffic was heavy due to it being a long weekend and with only one lane in each direction, there wasn't much space to avoid the poor turtle.
I am not sure if this turtle was female, but it's likely it was and she was trying to find a place to nest and lay her eggs. Finding turtles on the road happens quite often between late May to mid-July so please keep an eye out for them.
I wasn't consciously thinking that I needed to keep my fingers away from its face, but instinctively picked up the turtle gently from the rear of its shell. Snapping turtles have a strong bite so it's important to stay away from their mouth. Unfortunately, we noticed that the turtle had a crack in its shell with some blood seeping through. Now this had turned into a more serious situation. We needed to get this turtle some help!
We Rescued a Snapping Turtle - Now What Do We do?
Thankfully, another couple also turned around to help. Joanie & Gary are Conservation Photographers and knew exactly who to call. Additionally, Joanie's mother, Jennifer, is a founding member of the Aspen Valley Wildlife Sanctuary and spent many years of her life dedicated to animal welfare.
The Sanctuary was 45 minutes away in Rosseau, Ontario and said we could bring the injured turtle there. They asked us to note where we found the turtle in hopes that it could be returned there once recovered.
Now we had to figure out how to transport it safely. We didn't have any boxes in our car, however, Joanie and Gary had a shopping basket that was just large enough. Gary carefully picked the turtle up and placed it in the basket. Finally, we were ready to drive to the Sanctuary.
There's lots of helpful info on the Ontario Turtle Conservation Centre website about what to do if you find an injured turtle.

The Aspen Valley Wildlife Sanctuary
After rescuing an injured Snapping Turtle on the Trans-Canada Highway, we brought it to the Aspen Valley Wildlife Sanctuary. A not-for-profit organization that has been around since the 70s. They take in hundreds of animals each year and have more than 30 permanent wildlife residents.
Two young ladies met us at their intake cabin. We filled in a form, asked to be contacted with any updates and made a small donation. If you are able, please donate to help them continue their important work.
They are a Turtle First Response Centre and a turtle specialist told us that their recovery rate is quite high. We are keeping our fingers crossed for the turtle we rescued and felt grateful that someone was there to help on a Holiday Monday.

Due to its injuries, we were advised that the turtle would most likely be transported to the Ontario Turtle Conservation Centre in Peterborough, Ontario the next day.
The Ontario Turtle Conservation Centre in Peterborough, Ontario
The Ontario Turtle Conservation Centre in Peterborough works with Turtle First Response Centres across Ontario.
They have a turtle hospital and you can call them at 705-741-5000 if you have found an injured turtle anywhere in Ontario.
Additionally, they have information on how to help an uninjured turtle. And, what to do if you find a turtle's nest or eggs. You should even report a deceased turtle. If it's female they may be able to hatch the eggs. Or, use it for research.
At the present time, Ontario has 8 different turtle species. The snapping turtle was added to the Species at Risk in Ontario List on September 10, 2009. If you are able, the OTTC is another great organization that would value any donation you can provide.
Taking the Backroads Home and an Ice Cream Treat in Hunstville Ontario
Going to the Aspen Valley Wildlife Sanctuary took us off Hwy 69 and our usual route home. Being adventurous, we decided to drive the backroads through beautiful Muskoka and stopped in Huntsville at Belly Ice Cream for a treat. They have all-natural crafted artisan ice cream. The hardest part was picking only 2 flavours! Check out my Belly Ice Cream Photo Album for more info on our visit.
I am glad that I made that split-second decision to turn around and rescue a Snapping Turtle in Ontario Canada on the Trans-Canada Highway. It became more serious once we discovered that the turtle was injured.

Consequently, that decision connected us with a like-minded couple, Joanie & Gary. Introduced us to two wonderful organizations that are helping turtles and wildlife. And, by going off-route we discovered a new favourite ice cream shop!
Snapping Turtle in Ontario Canada

on the Trans-Canada Highway
Our adventure saving an injured snapping turtle on the Trans-Canada Highway.
---
Stay Informed
When you subscribe to the blog, we will send you an e-mail when there are new updates on the site so you wouldn't miss them.