Alexander Graham Bell National Historic Site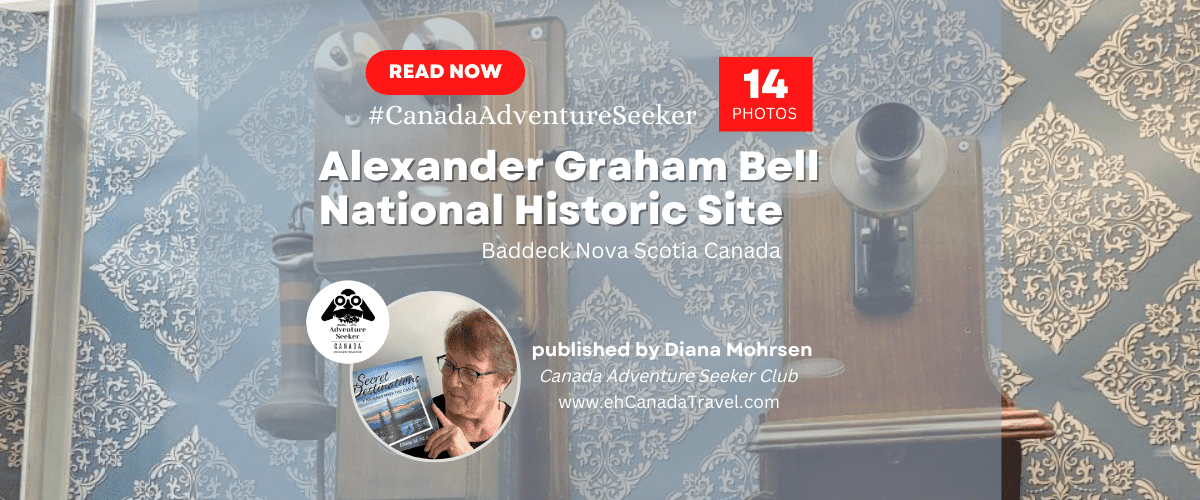 Baddeck Nova Scotia Canada Landmark in Canada's History
The Alexander Graham Bell National Historic Site records an important part of Nova Scotian and Canadian History
The site of the Alexander Graham Bell Museum just outside Baddeck Nova Scotia Canada is so visually appealing. The property is a 10 ha. site that has stunning views out over the waters of the Bras d'Or Lakes. The museum itself is a very attractive design. The grounds and gardens are beautiful. Because of that, merely arriving at the location and taking in the surroundings feels worthy of making a stop on a road trip.

Alexander Graham Bell National Historic Site Self Guided Tour

The museum is in a large A-frame building. At first one moves past a number of large signs showing the time line of events in Alexander Graham Bell's life. Descriptions are in both official languages, French and English. These are very easy to read and are an attractive way to impart information to visitors. At the same time a gently sloping floor takes you deeper into the building.
From Stories to Artifacts to Presentation Hall

The walls are used to tell stories, using pictures and descriptive paragraphs. Then artifacts and memorabilia are displayed. The Bell family donated these in 1955 from their personal collection. Notably, many items in the exhibits are associated with experiments that Alexander Graham Bell worked on. Eventually the visitors will come upon a large Presentation Hall with a replica of the AEA Silver Dart overhead.
Alexander Graham Bell and the Telephone
Prior to visiting the Alexander Graham Bell National Historic Site, all I knew about him was that he was born in Scotland, moved to Nova Scotia, and invented the telephone. Until now that seemed more than enough reason to get recorded on the pages of history. But I was about to be amazed at the true extent of Alexander Graham Bell's engineering and creativity.

More about Alexander Graham Bell

Alexander Graham Bell was born in Edinburgh Scotland in 1847. He was educated in Scotland and London. In due time he immigrated to Canada with his parents. He was only 23 years old then. He was an inventor, scientist, and engineer. In February 1876 Bell received a patent for the telephone. As soon as a month later he succeeded in sending a message. The telephone was now a working reality. He endured many legal challenges to his patent. Eventually the U.S. Supreme Court upheld his claims.
Interesting fact: "To honor the inventor's contributions to acoustical science, the standard unit for the intensity of sound waves was named the 'bel' in the 1920s. The decibel, one-tenth of a bel, is the most commonly used metric for measuring the magnitude of noise."
Working with the Hearing Impaired
Much information at the Alexander Graham Bell National Historic Site related to Bell's work in the field of deaf education. Both his father and grandfather were speech therapists. Alongside these men, he joined the family business, becoming a voice teacher. Eventually he became professor of vocal physiology at Boston University. This work led to Bell's interest in acoustics and later to his experiments sending sound waves over wires. In this case his interests resulted, eventually, in the invention of the telephone.

Bell's Work with Hearing-Impaired was close to his Heart
Bell's mother had a childhood illness that left her mostly deaf. While he was at Boston University, he met his future wife. In this case Mabel Hubbard had completely lost her hearing from scarlet fever. Consequently both his wife and his mother were hearing-impaired. His father had developed a written system of symbols which could help the deaf to pronounce sounds. This system was called Visible Speech.
Helen Keller and Annie Sullivan
In 1887 Helen Keller's father sought help for his 6-year-old daughter. Circumstances (a childhood illness) had left her blind and mute from the age of 19 months. Because of Bell's recommendations, they met Anne Sullivan who would go on to teach Helen to write, speak, and read Braille. She dedicated her autobiography to Alexander Graham Bell.
"Recognition of my work for and interest in the deaf has always been more pleasing to me than even recognition of my work with the telephone." Alexander Graham Bell
Experiments with Speed and Flight
Alexander Graham Bell spent time researching and experimenting with kites, planes and high speed boats. Moreover he began experimenting with hydrofoils as early as1906. Notably, here in Baddeck, in 1919 the HD-4 hydrofoil had reached speeds of over 112 km/h. This was a world marine speed record. The original hull is on display at the museum.

The Silver Dart

Bell invented and worked with Tetrahedral Kites. Above all he wanted to create something that would support a man and an engine. Eventually the Silver Dart was designed and built by the Aerial Experiment Association under Alexander Graham Bell. J.A.D. McCurdy was the principal designer and pilot. The aircraft was pulled by horse-drawn sleigh onto the ice of Baddeck Bay, Nova Scotia. In the background over 100 of Bell's neighbours watched as the Silver Dart flew over .8 km. The year was 1909. Until now there had never been a controlled heavier-than-air craft flown in the British Empire. It was a first! The pilot was J.A.D. McCurdy.
Baddeck Nova Scotia - Important to the History of Canada
When visiting this museum, it becomes clear how much of today's communication and technology is based, at least in part, on the work of Alexander Graham Bell. In addition, he was also central in helping the deaf and hearing-impaired communicate. For these reasons Baddeck should be a stop on your next visit to Nova Scotia.
Alexander Graham Bell National Historic Site
Baddeck Nova Scotia Canada
---
Stay Informed
When you subscribe to the blog, we will send you an e-mail when there are new updates on the site so you wouldn't miss them.