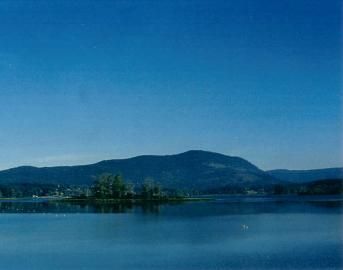 Park Amenities
:



Art Mann Park is located on Quamichan Lake in the community of Duncan, BC, Canada on Vancouver Island, British Columbia. The small lakeside park is a quick getaway on the shores of a community lake ideal for picnicking, birdwatching, and canoeing.

The park includes a grassy lawn area, an adventure playground, a small strip of sand beach, washrooms and roof top boat launch. There are a few picnic tables and some shaded areas under the trees.

From the shores of the lake in the park are some great views of the surrounding area. Canoers can access the lake and paddle to a small island in the middle of the lake. Some of the birds that visit Quamichan Lake include sandpipers, seagulls, loons and trumpeter swans.

Along the shoreline of the lake are various lakefront homes and piers. Please respect their properties and stay off the private piers.



How To Get ToArt Mann Park
:
How to Get Here:
Travel Highway #1 to the community of Duncan in the Cowichan Valley on Vancouver Island. In Duncan turn east on Trunk Road. Trunk Road turns into Tzouhalem Rd. Continue on Tzouhalem and follow the signs to Maple Bay. At the start of Maple Bay Road take Indian Road to the park.

No reviews yet for Art Mann Park.