BC Parks & Fountain of Youth – BC Road Trip Part 4
Our Day Trip Adventure Visiting Crooked River Provincial Park in North BC
"I just checked in the mirror and I ain't getting any younger. There goes that fountain of youth angle."
We awoke from our slumber, in Dome Creek BC with visions of the John Hart Highway and the Crooked Creek Provincial Park dancing in our heads. Today was a sightseeing day as we made up enough time from our slow start that we could explore a bit more of North BC.
After Crooked River Provincial Park
We had one more day and half to explore North BC before hunkering down and setting up our base camp with our friends (long time clients) at the Canyon Creek Campground, located just south of Prince George, BC in a little community called Hixon BC, Canada.
eh Day To Dilly-Dally
That was tomorrow. This was today. And today we were going to the Crooked River Provincial Park and check it out. To get there we had to explore parts of the John Hart Highway. Last time we were traveling this highway we did not have the time to stop and explore this park. Well, that was about to change. The park was only 210 kilometres away from Dome Creek, so we had tons of time to dilly–dally .
Purden Lake Coffee To The Rescue
There was just one thing we had to still deal with? I had not had my morning coffee. I do not function well without it. Yes, I am one those people. What can I say. Because of my twitching Colin decided we would stop at the first sign of coffee. That ended up being the Purden Lake Resort. It must have been the best $3 coffee Colin and I have ever had. It was so good, not because it was good, but because it was a coffee.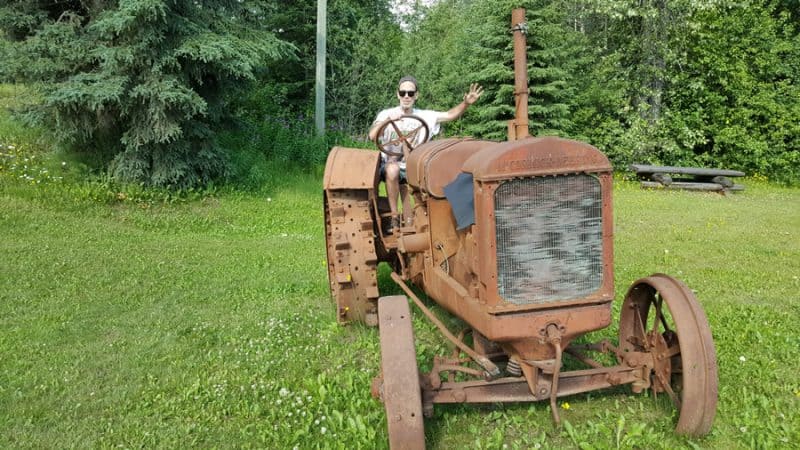 Sowing Tourism Seeds
The Purden Lake Resort is a huge beautiful log house with a restaurant, cabins and an RV campground. As I was gulping down my medicine, Colin wanted to sow some tourism seeds so he hopped up onto the antique tractor and played Farmer John. Although, to me, it looked like he was riding a bull with his arm waving in the air like that. Let the tourism seeds prosper.
Tim Horton's To The Rescue
In Prince George BC we got a real coffee at the first Tim Horton's we came across before continuing our quest north (shameless plug I know). After some time driving the Hart Highway we decided to take the next pull-out so we could stretch our legs. Low and behold as we were meandering around at the pull-out I noticed a water fountain across the highway in the middle of nowhere. Could it be? No way! I found the fountain of youth!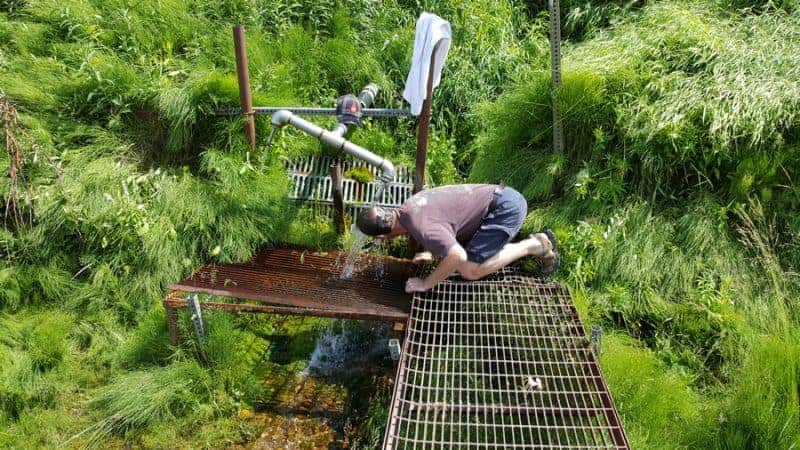 The Water Fountain Of Youth
Maybe a little over the edge on the fountain of youth thing, but I was recovering from my coffee-less morning struggles. No matter, I wanted to check it out. So here is a question for you. "What does a coffee deprived road tripper do in such a situation?"
Well, since I am one, I go and dunk my head under the cold water. I just checked in the mirror and I ain't getting any younger. There goes that fountain of youth angle.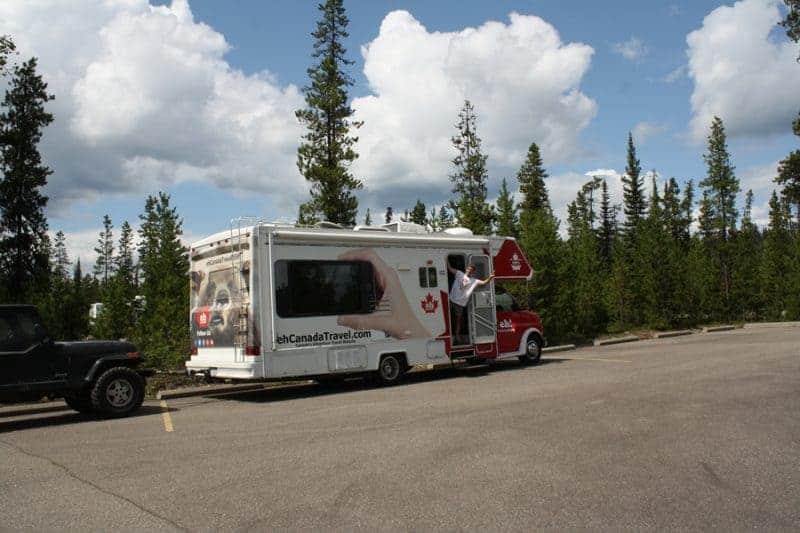 Crooked River Provincial Park
Soon later we arrived at the Crooked River Provincial Park. The sun was out. It felt awesome. Perfect timing for checking this little park situation out. First off. Check out this parking lot. The parking lot rocked. Circle routes, easy entrance and exit, and lots of room for big rigs to park.
Beaches and Screams
We meandered down the first trail we could find to a small sandy beach. A few families and their kids were hanging out. The kids were screaming and yelling as they ran in and out of the water. I think the screams, if I remember my kid speak correctly, means "Look Mom I am having way too much fun". Across the lake you could see a whole bunch of little pockets of sandy beaches. Through the trees one could make out motorhome after motorhome. The park looked beautiful. It was heavily forested. You could smell the trees.
Home Sweet Huble Homestead
On our way up exploring the John Hart Highway, we made a mental note of the campgrounds and of the remote pull-outs along the way. It was late, and as for campgrounds, there were none and the provincial park was full. But we did find an "EH Approved" pull-out, hidden from the highway, near the Huble Homestead attraction. It felt like home. Only for a few hours. Done, we were out like a light.
Questions I would like to ask you …
Have you stayed at the Crooked River Provincial Park? What was it like? Comment below.
What are your impressions of the John Hart Highway scenery? Comment below.
Crooked River Provincial Park on the John Hart Highway
PLEASE Share. SORRY For Asking. THANK YOU.
Its a Canadian Thing
https://www.ehcanadatravel.com/blog/wp-content/uploads/2019/07/crooked-river-bear-lake-park-princegeorge-greg-colin-1.jpg
675
900
Greg "Gug" Girard
https://www.ehcanadatravel.com/blog/wp-content/uploads/2020/01/ehcanada-logo-340x156-1.png
Greg "Gug" Girard
2019-07-20 21:06:13
2019-07-20 21:06:14
BC Parks & Fountain of Youth – BC Road Trip Part 4