King's Inn – Kamloops, BC, Canada Road Trip

King's Inn, Kamloops, British Columbia, Canada
"(The Owner) Her efforts and genuine concern made my stay with King's Inn very enjoyable."
This is a "Road Trip" Promotion
Click to View King's Inn Interactive Member Profile
"Road trip!" On this leg of our tourism journey of discovery we will be setting up our base camp with the King's Inn located in the community of Kamloops, British Columbia, Canada in the Thompson-Shuswap Region of the province. The inn is situated on the east side of the community,  located about 3.8 kilometres from Downtown Kamloops as you enter the region via the Trans Canada Highway.
I arrived late in the evening. My head was full of conversations and ideas from the day's events. My mind was traveling a mile a minute on a highway of speeding thoughts. It was exhausting. So many thoughts and only one me.
The 36 room King's Inn is described as an economical and affordable choice for accommodations when visiting the City of Kamloops, BC, Canada. My room was tucked away in the corner of the motel away from the sounds of other guests. Was it good karma or did they just sense I was a tired happy?
I swung the door open to my room and was greeted by new best friend, a comfortable bed. We hugged and embraced, exchanging few words. We eyeballed each other. After that? Not sure what happened. That is when my mind went blank. I woke up the next morning at 4.20 AM still hugging my bed,  dressed in my work clothes and nothing unpacked. Awake now, I decide to stay up. Now I had time to scan my room, take some photos and unpack.
In the corner, looking out a window, was a desk and chair for working into the nights. A desk always makes life easier on the road for computer geeking-out and for catching up on paperwork. Next to me was a TV on a swivel for background music while I work. I turned it on and did a quick scan for travel news.
There was a fridge for storing cool liquids. This is always good. The bathroom was clean. This is always better. The room felt comfortable. I was home for the next week.  Outside the motel, along the main frontage road, for about 1-2 kilometres in either direction there were a ton of services. Food was not a problem.
Look right… look left… it did not matter.  There were restaurants, gas stations, pubs, liquor stores, convenience stores, shopping and retail. Lucky me too! Within a short walking distance from my room were some restaurants and a convenience store.  The "cherry on the sundae" was the Tim Horton's coffee shop next door.
During the week, on many occasions, I popped my head into the motel office and had the privilege of talking with the owner. What a lovely lady. So polite and caring. On one occasion we sat down and discussed tourism, life, her business and our website.  Her efforts and genuine concern made my stay very enjoyable. Regular readers will know that I am a big believer that a good Host makes an accommodation. My experiences have taught me that a poor host equals a lousy experience regardless of the price and glitz of an accommodation or campground.
Most rooms at the King's Inn have a queen bed, some have a king bed. There are some rooms with kitchenettes for those wishing to stay for longer periods of time. All rooms include air conditioning, microwaves, free internet & a coffee maker. The King's Inn also provides their guests access to a swimming pool, sauna, whirlpool, laundry services and an outdoor picnic and BBQ area.
Give the King's Inn a call when in Kamloops, BC. Tell them eh Canada Travel sent you. 
CONTACT INFORMATION
King's Inn
1775 Trans Canada Hwy East Frontage Rd
Kamloops, BC, Canada
V2C 3Z6
Local:(250) 372-2800
Website: www.kingsmotorinn.ca
Email: info@kingsmotorinn.ca
---
Kamloops calls itself, "The Tournament Capital of Canada". Many come every season for sporting events including baseball, softball, curling, soccer and hockey. Other activities which are popular in the region include boating, jet skiing, swimming, hiking, mountain biking, horseback riding, snow skiing, xc skiing and snowboarding.
Click link to start booking, planning, researching and interacting with Kamloops, BC, Canada
---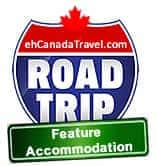 The Canadian Road Trip Badge features selected accommodations, of all types and price points, located across Canada which have been the "home base" for  ehCanadaTravel.com Tourism Ambassadors when visiting and exploring in their community. Accommodation selections are made based on availability, location, amenities and, most importantly, the good temperament and welcoming personality of the Host. Click for Road Trip Archive
Tourism Ambassadors travel Canada meeting with tourism businesses and researching the well known and not so well known travel and adventure opportunities in the region.


ehCanadaTravel.com (eh Canada Travel & Adventure) is Canada's only interacting, booking, planning & researching travel website.  In fact… the only one like it in the world.
https://www.ehcanadatravel.com/blog/wp-content/uploads/2016/07/banner2-4.jpg
300
640
Greg "Gug" Girard
https://www.ehcanadatravel.com/blog/wp-content/uploads/2020/01/ehcanada-logo-340x156-1.png
Greg "Gug" Girard
2016-07-24 01:00:07
2016-07-25 11:02:56
King's Inn – Kamloops, BC, Canada Road Trip