2014 Travel Schedule for West Kootenays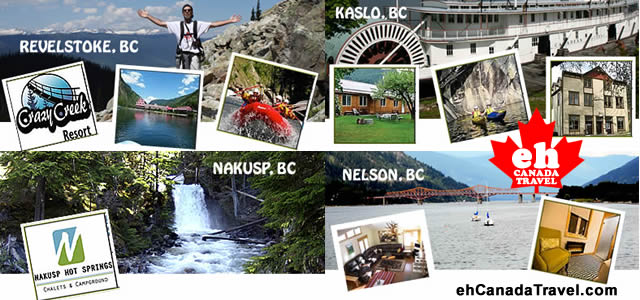 2014 Travel Schedule for West Kootenay Road Trip
"… to maintain a high level of tourism knowledge, experience and content we feel it is important to hit the road hard during the summer and during the winter so to experience Canada first hand and talk with Canadians. We call these departures from the norm – our researching road trips. In other words, we come out of computer hibernation." Greg Girard
To grow our tourism network we have to commit to the phone and computer every day, most days of the year. For us it is a welcomed commitment as tourism brings us much joy.  The long hours, who is complaining, it is just part of the entrepreneurial package – a package we gladly enjoy unwrapping.
However, the hats switch for a short period of time during the summer and winter seasons. You see… to maintain a high level of tourism knowledge, experience and content we feel it is important to hit the road hard during the summer and during the winter so to experience Canada first hand and talk with Canadians. We call these "departures from the norm" – our researching road trips. In other words, we come out of computer hibernation.
The summer of 2014 finds us, the "eh Team" of ehCanadaTravel.com, visiting, researching and photographing the Kootenay region of British Columbia, Canada and backpacking a major trail on Vancouver Island, B.C. (Cape Scott Trail). Today, we are happy to announce part of our West Kootenay travel schedule and the accommodations, tours, guides and attractions who will play the lead characters in many of our stories during our June Kootenay Loop (Koot-Loop) Research Road Trip.
Last summer we researched Saint Johns, New Brunswick, Canada and the year before that we visited Prince Edward Island, Canada. Now we are back on the west coast of Canada, sort of… ok, not really… it is more like the interior west coast. The Kootenays are right next door to the BC/Alberta Border.
Below we have listed the communities we will be invading for a photo shoot and tourism promotions. In many communities we will be staying with local accommodations. In most communities we will be going out on adventures with tours, guides, outfitters and attractions. And…  we will go out exploring the trails and parks in the region. Stay tuned as we will be writing about every experience on our award winning blog. Make sure to sign up for the email mailing list on our blog (to your right) so you do not miss an adventure during the summer.
We are happy to share with you our West Kootenay FEATURED accommodations, tours, guides and attractions below. These are 10 more reasons to look forward to exploring the Kootenays in the summer. The list of the East Kootenay Featured Destinations and accommodations, tours, guides and attractions are coming soon.
REVELSTOKE, KOOTENAYS, BRITISH COLUMBIA, CANADA
https://www.ehcanadatravel.com/british-columbia/kootenays/revelstoke.html
1. Crazy Creek Resort : www.crazycreekresort.com : Crazy Creek Resort offers families accommodation and camping while enjoying hot pools, waterfalls/suspension bridge, boardwalks and many activities along Trans Canada Hwy. Hot Pools open year round.Book Meeting Room for family reunions/receptions.
2. Three Valley Gap Lake & Chateau : www.3valley.com/ : Nestled in the Monashee Mountains,19 km west of Revelstoke. 180 rooms with patios overlooking beautiful gardens and lake. Restaurant, indoor pool, gift shop. Next door, visit the Heritage Ghost Town, Railway Roundhouse & Antique Auto Museum.
3. Apex Rafting : www.apexrafting.com/ : Since 1993 we have shown whitewater rafting enthusiasts from around the world the spectacular beauty of the Revelstoke area of British Columbia while drifting down the wild and scenic Illecillewaet River.
4. Skytrek Adventure Park & Enchanted Forests :  www.skytrekadventurepark.com /  www.enchantedforestbc.com : Experience adventure among the treetops at the Skytrek Adventure Park located at the Enchanted Forest. Challlenge the High Ropes Course, Kids Tree Adventure, Jungle Gym and the NEW Adventure Tower with a Climbing Wall, Log & Net Climb, Sky Swing and Sky Drop. A rainforest, complete with native plant signage, is the setting for 350 handcrafted and painted fairy folk figurines set up in whimsical displays throughout the beautiful old-growth forests of the Monashee Mountains.
NAKUSP,  KOOTENAYS, BRITISH COLUMBIA, CANADA
Nakusp, BC, Canada
5. Nakusp Hot Springs & Chalets : http://www.nakusphotsprings.com/ : Nestled deep within the natural beauty of the Kuskanax valley, the Nakusp Hot Springs offers over 200 acres of year round outdoor recreation opportunities. The surrounding area is an untouched wilderness for outdoor enthusiasts of all ages to enjoy.
NELSON & SLOCAN VALLEY,  KOOTENAYS, BRITISH COLUMBIA, CANADA
Travel to Nelson, BC, Canada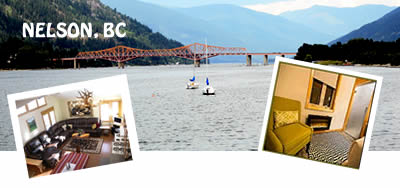 6. Paradise Valley Lodge : http://paradisevalleylodge.com/ : Escape to the Beautiful Slocan Valley! Spacious Open Plan 2 story Home, on a peaceful forested setting. Great for Groups & Families! 3 bedrooms, loft, veranda, 2 large bathrooms, big yard, patio, BBQ. Free Wifi. Sleeps 8. Deluxe Kitchen & Laundry. New Beds.
7. Adventure Hotel : http://www.adventurehotel.ca/ : The perfect destination for pleasure, business, or both.Great dining, lively pub and grill, meeting rooms, conference facilities and ballroom – all nestled in Nelson's super-natural scenic surroundings.
KASLO,  KOOTENAYS, BRITISH COLUMBIA, CANADA
Plan Adventure Travel in Nakusp, BC, Canada
8. True Blue Lodge : http://www.truebluelodge.com/ : Fully renovated in 2009 our cabins feature full modern kitchens with ranges, microwave, coffee makers, kettles and toaster. Queen feather beds, hardwood floors, HDTV, Ipod charger/player, laundry room. Large courtyard with BBQ area.
9. Kaslo Kayaking : http://www.kaslokayaking.com/ : Discover remote waterfalls, magical cedar-hemlock forests. Be prepared to be inspired as the swoosh of your paddle and the sound of nature is all you'll hear. Casual day paddling or a multi-day adventures. No experience necessary. Kayaks, Canoes & Sup boards.
10. Langham Galleries : http://www.thelangham.ca/ : Plan to visit a show at the theatre or view some fabulous art in the Art Gallery at The Langham Cultural Centre in Kaslo, British Columbia Canada. Check the upcoming Theatre and Events.
If your community would like to be a FEATURED DESTINATION on one of our future research road trips call our office 1.877.923.3764 and find out more. Please be aware destinations are based on where we are researching in the country at that time and on the overall participation of businesses in your community on our ehCanadaTravel.com website.
**********
ehCanadaTravel.com (eh Canada Travel & Adventure) is the largest and fastest growing booking, planning and researching tourism and travel website for Western and Northern Canada currently expanding into Eastern and Atlantic Canada. The EH Team Brothers (Co Founders) also author the eh Canada Travel Blog which was recently awarded "A Top Canadian Blogger" by FlightNetwork.com.
**********
https://www.ehcanadatravel.com/blog/wp-content/uploads/2014/05/banner-main1.jpg
300
640
Greg "Gug" Girard
https://www.ehcanadatravel.com/blog/wp-content/uploads/2020/01/ehcanada-logo-340x156-1.png
Greg "Gug" Girard
2014-05-30 11:07:35
2014-09-19 10:24:01
2014 Travel Schedule for West Kootenays