Prince George & Vanderhoof – BC Road Trip Part 5
Mr. PG and then Day Tripping to Vanderhoof BC
"Mr. PG is a legend in BC mascots. He has been around for a long time and hasn't aged a bit."
Today we are going to take a day trip to Vanderhoof BC, before we settle in at our temporary base camp in Hixon BC at Canyon Creek Campground. But to get the road trip on track we have to drive through Prince George to access Highway 16 (The Yellowhead Hwy).
Welcome Back To Prince George
It has been a while since we have visited Prince George BC, as we have been away researching Canada for our website for almost 10 years now. There are many must-dos when in Prince George. One being hiking the Forests of the World Trails and, the other, getting a photo with Mr. PG.
Mr. PG Represents
Mr. PG is the community mascot for Prince George. His story started in the 1960s and was the brainchild of Harold Moffat. Moffat felt that Prince George needed a mascot celebrating the region and the local forestry industry. In 1970, Mr. PG moved to the corner of Highways 16 and 97. That is where we catch up him.
Community Mascots Can Draw Crowds
Colin and I, during all our visits make it a tradition to visit community mascots. Why not, many are pretty cool. I will tell you there are some good ones out there. Some even become signature attractions and draw visitors to their community. So communities should really think this one through when they decide to mascot-up.
The Legend – Mr. PG
Mr. PG stands 8.14 metres (27 feet) tall, and he one of the more recognized mascots in Western Canada. Mr. PG is a legend in BC mascots. He has been around for a long time and hasn't aged a bit. Not to mention he holds a time capsule in his chest. That gives him some street cred right? In my opinion Mr PG a must do photo opportunity when visiting this northern community.
Adventures of Prince George
However, Prince George, also has some wicked and beautiful exploring opportunities as well. Some of them are very memorable, ranging from easy going walking paths to challenging hiking trails. No visit to Prince George should be without visiting the Forests for the World Trails. It is a looping trail network with lakes and lookouts. Other mentionables to explore include the Teapot Mountain Trail, and the Cottonwood Nature Park.
Fly Over Vanderhoof
Time to move on. Thank you Mr. PG for your hospitality. We, the "eh Team" Brothers, merge onto Highway 16 and start driving west into the sunset. OK no sunset but wow what writing. Had you tearing up.
Next stop Vanderhoof, BC. Two things you should know about Vanderhoof, BC. One being that it is directly under the Pacific Flyway. The flyway is a high traffic route used by birds to do their migrating thing. Secondly, the community is on the shores of the Nechako River and is surrounded by wilderness lakes which is ideal for migrating birds and for some wicked recreational activities.
Historic Trail In Vanderhoof BC
Vanderhoof is part of the 1870's Telegraph Wilderness Trail. It is a historic route following the pioneers and settlers who laid down the Collin's Overland Telegraph Line linking North America to Europe. Other mentionables to explore in the community include the Waterlily Lake Trails, Greer Creek Falls Hiking Trail, and the Riverside Park Nature Park.
Some Campground Talk Is Coming
We have stayed at hundreds of private, government and wilderness campgrounds across this country. There are a few which, because of their hosts, are memorable campgrounds. These campgrounds have become our preferred camping destinations because of the people who run them. One of which is the Canyon Creek Campground just south of Prince George. Next blog is all about our welcome, the hosts and the campground. You do not want to miss this one.
Questions I have for you…
Have you had a photo with Mr. PG? Comment below.
Have you ever been to Vanderhoof, BC. What did you explore? Comment below.
Prince George and Vanderhoof BC Road Trip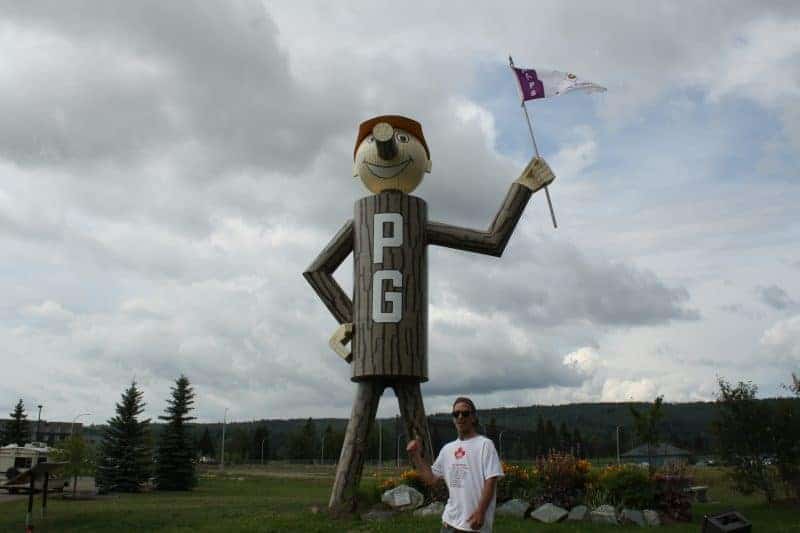 PLEASE Share. SORRY For Asking. THANKS.
IT IS A CANADIAN THING
https://www.ehcanadatravel.com/blog/wp-content/uploads/2019/07/mr-pg-princegeorge-banner.jpg
514
900
Greg "Gug" Girard
https://www.ehcanadatravel.com/blog/wp-content/uploads/2020/01/ehcanada-logo-340x156-1.png
Greg "Gug" Girard
2019-07-20 20:31:17
2019-07-20 20:41:43
Prince George & Vanderhoof – BC Road Trip Part 5