Lake KooCanUsa with Sunshine Houseboat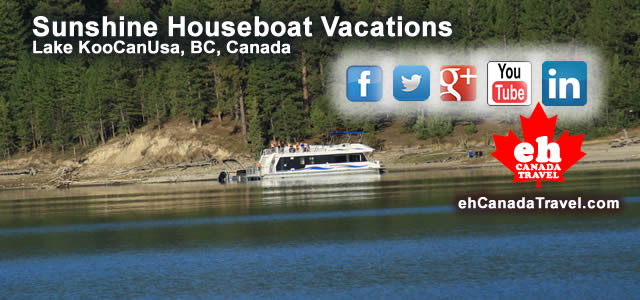 Lake KooCanUsa with Sunshine Houseboat
Beaches, Birds, Bonfires and Boating Bliss
"Lake KooCanUsa is unlike any other houseboating lake. It is remote, wild and untouched. Sunshine Houseboat was our guide to exploring one of Canada's most unspoiled pristine houseboating lakes. "
The "eh Team" brothers teamed up with some childhood friends and set out on a 3 day voyage exploring Lake KooCanUsa with Sunshine Houseboat Vacations. Lake KooCanUsa is located east of the community of Cranbrook which is in the southeast Kootenay region of British Columbia, Canada.
Houseboating Lake KooCanUsa is unlike any other lake… in a very good way. The lake is blessed with over 200 kilometres of wilderness shoreline, unlimited remote beaches, bird sightings, bonfire bliss and – best -yet – no people. Yes, it is true. The shoreline is mostly unpopulated.
Null and void are homes, boats, and resorts. Crowds? What crowds. Lake KooCanUsa is unlike any other houseboating lake. It is remote, wild and untouched. Sunshine Houseboat was our guide to exploring one of Canada's most unspoiled pristine houseboating lakes.
We arrived under a scorching hot September sun at the marina to pick up our houseboat – Sundrifter II. The houseboat was described as the "Queen of the Fleet". Our vessel measured 60 feet long and included a stocked kitchen, dining area and sitting room. There was a fireplace, big screen TV, 6 sleeping areas, 2 bathrooms, BBQ and bridge on the main deck. On the top deck there was a water slide, 8 person hot tub, bridge deck for steering and some drop-dead lake views. We were locked and loaded for a good time.
DAY 1 : We received our walk-through with flying colours. We said our good-byes and pushed off into the wild blue yonder. Our team decided to head south from our marina in the direction of the USA border in search of our first beach moorage. The lake water was like glass. Steering our vessel was Captain Crunch. It was the nickname given to "eh Team" Colin as he was assigned the steering and navigation duties. My boating skills supposedly were lacking. I then committed myself to the scenery and my lens. I swear we had gone to heaven. The coastline was epic… click, click, click.
We beached our houseboat just south of a place called BC Springs. We were alone – not a boat or people in sight. We owned this beach for one night. Later that night we gathered around a bonfire. The golden orange glow of a dropping sunset lit up the mountains. Our front yard was a Rembrandt. High above us the stars danced. There was not a cloud in sight. The morning after I went for a beach walk to get my head around how lucky we are in Canada for adventures such as this houseboating voyage with Sunshine Houseboats. What will today bring?
DAY 2 : We woke up the next day to a brilliant sunshine day. Before we launched we left our mark on the beach for others to enjoy. To see some of our beach art watch our video attached to this blog. Since south was the USA border we turned our vessel around and headed back north. We followed the coastline. Not a building anywhere, just sandy beaches. Once in awhile boats would buzz us sending the hot tub water all tsunami-like splish-splashing back and forth. I guess it was a local thing.
During our day the lake scenery created many conversations and, at times, long moments of silence. Captain Crunch steered us well into some amazing moments of scenery. We slowly cruised pass the Dore Campground. People on shore waved at us. Canadians are good that way.
We slowly crawled pass the cove that led to the Elk River. We peeked into the cove looking for moorage. It was the first time we saw other houseboats beaching in numbers. Not our scene so we quickly nixed the idea as we like our privacy and that remote wilderness feeling. Just up from Elk River we spotted a small beach cove along a long stretch of sandy beach calling out to us.
We beached it. Soon later I found myself beachcombing and bush whacking for firewood with one of my best friends, Mikey. Both of us like to keep busy on adventures. Often while on adventures together we are the ones setting up camps, collecting wood and doing what ever it takes for the group to feel at home. Then came the Bocce Ball. People were pounding on their chests claiming Bocce Ball supremacy. The challenge was on.
DAY 3 : It was another sunshine day. Another big day with big ideas. We all agreed we would navigate our way north towards the Rock Cliff Islands for some cliff jumping. Along the route we passed by Kikomun Provincial Park, Ayes Campground, Sand Creek, KooCanUsa Marina and we crawled under Bailey Bridge.
Again the lake views stopped us in our tracks. The glass lake threw back reflections of the nearby mountains and sandy coastline. From high above we watched as an Osprey dive bombed the lake snatching up fish from the lake. It was a sight to watch as the bird disappeared into the lake and then would reappear with a fish in its claws. It was a majestic moment of wilderness survival.
We arrived at Rock Cliff Islands. It was easy to spot as a family of boats were surrounding the cliffs. Captain Crunch slowly navigated our vessel as close as we could before our friend jumped into the water and swam over to the cliffs. Myself, I stayed behind to film and photograph the event and Colin was keeping the boat safe from the cliffs. I guess now that I think of it I could of gone after watching my friend take the plunge. I wish I did. Maybe next time if Sunshine Houseboats invites us back.
We soon later back tracked south towards the bridge to find our next beach for the night. It was a sad day in many ways as our adventure was coming to an end. We watched as the purple sunset skies descended on us. The dark-sky stars winked back at us saying good night for the last time. The next morning we left behind some of our best beach art of the trip for others to enjoy. Thank you Sunshine Houseboat for your hospitality. Thank you Lake KooCanUsa for the memories.
The "STARS OF TOURISM" program highlights Canadian accommodations, attractions and adventures the "eh Team" brothers explored during the summer of 2014 in the name of tourism and travel research for their ehCanadaTravel.com website, blog, social media channels and ehTV (YouTube).
Sunshine Houseboat Vacations
1304 14th Street South
Cranbrook, BC, Canada, V1C 5E8
Phone: 1.877.489.2610
Open Daily Mid-June through Mid-October
**********
The "eh Team" of ehCanadaTravel.com (eh Canada Travel & Adventure) are the brother team of Greg and Colin Girard. Together they are the brains behind the ehCanadaTravel.com travel website, blog, social media and ehTV which is the largest and fastest growing booking, planning and researching tourism and travel network for Western and Northern Canada – currently expanding into Eastern and Atlantic Canada.
**********
[google-map-v3 shortcodeid="4d6d6c78″ width="80%" height="350″ zoom="12″ maptype="roadmap" mapalign="center" directionhint="false" language="default" poweredby="false" maptypecontrol="true" pancontrol="true" zoomcontrol="true" scalecontrol="true" streetviewcontrol="true" scrollwheelcontrol="false" draggable="true" tiltfourtyfive="false" enablegeolocationmarker="false" enablemarkerclustering="false" addmarkermashup="false" addmarkermashupbubble="false" addmarkerlist="Cranbrook, BC, Canada, V1C 5E8{}battleship-3.png{}Sunshine Houseboat Vacations" bubbleautopan="true" distanceunits="miles" showbike="false" showtraffic="false" showpanoramio="false"]
https://www.ehcanadatravel.com/blog/wp-content/uploads/2014/10/houseboat-banner.jpg
300
640
Greg "Gug" Girard
https://www.ehcanadatravel.com/blog/wp-content/uploads/2020/01/ehcanada-logo-340x156-1.png
Greg "Gug" Girard
2014-10-05 17:46:59
2016-04-25 14:40:18
Lake KooCanUsa with Sunshine Houseboat