Road Trip – Wells Gray Provincial Park
Road Trip – Wells Gray Provincial Park
Adventures near Clearwater, British Columbia, Canada
Here are 5 unusual highlights of our recent #ehroadtrip to Wells Gray Park in BC
Road Trip to Wells Gray Provincial Park – Recently, we had an opportunity to sneak away from our working life and escape into our adventure life. However, before our "bumps and bruises" tour to Clearwater, British Columbia, Canada and some, well deserved, wilderness, we embarked on a Vancouver Island Road Trip to visit with family and re-introduce ourselves to beach camping and the mighty Pacific Ocean.
ehCanadaTravel.com Waterfall Video
Road Trip to Wells Gray Provincial Park
Unless you have been living under a rock, you have heard of the 2021 forest fires? So you can imagine, the joy that came over our faces, when the rain began to fall on our first day in Wells Gray Provincial Park. As a result, the rain transformed "bleak" to "bliss" all around us. Smoky skies were replaced by blue skies. Choking smoke was temporarily eradicated and the forest scents found life again. The horizon of haze vanished revealing BC mountain ranges and towering peaks. This was BC Canada delivered to us on a postcard.
Moul Waterfall (1 of 5 Highlights)
Moul Falls Trail in Wells Gray Provincial Park is one of the most visited falls in the park. Other notable falls include Helmcken, Dawson, Spahats and, ones like Triple Decker Falls. However, lets talk the most popular waterfall for now. Moul Falls is a 5.5, roundtrip, hiking trail. It is highly used and considered a moderate trek for most. The trail starts exploring down a deactivated gravel road. 1 km in, the road then connects to some single track trail which leads to a viewpoint of the canyon. Continue on the trail to your left, along the cliffside, until you reach 40 some steps down to the canyon and Moul Waterfall.
Walking Under The Falls
Moul Falls is spectacular. Even more so, that it is not hard to access and many can enjoy this natural beauty. One of the best features of this waterfall adventure is that you can walk behind the falls and, if you bring some swimming trucks, take a dip in the waterfall plunge pool. However, be advised the mist from the falls makes the trail slippery. The canyon also provides some great areas for a picnic. Make the adventure last longer right.
Black Bear Meets The "Brothers of Tourism" (2 of 5 Highlights)
"Two roads diverged in a wood and I – I took the one less traveled by, and that has made all the difference" – Robert Frost
For those who know Colin and I, we like to take the road less traveled. The adventure always seems to take on a whole new life that way. Moul Falls was no different. On our way back, we decided to check out the foot bridge and the trail to the 1 kilometre return trip to McDiarmid Falls. Instead of joining the main trail on our way back, we decided to follow a little used trail following along the Clearwater River. When it happened! A black bear appeared out of the bush, not 10 metres in front of us. We stopped in our tracks. Slowly retracing our steps, Colin began snapping photos with me, with my hands in the air, looking big. It was a beautiful creature. It was a wonderful moment. This is nature.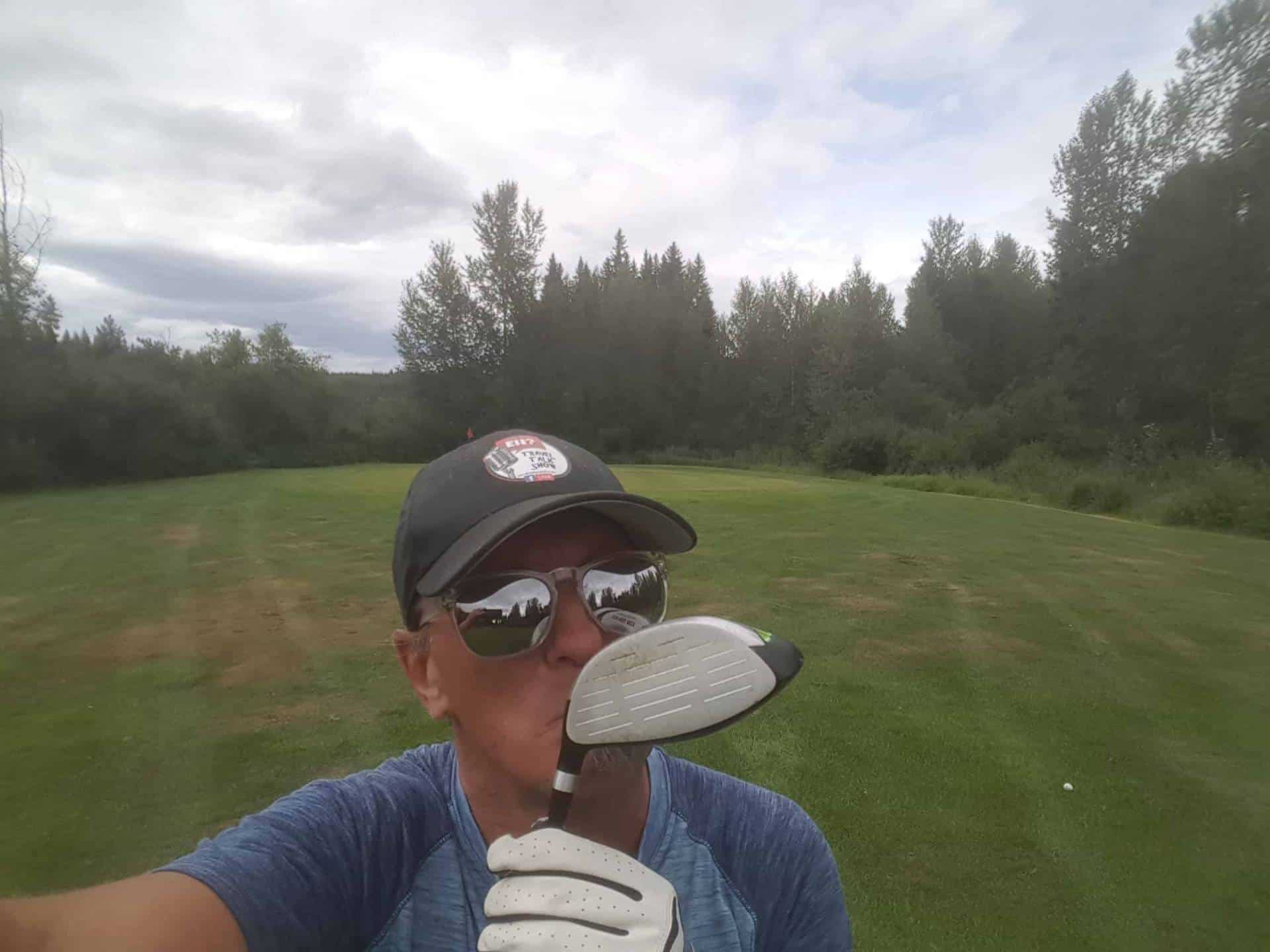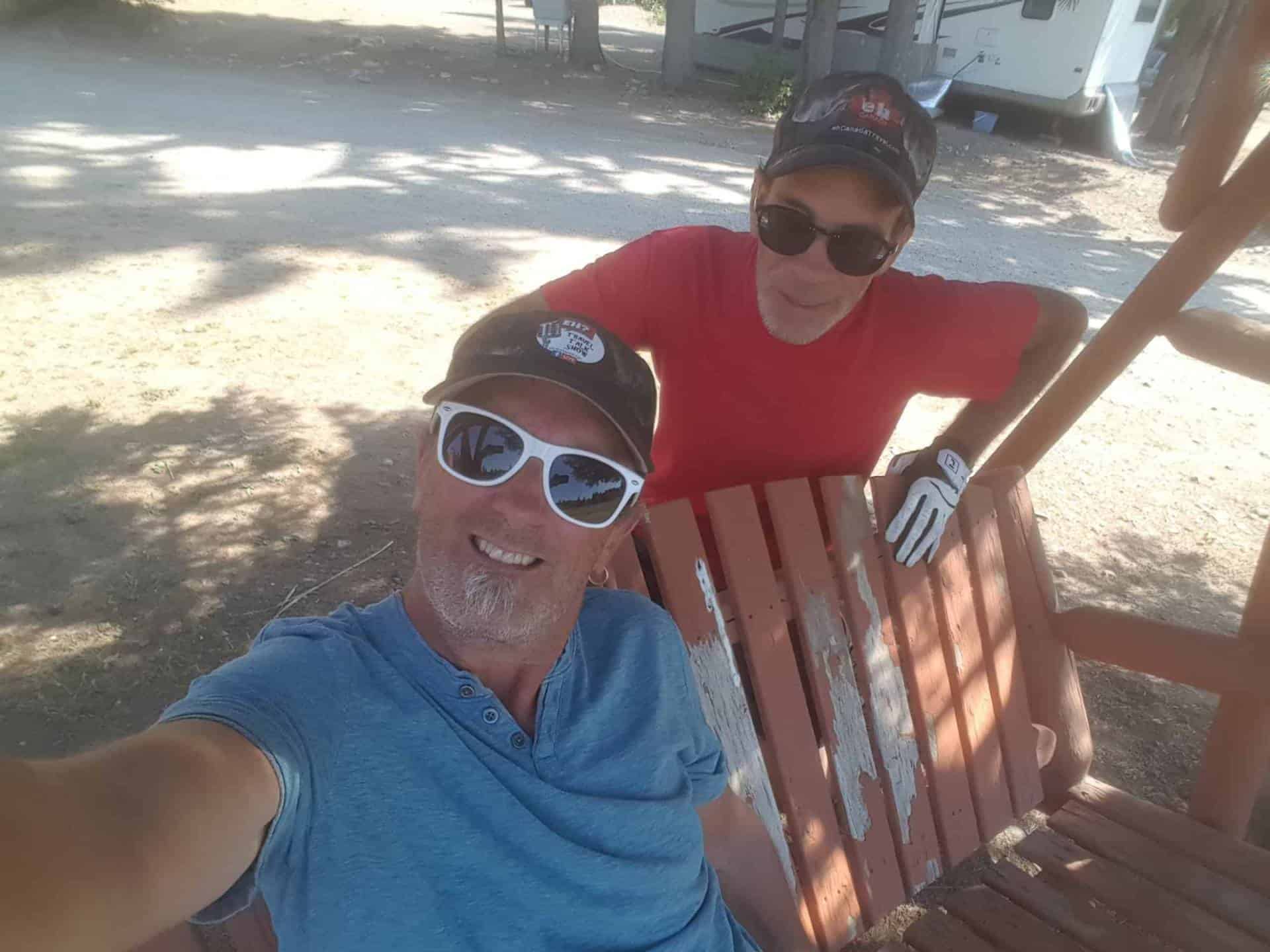 Image Slide 3
Happy Found His Golf Ball
Golf Till You Drop (3 of 5 Highlights)
Since we both love to think we can play golf (more like hacking and whacking), we do love the exercise that comes with walking golf courses. Plus… because we have the Maple Leaf Bomber RV we are, more and more, taking a shining to RV and Golf Campgrounds. It seems like a perfect life. We can be on the hiking trails in the morning (smaller crowds too) and finish the day with 18 holes of golf. We figured we charted 10 kilometres a day on average.
Campground Golf Courses – Motorhome Friendly
Therefore, you can imagine how stoked we were to book a campsite with Wells Gray Golf & RV Resort. We enjoyed 54 holes, over 20 lost balls, yelled "four" a few times and had score cards with lots of bogeys, some pars and a few birdies. However, I think I figured out my 3 wood. Not to mention we golfed hole 7 with a Cinnamon Black Bear watching from the fairway. Hats off to the new owners. They are fun, pleasant and welcoming hosts.
People of Wells Gray Park (4 of 5 Highlights)
We have always stated that people make the accommodation or the attraction. No matter your preferences a host can make or break any vacation. In fact people are the main driver to the reputation of a travel destination. Colin and I were fortunate to meet many great people on this adventure like our hosts at the campground. However, the best connection, the many laughs, smiles and stories occurred when we took a trip to the end of the road to Clearwater Lake. There we found a coffee shop and the owner of Clearwater Lake Tours, Ray Jones. We drank coffee and talked kayaking, tourism, boating, camping, wildlife and living life. In the distance we watched a fly fisherman on the lake, standing in the middle on a sand bar. Colin was jealous.
Breakdowns and Spitting In Public (5 of 5 Highlights)
If you love road tripping, it will come as no surprise that not all things go according to plan. And if you are an avid explorer like us, you also understand panic and negativity never helps a situation. Colin, my brother, and I have learned to accept obstacles, blunders and surprises as part of any adventure. However, I do find it funny that many of our blunders are some of our best stories to share around a campfire. Entertaining now, maybe not so much back then?
This road trip to Wells Gray Provincial Park was no different. Pulling into Clearwater, BC, Canada we did what we always do. We stopped for a coffee. However, it seemed the jeep was not pleased with this decision as it was spitting radiator fluid at us. In other words, our jeep sprung a small radiator leak and, to top it off, our tow lights for the jeep stopped working. Did the jeep spit on the connection in disgust and shorted it out? Ugh right! Not so much.
Parking Lot Chronicles
The early bird catches the worm. And we were early. So early, the only auto parts store in town was not open yet. But the large parking lot across the street from the store was vacant and calling our names. We parked the Maple Leaf Bomber and started to access the situation. I should say Colin did. I know squat about cars. Most importantly, we hoped we could plug the hole as opposed to replacing the whole radiator and, crossing our fingers, that replacing the connectors for towing would solve that issue as well? In closing, this chapter of our adventure all worked out and we were on the road to the park once again.
Road Trip – Wells Gray Provincial Park
Adventures near Clearwater, British Columbia, Canada
Written by : Greg Girard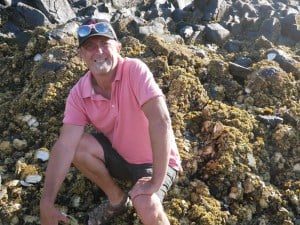 Greg Girard is a CO BRO Founder of the award winning adventure and travel website and blog ehCanadaTravel.com, as well as, the Co Bro Founder of the EH? Tourism Marketing Group and host of the popular EH? Travel Talk Show. Greg is also a top ranked Canadian and global travel blogger who enjoys public speaking, and working with as many small and rural Canadian communities as possible.
"Best Economic Development Community Project Award (under 20,000 population)" 2021 BCEDA Awards
"Best Marketing Program of the Year" 2021 Canada Prestige Awards
"Best Canadian Adventure Vacation Planner" Lux Life 2021
"Best Nationwide Adventure Travel Company" Lux Life 2020
Top 20 Canada Travel Websites to Watch – FeedSpot
#23 Top 1000 Global Travel Bloggers – Global Rise
Best Canadian Blogger — Expertido
#4 Top 60 Canadian Travel Bloggers – BlogSpot
#7 Top 100 Canadian Travel Bloggers – Flight Network
FEATURED ON: CBC, Canada.com, Huffington Post, World Tourism Association for Culture and Heritage, Nature Conservancy of Canada, Low Season Traveller, TravelTV.com, Travel Industry Today, Cottage Life Magazine, Yukon Life, TAPS Magazine, HUB Magazine and many community publications.
https://www.ehcanadatravel.com/blog/wp-content/uploads/2021/08/P1020320-scaled.jpg
1920
2560
Greg "Gug" Girard
https://www.ehcanadatravel.com/blog/wp-content/uploads/2020/01/ehcanada-logo-340x156-1.png
Greg "Gug" Girard
2021-08-24 10:38:48
2021-08-24 10:52:48
Road Trip – Wells Gray Provincial Park