PEOPLE OF ONTARIO CANADA CREATE NEW TRAVEL WEBSITE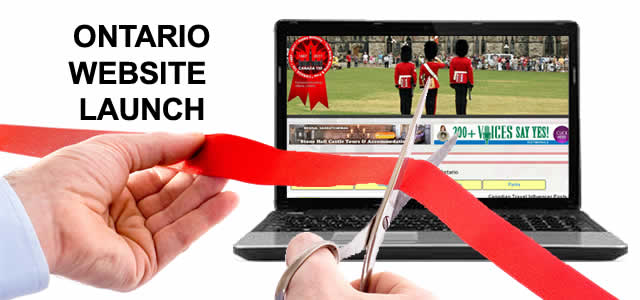 ONTARIO CANADA TRAVEL WEBSITE LAUNCH
Ontario Needs You Now! List Your Business.
We have just published the province of Ontario Canada on our award winning website & blog!! Post and Promote.
"… this has become an important source of exposure for us. The ability to promote ourselves online on the best independent and interactive travel website has really grown our business in new and exciting ways.." Toad Hollow
Sign up your tourism business now for free and get a jump on preparing yourself to receive bookings, as well as, gain access to our content marketing and social interaction tools which also promote your business every time you post. Yes, with us, you can create 100's of ads for your business based on the content and social travel posts you create! We are the only booking website providing over 14 marketing tools for tourism businesses. What better way to get the word out and connect with travelers.
"Canada Travel provides tourism businesses with the tools necessary to promote and market themselves in real-time – nationally, globally and socially – as much as they want, when they want and how they want."
Watch Video to Learn More
You are in at the beginning so content creation is wide open. This is a pre launch phase so businesses can sign up prior to our official launch. With us you can create content which becomes part of your community information on our website. All content you create to assist travelers coming to your region advertises your business. What you create and whenever you post, you get the recognition! More content you create on our Ontario Canada Travel Website the more ads you have floating around on the internet connecting with travelers.
Our proven marketing tools are free with your Membership. You write 500 words or more about a park, trail, sightseeing destination, historic site, beach, walking route, wetland, etc (basically anything a traveler visits when in your community) your business is featured on that page. What better way to show you are an expert and knowledgeable about your area than to be a source of information for travelers. Other provinces before you have 1000's of parks, trails and places posted. Now it is Ontario, Canada's turn to market itself.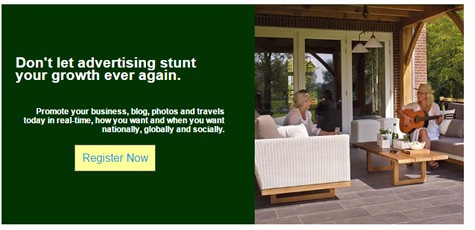 But it does not stop there. We also have social travel tools for 2-minute marketing on our Ontario Canada Travel Website. With us you can create a short post and attach a photo and video (like Facebook) and that post is published on the front page on every province and territory in Canada! Instant national exposure. It gets better too. That same post is then rebroadcasted on social media including Facebook, Twitter, Google+ and Tumblr connecting you with tens of thousand of travelers. If it is a top post then it is featured weekly on over 14 social media pages! Do the math. One 2-minute post can turn into over 30 posts!
"Don't let advertising stunt your growth ever again. Promote your business, blog, photos and travels today in real-time, how you want and when you want nationally, globally and socially."
Our Ontario Canada Travel Website is the first booking, planning and interactive online tourism guide of its kind to implement social media technology, content marketing tools, participation marketing principles and live interactive travel communities. With us participating tourism businesses, travel bloggers, photographers, media and event planners post, share and create real-time content which advertises their services, experiences and knowledge of the area nationally, globally and socially when they want and how they want. Our website also invites the everyday Canadian and visiting traveller to sign up and participate in the promotions and creation of Canada's website.
Canada Travel (ehCanadaTravel.com) started as one community website in Sidney, British Columbia, Canada on Vancouver Island. At that time participating tourism businesses informed us we were onto something and encouraged us to expand. Now, since November 2013, our version of travel is operating throughout British Columbia, Alberta and Saskatchewan, Canada. We have grown to 1200+ business listings covering 370+ communities featuring over 16,000+ photos and 3500+ information pages detailing parks, trails, beaches, historic sites and more. Currently we are expanding into Northern, Central, Eastern and Atlantic Canada markets.
*************************************************
200+ Testimonials
Canada Travel Website
About Us

As Seen On:
CBC, Huffington Post, Canada.com, Nature Conservancy of Canada, Cottage Life Magazine, TravelTV.com, Travel Industry Today, Yukon Life, TAPS Magazine, HUB Magazine
Head Office
ehCanadaTravel.com
54-120 Finholm Street N.
Parksville, BC, Canada, v9p 1J5
Office Phone: 1.250.818.1925
Toll Free (Canada): 1.877.923.3764
Email: media@ehcanadatravel.com

https://www.ehcanadatravel.com/blog/wp-content/uploads/2017/03/blogbanner.jpg
300
640
Greg "Gug" Girard
https://www.ehcanadatravel.com/blog/wp-content/uploads/2020/01/ehcanada-logo-340x156-1.png
Greg "Gug" Girard
2017-03-17 10:27:34
2017-03-17 10:27:34
PEOPLE OF ONTARIO CANADA CREATE NEW TRAVEL WEBSITE