Top 10 Canada Tourism News March 28th to April 3rd, 2016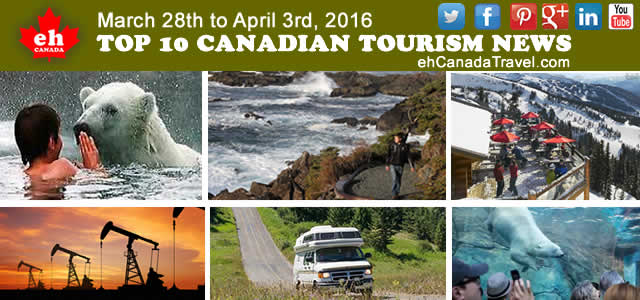 Canada Travel & Tourism News
Top 10 Canada Tourism News March 28th to April 3rd, 2016
News / Tips / Trends / Lists / Opinions / Videos / Photo Galleries

Parks Canada urged to let Canadians vote on which animals to conserve  (Tourism News)
Top five must-sees in Winnipeg
( Travel Lists) Celebrating Manitoba launch on ehCanadaTravel.com

"Some members of Alberta's tourism industry want Parks Canada to create an online poll that would allow Canadians to vote for the wildlife they believe deserve more federal conservation funding." via CBC News @CBCNews

"Winnipeg is definitely a city on the rise, with fabulous new museums and a new feeling of confidence. Here are five must-do activities and things to see in Manitoba's capital." via National Post, @NationalPost
Top 10 Canada Tourism News March 28th to April 3rd, 2016
Top 10 Canada Tourism News March 28th to April 3rd, 2016
Top 10 Canada Tourism News March 28th to April 3rd, 2016
Tourism Spends In Canada Up In 2015 (Travel News)
New agreement to tackle people and polar bear conflicts in Canada's North (Travel News)

"Tourism spending in Canada grew 2.9% in 2015, following a 3.3% gain in 2014. Canadians at home and international visitors in Canada both contributed to the increase in tourism spending." via FYI

"A diverse group of stakeholders representing Arctic regional governments, industry, researchers and Inuit reached a new unanimous agreement to tackle the growing issue of conflict between people and polar bears." via Global Travel Industry News
Top 10 Canada Tourism News March 28th to April 3rd, 2016
B.C.'s Wild Pacific Trail, a magical, powerful edge-of-ocean hike (Travel News)
Whistler, Canada's top ski hill, now among world's best performing (Travel News)

"Many agree, as the eight-kilometre nature trail near Ucluelet, B.C., about 300 kilometres northwest of Victoria, has been ranked the top outdoor attraction in the province by TripAdvisor and among the travel ranking site's top 10 in Canada." via Dirk Meissner, @TheProvince

"Whistler Blackcomb, North America's biggest and busiest ski resort, has benefited this season from above-average snowfall and a weak Canadian dollar, which have drawn big-spending visitors from abroad and helped send its stock to a record." via Jeremy van Loon, @SeattleTimes
Top 10 Canada Tourism News March 28th to April 3rd, 2016
"We bring your advertising to life with content? We give your content a personality with interaction." Greg Girard – eh Canada co founder
Guaranteed Results:  List your business and have access to UNLIMITED ADVERTISING, CONTENT MARKETING, SOCIAL MEDIA PROMOTIONS in your community, region and nationally using our 15 content marketing tools and promotional campaigns on our 12 social media channels. Find Out How This Business Did It.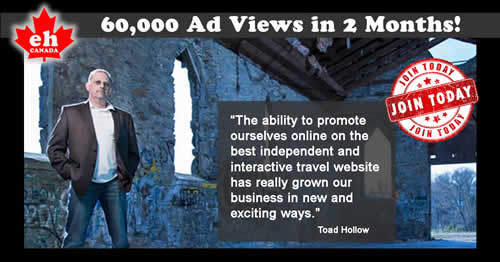 Learn How This Business Did It 
This Week in April Canada Tourism Newsletter created by ehCanadaTravel.com.
April Canada Tourism News – Week 1
*********
ehCanadaTravel.com (eh Canada Travel & Adventure) is the largest travel and adventure website for booking and planning travel in Western and Northern Canada and the largest social media interactive website in the tourism industry worldwide. The "eh Team" of eh Canada Travel & Adventure are a group of travel explorers, called Tourism Ambassadors, who research and write content, take photos, create videos promoting the many opportunities in travel, tourism, history and adventure in Canada.
*********
https://www.ehcanadatravel.com/blog/wp-content/uploads/2016/04/blogBANNER.jpg
300
640
Greg "Gug" Girard
https://www.ehcanadatravel.com/blog/wp-content/uploads/2020/01/ehcanada-logo-340x156-1.png
Greg "Gug" Girard
2016-04-04 00:54:14
2016-04-04 00:54:14
Top 10 Canada Tourism News March 28th to April 3rd, 2016