Interview with Taste-It Food Tours in Saskatchewan Canada

Interview with Taste-It Food Tours
An interview with Patti Rodger of Taste-It Food Tours in Saskatchewan, Canada
"Food tours are trending across the continent and beyond," Patti Rodger!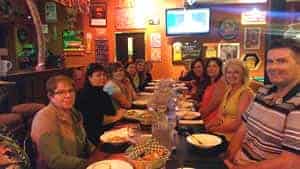 Culinary Tourism is growing fast! The launch of food shows on TV, the increasing numbers of "Foodie" travel bloggers, the identification of  foods with a Canadian flare,  the introductions of some Canada's greatest chefs and the resurgence or healthy eating have all played a big part in the growth of the culinary food tourism industry in Canada.
Taste It Food Tours features guided walking luncheon and dinner tours to the most popular restaurants in Moose Jaw, Regina, Cypress Hills and Saskatoon
Saskatchewan, Canada! The Taste-It Tour is a dining experience which visits up to 5 restaurants to sample their 'signature' dishes and beverages. A tour guide will lead you through the downtown section of the city and give you a history lesson about the city, tell you about the landmarks that you are passing or share 'the story' about the restaurants you will be visiting.
The culinary tours not only introduce you to food and culinary dishes but also provide you with historic tours and sightseeing opportunities in the city. The difference? We were exciting to learn more about this original way of dining with Taste-It Food Tours. So… we invited Taste-It Food Tours over to our swanky online Maple Leaf Studio for a sit down to learn more about what they have to offer. So lets not waste anymore time and get right to  it.
1. Please tell us a little about who you are and what you do?
"Taste-It Food Tours is exactly that – a business that provides foodie tours in Saskatchewan cities and venues. Patrons join a tour guide, and over a three-hour trek, visit up to five restaurants and venues to sample signature dishes and beverages. Along the way, they are regaled with historical information about the area or information about the venues they are visiting or the food they will be sampling!"
Their Contact Profiles, Bios & Website: 
2. What makes you different from other tours in the region?
"This is a culinary adventure! Now, patrons can visit several venues to sample foods at each venue. This will help them make decisions on where to spend their future dining dollars!" (eh) What a great experience. There is nothing more disappointing when traveling then to spend our hard earned dollars on a poor meal. Your services assist us in selecting where to eat. 
3. Why did you decide to work in the culinary / foodie tour industry?

"This is an opportunity for patrons to interact with a special kind of tour – they not only learn the history but they also partake in great food and hospitality!"
4. What are your future plans, projects or goals for Taste-It Food Tours?
"Taste-It Food Tours plans to expand to Saskatoon for the 2016 Season." (eh) Congratulations on your success! As we can attest to – to expand a business you must be doing what you do very well.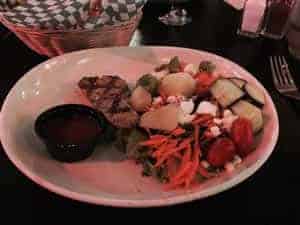 5. Tell us an interesting story about Taste-It Food Tours?
"Food tours are trending across the continent and beyond! I attended food tours in Scottsdale and Phoenix for two winters before someone mentioned that Saskatchewan might be a good fit for food tours. I decided Moose Jaw would be a good place to start because of its historical emphasis initially, but really, it is such an intimate little city – it's the perfect start to a business such as this!" (eh) Your research has obviously paid off in spades in developing a good business model.

6. In your opinion what are the key reasons tourists should pick Saskatchewan to travel to?

"Saskatchewan has so much to offer! Yes, we can see as far as the eye can see and yes, our geography in the lower plains may be flat, but beyond all that, we have a rich historical and cultural story to tell. Key reasons to visit? Cypress Hills; Waskesiu; Moose Jaw, our tourist haven; the beautiful Saskatchewan Legislative Building, Saskatoon, Wascana Lake, our great food!!!"  (eh) Saskatchewan offers a personality and amazing experiences no other province can offer. If we were to offer one piece of advice when exploring Saskatchewan it would be, "Get off the Trans Canada Hwy".  Much of what makes Saskatchewan great is found on the secondary highways and roads.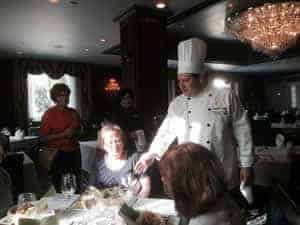 7. What do you like the most about the people you meet who sign up for your tours?
"Our patrons are proving to be from a variety of markets! While we initially believed we would be more appealing to tourists, I am finding that Saskatchewan residents have been our largest market to date. Having said that, both tourists and residents alike are amazed with our great culture and food choices that we have in our midst. " (eh) Love it! Staycations, backyard tourism and visiting tourists from around the world are all an important part of growing our Tourism Industry in Canada. 
8. In your experience where do most visitors come from when attending your tours and what do they have in common?
"As far as tourists are concerned, we have had patrons from BC to Nova Scotia to Yellowknife! Predominantly, however, most patrons are from Saskatchewan! They all enjoy great food, great hospitality and meeting new people!"
9. Please give us some insight on what, you see, as the biggest mistake visiting travelers do?

"Although I believe this is changing, I've heard, in the past, that travelers often overlook what Saskatchewan can offer them."
10. What do you see as the biggest challenges in the future of tourism in Saskatchewan?

"The economy has its ups and downs; hopefully, the state of the Canadian $$ will not only entice people to 'stay-cation' but also entice our neighbours to the South to visit more frequently!"  (eh) Agreed! 
Thank you for your time Taste-It Food Tours! We are proud to showcase your talents to the world as a Featured Tour Attraction on our ehCanadaTravel.com website in Saskatchewan, Canada.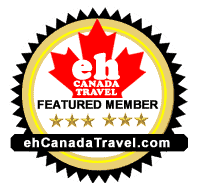 How Do You Get Interviewed? Businesses must be advertising on the ehCanadaTravel.com website, as well as, have the FEATURED BUSINESS BADGE posted prominently on their website. When exploring Canada for quality experiences make sure to seek out the businesses posting our 100% Canadian Featured Business Badge Award!
Sign up your business starting at $69 / year.  More Information
******************************************
ehCanadaTravel.com (eh Canada Travel & Adventure) is the largest travel and adventure website for booking, interacting and planning travel in Western and Northern Canada. The "eh Team" of eh Canada Travel & Adventure are a group of travel explorers, called Tourism Ambassadors, who research and write articles, take photos, create videos researching the many opportunities in travel, tourism, history and adventure in Canada.
We are currently expanding into Eastern and Atlantic Canada.
"We bring your advertising to life with content.
We give personality to your content with interaction." Greg Girard – co founder

*********
https://www.ehcanadatravel.com/blog/wp-content/uploads/2016/04/banner.jpg
300
640
Greg "Gug" Girard
https://www.ehcanadatravel.com/blog/wp-content/uploads/2020/01/ehcanada-logo-340x156-1.png
Greg "Gug" Girard
2016-04-09 13:31:30
2016-04-12 11:35:29
Interview with Taste-It Food Tours in Saskatchewan Canada