Misty River Lodge Interview – Radium Hot Springs BC

Dreams Do Come True When You Travel
Misty River Lodge Interview – Radium Hot Springs BC
Sometimes when you travel and explore you run face first into your dreams and goals. Travel sometimes not only opens your eyes, heart and mind to different cultures, traditions, environment and people but it also can guide you in what you want to do with the rest of your life. That is the case with Gaby and Geoff of Misty River Lodge in Radium Hot Springs, British Columbia, Canada. They followed the lure of travel right into the hands of their dream job.
We are lucky to have Gaby and Geoff as our guests today in our online swanky interview lounge for our 10 question interview campaign we like to call the "Friends of Tourism" Promotion. We had an opportunity to learn more about Misty River Lodge and the roads that led them there. We learned more about tourism and travel and adventure in Radium Hot Springs. We got a chance to soak up stories about their experiences and knowledge. We enjoyed learning from them.
Thank you for this opportunity! So lets get the show on the road shall we. Here is question uno-numero #1.
1. Please tell us a little about who you are and what you do?
Gaby is originally from Germany; "My first two years in Canada were spent jobbing and exploring. Then I got a job at the Halifax International Hostel and never looked back. Managing hostels is a great way to see the country."
Geoff is from Australia and first came to Canada by accident; "I was travelling through the US en route to a job in Ireland. I hit the Rocky Mountains in Colorado and, following them north, stumbled into Canada."
How do an Australian and a German get together in Canada? Well, hostels also have a lot to answer for when it comes to romance: Gaby had just started as the manager of Hilda Creek Hostel (120km north of Lake Louise) when Geoff arrived, on his way north through the Rockies. We discovered we shared a passion for travelling, cycling, nature and both love meeting people from around the world.
After three years of long distance romance, several trips across the Pacific and a lot of talk about starting our own hostel in Canada, we discovered Misty River Lodge and set about converting it to match our idea of a travellers hostel.
That was 18 years ago! There have been a few ups and downs but overall it's been an amazing experience. We love hosting people from all over the world and we've made many friends along the way!
Canada Travel Profile:  www.ehcanadatravel.com/travel-community/523-misty-river-lodge/profile.html
Misty River Lodge Website:  www.mistyriverlodge.ca
Phone: 250-347-9912
Toll Free: 1-877-457-1117
Email: info@RadiumHostel.bc.ca
Location: 5036 Highway 93, Radium Hot Springs, BC, Canada
2. What makes you different from other accommodations in the region?
Our guests always comment on the "family feel" of our place and that's how we like it! With a maximum capacity of just 28 people the place is small enough that we can really get to know our guests. Over the last 18 years we even got to watch some of our guests grow from toddler to teenager & soon they'll be old enough to travel on their own!
3. Why did you decide to work in the tourism, travel and/or adventure industry?
Well it was more of an accumulation of accidents than a conscious decision. Gaby accidentally noticed the job add for the Halifax International Hostel while staying in Halifax. Geoff accidentally came to Canada while traveling through the US, and we accidentally discovered Misty River Lodge while cycling past. We were touring the "Golden Triangle" in September '97 when we noticed this "cute" little place surrounded by flowers, with a wonderful deck and panoramic view, right next to Kootenay National Park and not far from the Hot Springs. Gaby's comment was: "That place looks like it would make a great hostel. Too bad it's not for sale!" We were on our way to the hot springs at the time. Riding back into town we glanced over at our "dream hostel" – and now there was a "for sale" sign out front! We took that as a sign that this place was meant for us…
4. What are your future plans, projects or goals for Misty River Lodge?
As of last year we have reached all of our long term goals for building and growing the business so we don't have any major plans for the moment. That said, Geoff always has a few renovation projects on the go and Gaby is always trying out new ideas to redecorate the rooms. Then there is social media – we got started with FaceBook in 2013 and really enjoy keeping in touch with our guests & letting them know what's happening in Radium Hot Springs or the surrounding area. But there's so much more than Facebook and we want to make an effort to expand our social media network over the next little while.
5. Tell us a funny story about Misty River Lodge?
Oh boy, after 18 years in business we've got stories galore so it's difficult to chose one that stands out…
One thing that often leads to comical situations are cultural or language differences:
One time we had a Taiwanese group stay with us, their guide had asked us if we could serve breakfast for them and we agreed. It was a simple buffet style continental breakfast but we tried to ensure there was ample food for all. Imagine our surprise when we watched it all disappear! Gaby rushed to refill the platters. Surprise turned to alarm when this too evaporated. These people sure are hungry and, by the third refill, we were starting to run out of supplies!!!
As for the group – well, the conversations became more animated each time Gaby replenished the offerings. We could only hope it was a good sign as we didn't understand Taiwanese.
The guide, at least, seemed to be very pleased as his grin grew wider and wider. Finally, he burst out laughing and explained that, when invited for a meal, the Taiwanese consider it impolite to leave food on the table. Everything has to be eaten! So, every time Gaby thought "Oh, no, they've finished that too!" and brought more food, our Taiwanese guests thought "Oh, no, there's more!"
6. In your opinion what is the #1 reason tourists should travel to British Columbia?
BC has it all – mountains, deserts, ocean, beaches, hot springs, wide open spaces and vibrant cities! For sheer diversity in landscape and cultural experiences this province can't be beat!
7. What do you like the most about living in Radium Hot Springs?
The location and small town atmosphere is what we like most:
We're right next to Kootenay National Park with spectacular mountain views from anywhere in town.
All sorts of wildlife walks right through town so we get to see deer, bighorn sheep, and smaller critters on a regular basis as well as the occasional elk, bear, coyote or cougar.
We even seen a wolf wandering through recently!
8. What type of traveler is Radium Hot Springs suited for and why?
Radium Hot Springs is perfect for travelers who love being surrounded by nature while pursuing outdoor activities.
There's so much to do around here – canoeing/kayaking, whitewater rafting, hiking, biking, golfing, skiing, mountaineering…You name it, we've got it! And, at the end of the day, there's hot springs to relax in!
9. Please give us some insight on what, you see, as the biggest mistake visiting travelers do?
A big problem for travellers to Canada and BC in particular is the size of the area to explore: There's so much to see and (usually) so little time! So a lot of people end up doing a "whistle stop tour" spending only one night in each location. And we hear the same comment over and over again from our guest: "I wish we could stay longer!" Of course, with so much to see it is hard to pick a few highlights but we think that it makes for a more rewarding (and less exhausting) holiday if people choose a number of highlights (depending on how much time they have) and plan to spend at least 2 or 3 nights there.
10. What do you see as the biggest challenges in the future of tourism in British Columbia?
We've heard other operators voice concern about how the economic downturn in Alberta will affect this area. And, yes, there have been some signs that Albertans are more cautious with regards to how they spend their travel dollars but we think that any potential decrease will be offset by an increased interest in visiting the area from outside Canada (helped by the low Canadian dollar)
Thank you for your time Misty River Lodge! We are proud to showcase your talents to the world as a Featured Tourism Accommodation in BC, Canada on our ehCanadaTravel.com website.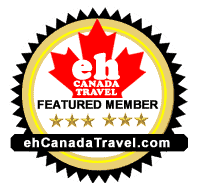 How Does Your Business Get Interviewed? Businesses must be advertising on the ehCanadaTravel.com website, as well as, have the FEATURED BUSINESS BADGE posted prominently on their website. When exploring Canada for quality experiences make sure to seek out the businesses posting our 100% Canadian Featured Business Badge!
Sign up your business starting at $69 / year.  More Information
******************************************
ehCanadaTravel.com (eh Canada Travel & Adventure) is the largest travel and adventure website for booking, interacting and planning travel in Western and Northern Canada. The "eh Team" of eh Canada Travel & Adventure are a group of travel explorers, called Tourism Ambassadors, who research and write articles, take photos, create videos researching the many opportunities in travel, tourism, history and adventure in Canada.
We are currently expanding into Eastern and Atlantic Canada.
"We bring your advertising to life with content.
We give personality to your content with interaction." Greg Girard – co founder

*********
https://www.ehcanadatravel.com/blog/wp-content/uploads/2016/06/blogBANNER1.jpg
300
640
Greg "Gug" Girard
https://www.ehcanadatravel.com/blog/wp-content/uploads/2020/01/ehcanada-logo-340x156-1.png
Greg "Gug" Girard
2016-06-11 11:27:46
2016-06-11 11:27:46
Misty River Lodge Interview – Radium Hot Springs BC