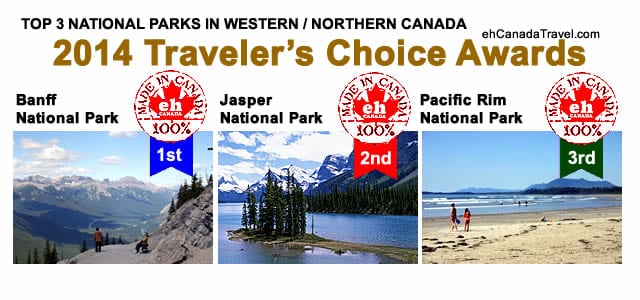 TOP 3 NATIONAL PARKS IN CANADA
2014 Traveler's Choice Awards
Top 3 Most Visited Parks in Western / Northern Canada
 Back to 2014 Traveler's Choice Award Winners
National Parks
Canada's National Parks – the adventure destinations which are identified with national park designations that are located in Canada attract millions of travelers to our country every summer and winter.
Many visit during the summer season to enjoy activities like camping, hiking, backpacking, birding, swimming, kayaking, canoeing, swimming, boating, biking, horseback riding, surfing, water skiing and so much more.
But it does not stop in the summer months. Oh no! There are many national parks in Canada which are open for play during the winter season as well.  Travelers enjoy winter adventures like cross country, snowshoeing, ice fishing, winter camping, skiing, snowboarding, dog sledding, snowmobiling and others.
The landscape may look different and the activities change every season but that does not stop Canadians and visitors from having fun. In many ways our seasons give us two versions of each park. How lucky are we!
Below we have listed the… TOP 3 MOST POPULAR NATIONAL PARKS VISITED IN 2013 BY OVER 2.1+ MILLION ONLINE TRAVELERS on our award winning ehCanadaTravel.com website and blog.
Below are the 2014 TRAVELER'S CHOICE AWARD WINNERS! (for posting the winners on your blog, social media or website please contact us at media(at)ehCanadaTravel.com and request a logo link)

Banff National Park,
Alberta, Canada

Banff National Park is Canada's oldest national park, first established in 1885. Banff National Park runs along the same lines as the Continental Divide, the provincial border between Alberta and British Columbia, Canada and includes the Canadian Rocky Mountains. There are two resort villages located in the park;  Banff, Alberta and Lake Louise, Alberta. The national park was first created to protect the local wildlife and the mineral springs near the village of Banff, Alberta. Since then the park has grown to include over 1,500 kilometres of recreation trails, alpine teahouses, ski mountains, many day use areas, scenic picnic sites, mountain resorts and more. (read more)

Jasper National Park
Alberta, Canada

Jasper National Park was first established in 1907. Prior to becoming a park the region was home to Jasper House which was built on the shores of Brule Lake in 1820 and acted as a fur trading post for servicing the Rocky Mountain wilderness region. Today, the region is a national park measuring over 10,800 square kilometres surrounding the Village of Jasper. There are many opportunities to explore and view glaciers, icefields, wildflower meadows, snow capped mountain peaks, hot springs, wildlife, waterfalls, historic sites, hiking trails, canyons, alpine lakes and rivers. Jasper, National Park along with the Yoho, Kootenay and Banff National Park including the Mount Robson. Hamber and Assiniboine Provincial Parks combine to create the Canadian Rocky Mountain Parks World Heritage Site. (read more)

Pacific Rim National Park
British Columbia, Canada

Pacific Rim National Park Reserve of Canada is located on the west coast of Vancouver Island, British Columbia, Canada. The communities of Tofino, Ucluelet, Bamfield and Port Renfrew are considered Pacific Rim communities while Port Alberni is recognized as a gateway community to the park. The Pacific Rim National Park is a protected, sensitive and diverse eco system covering over 13,000 hectares (6000 hectares is marine park and 7000 is on land). The park is divided into three regions based on the major attractions within the park. There is the easy access sandy beaches in the Long Beach region, the rough and tough 70+ backpacking trail in the West Coast Trail region and the hundreds of islands in the Broken Islands region. (read more)
Congratulations to this years most popular National Parks in Western/Northern Canada
from the "eh Team Brothers" and the ehCanadaTravel.com.
LINK YOUR PARK WEBSITE WITH ehCanadaTravel.com


ehCanadaTravel.com (eh Canada Travel & Adventure) is the largest booking, planning and researching tourism and travel website for Western and Northern Canada currently expanding into Eastern and Atlantic Canada. The EH Team Brothers (Co Founders) also author the eh Canada Travel Blog which was recently awarded "A Top Canadian Blogger" by FlightNetwork.com.
2014 Traveler's Choice Awards – National Parks
https://www.ehcanadatravel.com/blog/wp-content/uploads/2014/01/best-NATIONAL-PARK-banner.jpg
300
640
Greg "Gug" Girard
https://www.ehcanadatravel.com/blog/wp-content/uploads/2020/01/ehcanada-logo-340x156-1.png
Greg "Gug" Girard
2014-01-19 16:41:44
2014-01-30 20:13:56
Voted Canada's TOP 3 National Parks – 2014 Traveler's Choice Awards