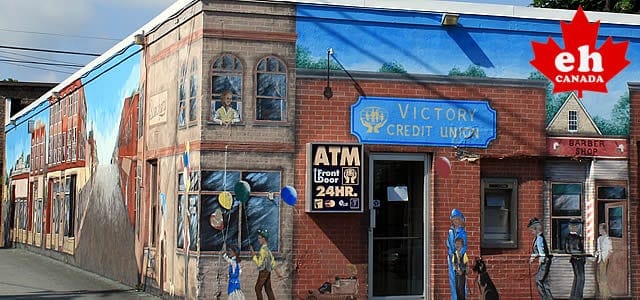 Best Outdoor Murals of Canada.
Murals… oh how we love them. So much so … we have compiled a list of the best communities for murals in Canada! Murals tell stories. They educate, enlighten and beautify. Murals guide many of us as we walk the streets of the communities and sightsee. What is there not to like about murals?
There are some Canadian murals in the public eye where the artists make it so difficult for communities, media, and even you and I to share, promote or bring any attention to the murals or the artists? How does that work? The muralist puts them on public display but admirers of all types are hand cuffed when sharing them with the world. Those muralists handcuffing communities will not be mentioned here.
A well designed and applied mural program can change a whole perspective of a town, building and/or business. Murals, in many cases, are sanctioned by the town, built on town land and created by talented muralists and/or art groups celebrating the region.
Many communities in Canada have adopted a mural campaign. It is not the murals per say anymore, as they are everywhere, but the quality and the stories they tell. A mural program in a downtown area can accomplish many objectives and promote a more positive image of a community when done professionally. Every photo taken and shared promotes the artists whose names are autographed on every mural. Here are just a few benefits of a good mural program.
1. Murals promote the muralist.
2. Murals beautify a town.
3. Murals attract people to downtown therefore increasing shopping revenues.
4. Murals (like advertising) promote attractions, history and adventures of a community.
5. Murals attract attention to a business.
6. Murals stimulate interest in a town.
We have come across some pretty impressive murals over the years during our travels east-west-north-south in Canada. Here are the Best Murals of Canada according to our travels. Thank you to these muralists / story tellers for making Canada buildings beautiful!
| | |
| --- | --- |
| | "Brebeuf Lighthouse- This lighthouse was built in the 1900's to help guide ships on course from Giant's Tomb to the channel serving Midland Bay. Note the window in the top of the lighthouse is real." |
| | |
| | North Pacific grey whales travel 20,000 km (12,400 mile) round trip between their southern breeding grounds off Baja California, Mexico to their northern feeding grounds. The migrating whales pass by the western coastline of BC, Canada every year. |
| | For as long as we can remember this mural has stayed with us from our childhood. Mural depicts Ce-who-latza, chief of the Lyakun Village on Shingle Point, Valdez Island, and former Chemainus Band Chief Clay-sa-luke; and a Salish woman. |
| | Windsor was originally known as Pisiquid which translate to"Junction of Waters" in the language of the Mi'kmaq First Nation people. Celebrating their past and present are over 12 murals located throughout the community. This one gets recognition as it turns an older building into an entire city street mural. |
| | The entire building is painted as a street scene, store fronts and people going about their day in 1902. It is a beautiful transformation of an older building into a wonderful piece of art. |
| | Buffalo jump mural depicting a First Nation hunting party. Historic digs in 1959 discovered bones and artifacts over 2000 years old. Before the First Nation people had guns they would coax herds of buffalo off the end of steep cliffs. |
| | Called the Saamis Tepee. It towers at just over 65 metres (215 feet) looming over the Seven Persons Creek river valley and its coulees. Inside the Saamis Tepee are a series of 10 historic story board murals detailing the lives of the First Nation people. |
| | Over 90 world class murals celebrating the artwork of Canada's best artists like Tom Thomson and The Group of Seven. This one caught our eye because of its vivid colors. It is a mural celebrating the work of Lawren Harris's Northern Painting from 1924. |
| | In an alley way we discovered Old Town Dawson Creek. The walls painted in a series of nickel and dime stores from the days of the Gold Rush. It was as if we stepped back in time. |
| | This mural is a classic in Sidney, BC, Canada on Vancouver Island depicting the First Nation people of the region. The colors are jumping off the wall. |
https://www.ehcanadatravel.com/blog/wp-content/uploads/2013/06/banner.jpg
300
640
Greg "Gug" Girard
https://www.ehcanadatravel.com/blog/wp-content/uploads/2020/01/ehcanada-logo-340x156-1.png
Greg "Gug" Girard
2013-06-07 11:09:38
2018-06-10 11:04:57
Best Outdoor Murals of Canada