eh Rockin' River Music Festival Weekend – 2019
Merritt BC Canada hosts one of Western Canada's biggest country music festivals
"Time for eh Canada Travel to cowboy-up and country-out this coming August long weekend."
Off we go again to "cowboy-up" at the Rockin' River Music Festival in Merritt BC Canada in the beautiful Nicola Valley. From August 1st to 4th, 2019 we get to enjoy the many talents of country music stars and country music legends as they converge on the community of Merritt BC Canada for the Rockin' River Music Festival.
Music To River. Repeat.
From the first to the fourth of August we will dance, swing our hips, sing as loud as we can, and stomp our feet all night. Then, during the next day, we recover with everyone else soaking up the sun from the river while running, back and forth, to the stage for our favorite acts. On August 5th we all stumble out of the country music venue, big bags under our eyes, from the lack of sleep. If this sounds like fun, and it is, there are still various passes available to attend the Rockin River Music Festival? Here is a summary blog with videos of our 2018 country music experience in Merritt if you do not believe me.
Yes To The Rockin River Music Festival
We love getting invited to events every year as we grow and expand our travel brand of fun online. However, the Rockin' River Music Festival, is one event we plan for and hope to be accepted back year after year. As long as they keep letting us hang around, we are good to go.
Then There Are The Country Music Fans
We have met some fabulous people at the country music festival who are running the show, playing at the show and attending the show. Actually, there are too many new faces to mention here, in fear I might forget someone and then get an ear full from them. Better to say, you know who you are, and we look forward to connected with again at this year's celebration of country music in Merritt BC.
No Longer Country Music Rookies
Last year, we were rookies in the Rockin River Music Festival experience. First timers. Yup, that was us then, but not now. Last year we enjoyed meeting and greeting some of the nicest country music stars and bands at the festival. Class acts for sure.
Meet Kenny Hess
The promoter of the Rockin River Music Festival is a popular Canadian country musician by the name of Kenny Hess. I have gotten to know Kenny a bit over time and have had the opportunity to see him rock it out on the stage too. He will be playing again this year at the festival. Here is one of his videos when he was touring our backyard recently …
Rockin' With The Donny Grubb Band
The other band which I really enjoyed are the southern boys from USA called the Donny Grubb Band. They play out of the Hitching Post Saloon in Apache Junction Arizona.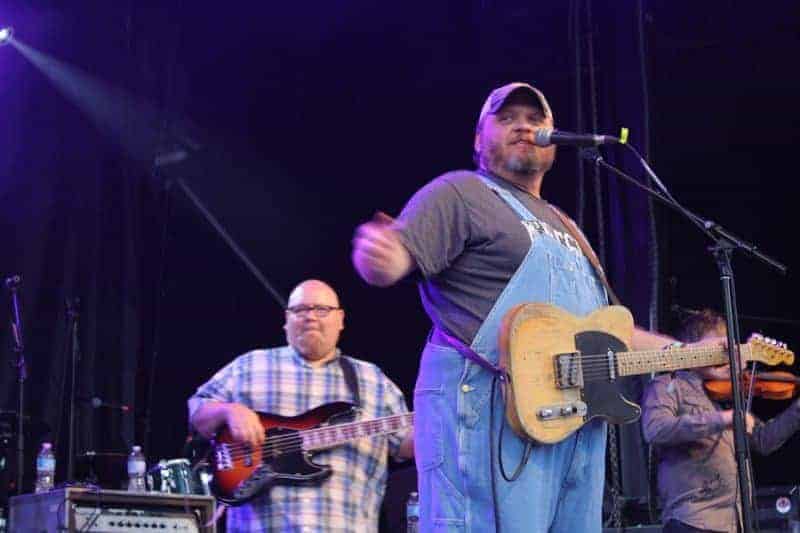 Dressed in overalls, a baseball cap Donny leads his band as they bang out their songs. We were fortunate to be entertained by Donny at the river as well as he played at the river stage. These guys rocked it. Check out this video.
Best Followers On Social Media Period
We pulled off a pretty good show ourselves last year with all our photos, videos and social media posts we pounded out in a 4 day period. Our videos were viewed just under 3000 times on Facebook alone! That is where you guys come in. Because we have the BEST FOLLOWERS ON SOCIAL MEDIA period!
2019 Country Music Line Up
There are more great acts performing for the country music fans who are visiting the Nicola Valley this year for this event. Many of them I have not had the privilege of watching before. The headliner on August 1st is Brett Kissel. On August 2nd the Brothers Osborne entertain us. On the 3rd Jason Aldean hits the stage as the headliner. And closing out the show on August 4th is Old Dominion.
Join Us Or Follow Us. Make A Decision.
If your are coming or planning to come to the Rockin River Music Festival then drop by the Maple Leaf RV, if you can track us down, and say hi.
Follow us on Facebook at @ehcanadatravel.com and on our live feed on our website at www.ehCanadaTravel.com for coverage of the 4 day event.
Time for eh Canada Travel to cowboy-up and country-out this coming August long weekend.
Rockin River Music Festival – 2019
Please share. Sorry for having to ask. Thank you.
It Is A Canadian Thing
https://www.ehcanadatravel.com/blog/wp-content/uploads/2019/07/pre-blog-banner.jpg
320
640
Greg "Gug" Girard
https://www.ehcanadatravel.com/blog/wp-content/uploads/2020/01/ehcanada-logo-340x156-1.png
Greg "Gug" Girard
2019-07-26 12:07:16
2019-07-26 12:07:17
eh Rockin' River Music Festival Weekend – 2019