Mother Nature on Mother's Day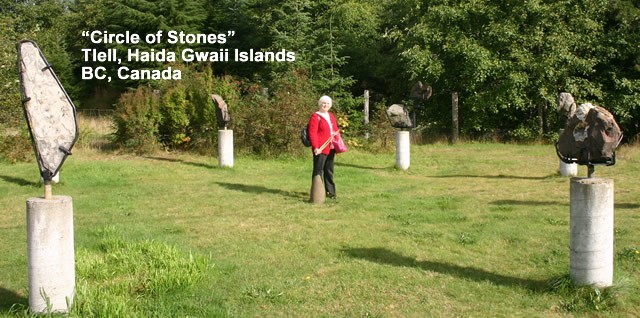 Mothers Day is just around the corner and many people, like us, would like to say thank you again to our Moms and that we love you very much.  Mothers deserve something special, something meaningful and something memorable on Mother's Day – a special experience, something priceless. But what?
Many give flowers. Some give chocolates. Some get together as a family.  Some send a card or call long distance with praises of love and appreciation. All are good!
Some, like us, when near Ma's home on Mother's Day, try to share travel and adventure with our Mom.  We try to plan a new experience with her to add to her vast storage locker of life experiences. It can be something as beautiful as a road trip or a day outdoors sightseeing a park, museum, historic site, attraction or  flower garden.
We know, from our experience, that many Moms love to go on road trips. Ours certainly does. Our last road trip treated Mom to an adventure on Queen Charlotte Islands on the westcoast of British Columbia, Canada. Haida Gwaii has always been on Mom's list of road trips. She always talked about visiting the beaches, villages, parks and browsing First Nation art galleries and learning more about their culture and traditions. So she did.
On the Queen Charlotte Islands (now referred to as Haida Gwaii) we hiked, we walked beaches, we took pictures, we looked for treasure, we visited First Nation art and we laughed.  To this day she still talks about the trip. Next on Moms "Bucket List" is dog sledding. Tall order, but you never know who you will meet and click with in the tourism industry?
Some Mothers are more able than others but, one thing is for sure, Mothers love scenery and quality time with their family. But not all families are wealthy in money… but many may be rich in quality of life because of their outdoor time.  And to most Moms it is not the money, it is the company and surroundings that counts.
So… here is a good suggestion for all who love there Moms and are on a budget. Why not take them to a beautiful flower garden with a smorgasbord of colors, scents and scenery.
Canada has many beautiful gardens throughout the country. Moms like flowers and most would  love a day with their family walking paths in a flower garden with fountains, sightseeing benches and scenery. And maybe…  depending on the weather…  have a picnic.
So  here is a list to get you thinking. It is a list of "free admission" flower gardens. One for each province in Western  Canada. If you are within a days drive, give it some thought.
Beacon Hill Park in Victoria, British Columbia :
The park has been a Victoria fixture for decades located two blocks from the Inner Harbour in downtown Victoria. Since 1882, the park is often the highlight of many who visit Victoria, BC because of the gardens, walking paths, scenery, the ponds and the birds. The manicured park is like a field of dreams and is a popular area for Mothers Day walks. The sprawling 200+ acre park has ponds, fountains, birdwatching, carriage rides and various viewing benches and picnic tables. [ more information ]
Cascade of Time Gardens in Banff, Alberta :
The park covers 12 acres and is shaped by a series of tiered floral beds with over 50,000 flowers. There are archways, ponds and fountains, stone pathways and rock steps throughout the gardens. There are viewing benches, gazebos, a park building and shelters located along most of the paths – most under the cover of trees hidden from the sun. Established in 1935, the park building on the property was the first national park building in Canada. It was built from materials of the area and the gardens were meant to be a reminder of the geological history of the Rocky Mountains [ more information ]
Queen Gardens in Wascana Park in Regina, Saskatchewan :
Queens Gardens is part of Wascana Park which surrounds Wascana Lake and follows Wascana Creek. It is one of the TOP 5 largest urban parks in Canada measuring over 931 hectares (2300 acres).
Within the boundaries of Wascana Park there are over 9.5 kilometres of paved pathways. The trails connect to picnic sites, activity areas, attractions, recreation facilities, tour companies, lookouts and monuments. Wascana Park is home to some of Regina's most popular local attractions like the Legislative Building which is fronted by the beautiful  Queens Gardens. [ more information ]
English Gardens in Assiniboine Park, Winnipeg, Manitoba :
The gardens are impeccably manicured and maintained to the highest of standards, keeping with the traditions of an English style garden. The gardens measure over 1.2 hectares (3 acres). They were created in 1926 and are home to a wide selection of trees, shrubs, annual and perennial flowers. There are paved pathways which explore the gardens leading to potting plants, fountains, statues, ponds and flower beds. Along some of the paths are sitting benches so one can slow down and smell the roses as they say.  [ information COMING SOON on our new ManitobaEH.ca Travel Website ]
What gardens would you add to this list?
https://www.ehcanadatravel.com/blog/wp-content/uploads/2012/04/mothers-day-ma.jpg
318
640
Greg "Gug" Girard
https://www.ehcanadatravel.com/blog/wp-content/uploads/2020/01/ehcanada-logo-340x156-1.png
Greg "Gug" Girard
2012-05-12 11:10:36
2014-09-15 17:01:39
Mother Nature on Mother's Day