Best Beaches in Atlantic Canada that you may not have heard of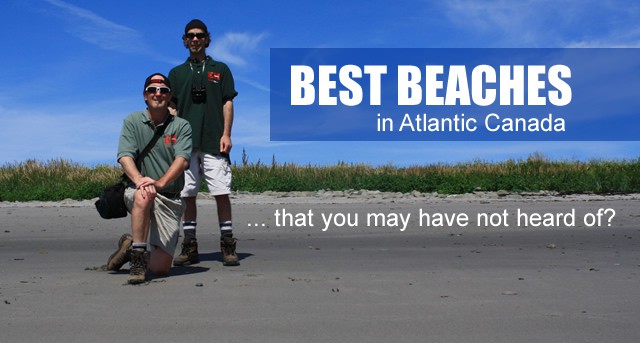 Best Beaches in Atlantic Canada
Beaches of Newfoundland, Nova Scotia, Prince Edward Island and New Brunswick Canada
"What are the best beaches in Atlantic Canada that you may have not heard of and are worth checking out?"
What are the best beaches in Atlantic Canada? But not just any beach either. What are the best beaches in Atlantic Canada that you may have not heard of and are worth checking out? That is a good question to ask, right! The reason why we think this is a great list is because so many media publications keep recycling the same beaches over and over again. Nope… not this blogger. Lets show you some other beaches which are real sweet.
One of the benefits of my brothers and I blog and our website ehCanadaTravel.com is that all beaches are painted with the same brush. This enables you, the traveller, to make your own decisions on where you want to beach yourself and for whatever reasons. Plus… we are always cheering for the under dog and that applies to beaches too. Not to mention that most of these type of beaches have no crowds.
For you newbies trying to figure out our Canadian geography we can provide some insight. When we refer to Atlantic Canada we mean Eastern Canada and the provinces of Nova Scotia, New Brunswick, Prince Edward Island and Newfoundland. All of our Atlantic provinces are on the eastern coastline of Canada and are covered in an assortment of beaches, parks, trails, cliffs, historic sites and lighthouses.
Snow to Sand in Atlantic Canada
For some of us here in Western Canada, winter never really arrived, which is disappointing for us snow-hounds but what can you do? I mean who wears shorts and a t-shirt in January in Canada when it is 14 degrees. Everybody now-a-days including tourists. Gone are the days of the Crazy Canuck running around in a t-shirt, shorts and no shoes in -20 degree weather. At least this year anyway.
So since winter is being a drag and we just happen to be on the down-slope of the winter season we are starting to think sunshine thoughts. Yup, we turned the corner and now road trips, Frisbee, beach volleyball, hiking, camping on beaches keeps popping into our heads. If Mother Nature wants to play hard ball with her seasons then why not move onto the next season now? Forget Sprummer (Spring-Summer)! Why not start focusing on the "fun in the sun" summer lifestyle by sharing some of our best most memorable sandy beaches in Atlantic Canada that you may have not heard of? So we are.
Top 5 Beaches in Atlantic Canada
If we were to do it all over again (and we will sooner than later) what beaches would we want to revisit on our next go around in Atlantic Canada. But how about we throw in a twist to the equation. Instead of the same old beaches you see and hear about year after year, lets educate you this time with some beaches you may not of heard of.
Our Best Beaches in Atlantic Canada You Have Probably Not Heard Of
Newfoundland, Canada : King's Cove Trail, Harry's Harbour
Gotta put in some work if you want to access this private sandy beach. If you want a beach all to yourself in Newfoundland then a general rule to follow is that it will not be an easy access beach. This is a prime example. To reach the beach at the end of the King's Cove Trail located in Harry's Harbour Newfoundland you must hike for 5 kilometres. The trail explores treed forests before revealing some views and your beach paradise. Crossing your fingers you get it all to yourself! We did!
Learn more about King's Cove Trail, Harry's Harbour
Nova Scotia, Canada : Pomquet Beach, Antigonish
Pomquet Beach (Pomquet Beach Provincial Park) is a 3 kilometre white sandy beach near the community of Antigonish, Nova Scotia, Canada. The stunning white sandy beach is complimented by some boardwalk trails navigating over the sand dunes. This is a prime beach for beachcombing and sightseeing. Heck it is 3 kilometres long! What else do you want in a beach.
Learn more about Pomquet Beach, Antigonish
New Brunswick Canada: Dark Harbour, Grand Manan Island
Best at low tides. This beach we like for different reasons. It is not memorable to us on this list because of a beach. No, it is on the list because of the ambiance and throw-back of the surroundings. It is a sightseeing and exploring beach cove which includes an isthmus (seawall ) protecting the cove, rustic row of cottages and the row boats. It is a photographer's dream. A step back in time to when fishing villages were the norm on this island.
Learn more about Dark Harbour, Grand Manan Island
Prince Edward Island, Canada : Souris Beach, Souris, Prince Edward Island (PEI)
The beach enjoys views peering out over Colville Bay and when the tide is low visitors can explore for hundreds of metres from shore. It is amazing how far the tide recedes here. Many tourists arrive at low tide at the beach as it is famous for washing up sea glass. This is right off the main road in and out of Souris. It is very easy access and near the community services and shopping.
Learn more about Souris Beach, Souris PEI
Double Up Nova Scotia : Pond Cove, Brier Island
Pond Cove Beach and the Brier Island Nature Preserve are located, you guessed it, on Brier Island. Pond's Cove is a popular long sandy beach and hiking trail destination located on Digby Neck. The journey to this beach while driving is full of drop dead gorgeous scenery. The big bonus is that the cove is also a big birdwatching destination and home to a lighthouse. How can you go wrong with sand, birds and lighthouse? You can't.
Learn more about Pond Cove Beach
Best Beaches in Atlantic Canada
… the ones you may not of heard of and worth checking out.
---
Follow us on our website and social media for daily updates and some ehCanadaTravel.com highlights.
Canadian Travel Influencer post by :


– #37 Top 1000 Global Travel Bloggers – Global Rise (2019)
– Top 20 Canada Travel You Tuber to Watch – FeedSpot (2018)
– #4 Top 60 Canadian Travel Bloggers – BlogSpot (2018)
– #7 Top 100 Canadian Travel Bloggers – Flight Network (2017)

As Seen On:
CBC, Huffington Post, Canada.com, Nature Conservancy of Canada, Cottage Life Magazine, TravelTV.com, Travel Industry Today, Yukon Life, TAPS Magazine, HUB Magazine

Head Office
ehCanadaTravel.com
54-120 Finholm Street N.
Parksville, BC, Canada, v9p 1J5
https://www.ehcanadatravel.com/blog/wp-content/uploads/2019/01/best-beaches-atlantoc-canada-header.jpg
343
640
Greg "Gug" Girard
https://www.ehcanadatravel.com/blog/wp-content/uploads/2020/01/ehcanada-logo-340x156-1.png
Greg "Gug" Girard
2019-01-23 01:51:54
2019-07-18 15:14:12
Best Beaches in Atlantic Canada that you may not have heard of