Travel tips for parents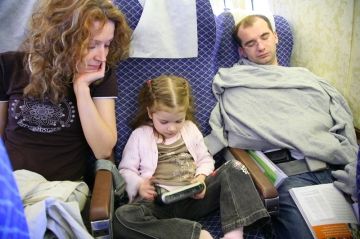 By Tania Moffat
It's your worst nightmare; you're confined on a plane with your sick or upset child. Other passengers share their looks of disdain as your child screams and cries through your distressed attempts to try and calm them down. You can't always avoid these embarrassing episodes but there are some things you can do to try and make your trip more enjoyable.
Flight Sanity Savers:
• Pack toys in your child's carry-on to keep them occupied, but avoid toys that are noisy, resemble weapons or have small parts that can get lost.
• Have a surprise toy, story or activity book to help hold your child's attention and pass the time. Don't forget to pack a spare "surprise" for the flight home.
• Take advantage of pre-boarding. It will save you the grief of trying to juggle everything and everyone through packed narrow aisles, giving you extra time to get settled.
• Check with your child and take them to the washroom periodically as unexpected turbulence or long line-ups can lead to accidents even with older children.
• Ear pain caused by changes in air pressure, especially during landing, affect children more than adults. Some measures to reduce ear pain include having infants breast feed, drink from a bottle or use a soother. Older children can practice yawning, swallowing, sucking on a lollipop, or chewing gum.
• While less common, air sickness can happen. Be prepared by having a change of clothes in your carry-on and an empty plastic bag for soiled clothing. If your child is feeling ill on the plane turn on the air vent above you and have them avoid reading or leaning forward.
Visit
www.thehubwinnipeg.com
for more information on travelling with children and other travel tips.
: