(XC Skiing) Cross Country Skiing Tips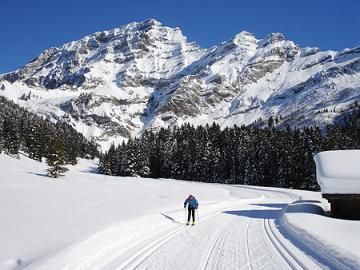 In many parts of Central, Eastern and Atlantic Canada the snow is falling, especially at the mid to higher elevations. The local trails and mid mountain paths are beginning to layer in the white stuff. For those of you reading this with only 1 hot season, we call that white stuff snow.

Contrary to some, mostly couch potatoes and people who have never taken up a winter activity, the season is a welcome sight.

You can feel the fresh, cool air in the breeze. The branches of trees wave at you as the snow falls off them. The snow muffles the noises of daily activity like a sponge. The silence is soothing. The landscape resembles a postcard.

The xc skis, are peaking out at you from the pile in the corner. They are staring you down begging you for a wax job. It is the season! The season for xc skiing. Here are some tips to make is as enjoyable as possible.

- Always cross country ski within your abilities.

- Confirm that lessons and rentals are available if need be. This is one sport you do not want to do without lessons.

- Research your local and neighboring xc ski destination (ski hill, nordic centre or backcountry lodge) as per your abilities and preferences.

- Bring sunglasses and ski goggles as the snow reflects light making it very bright on the eyes.

- Xc ski in groups, so there is some conversation, and a safety net for any unexpected accidents.

- Try to ski with someone who knows what they are doing for tips on xc skiing.

- Do not ski under the influence of alcohol.

- Dress slightly warmer than if you were heading out for a winter run. Do not over dress.

- Bring dry clothes for a change of clothes at the end of the day.

- Carry a lightweight backpack packed with water, snacks, tissues, a camera and cell phone.

- Pack electronics in plastic bag for protection from snow and wet conditions.

- Pack lip balm for chap lips.

- Lock your vehicle when out skiing.

- Pack a whistle for emergencies .

- For backcountry xc skiing always bring lighter, flare, flashlight and therma-blankets for emergencies.

- When back country xc skiing always check avalanche and weather reports.

- Remember to stop and enjoy the scenery. Always good idea to take advantage of any warming huts on the routes.

- Give right of way to more skilled xc skiers.

: