Gillies Conservation Area
Print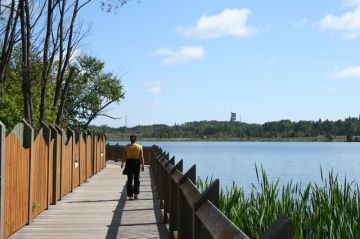 Park Amenities
:







Gillies Conservation Park is one of the most popular recreation trails and activity destinations in the community of Timmins, Ontario, Canada. The community of Timmins is located in the Wilderness Region in northeastern Ontario.
Within the Gillies Conservation Area is the very popular walking path named the Gillies Promenade. The promenade trail is a loop boardwalk and gravel trail which measures 2.5 kilometres long and circles around a 20 hectare lake called Gillies Lake.
The well maintained Gillies Promenade is an easy-going, level pathway which is suitable for all ages and fitness levels. The trail is considered wheelchair and baby stroller friendly.
The trail is a popular destination for birding, biking, walking, sightseeing, picnicking and dog walking (on leash). Located along the trail are day use picnic tables, information signs, viewing platforms and sightseeing benches.
During the summer months the trail is fashioned with lights for night walking.
Gillies Lake is also a destination for swimming. On site there are change rooms and a lifeguard during the summer months. Nearby is a children's playground, public washrooms and sports field.
Gillies Conservation Park also provides access to other recreation trails in the area including the Scout Rock and Lion's Walking Trails.
Explore Gillies Conservation Area Park, Timmins, Ontario, Canada, Wilderness Region
Address:
Gillies Conservation Area
How To Get ToGillies Conservation Area
:
How to Get Here:
Drive : Travel to the community of Timmins, Ontario. From downtown Timmins travel east on Algonquin Boulevard to Highway #655. Travel north on Hwy #655 following the signs to the parking lot. Other parking lot for the park is located on Brunette (Park) Road.
No reviews yet for Gillies Conservation Area.