Print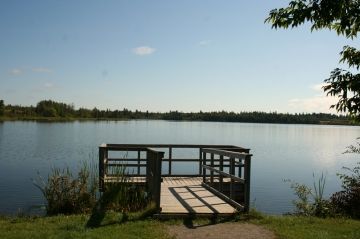 Difficulty:
Easy - Family
Park Amenities
:







Schumacher Lions Park is a small green space urban park situated near the shores of Pearl Lake in the neighbourhood of Schumacher which is part of the community of Timmins, Ontario, Canada. The community of Timmins is located in the Wilderness Region in northeastern Ontario.
The Schumacher Lions Park is designed around a "mining" theme complete with mining interpretive signs, a miner's memorial and some mining artifacts.
The green space park is a day use picnic area with picnic tables and a picnic shelter.
The open-air park (few trees) includes large grass lawns, sitting benches, a playground, a viewing platform and many flower gardens.
In the park is a small pond with a waterfall feature which is popular for nature photos and wedding pictures.
Sightseeing near the park provides visitors with views of Pearl Lake and a shoreline marsh area which is popular for birding.
To enjoy more views of the area the park includes an easy-going, single track trail. There are sightseeing benches located along the pathway.
This same trail provides access to other nearby trails in the area including the Gillies Promenade and the Scout Rock Trail.
The park is located near mining facilities therefore be aware of large trucks and mining equipment coming and going.
Explore Lions Park, Timmins, Ontario, Canada, Wilderness Region
How To Get ToLions Park
:
How to Get Here:
Drive : Travel to the community of Timmins, Ontario. From downtown Timmins travel east on Algonquin Boulevard - pass Highway #655 exit. Algonquin morphs into Schumacher Road. At McIntyre Road take a left and continue to the park.
No reviews yet for Lions Park.