Print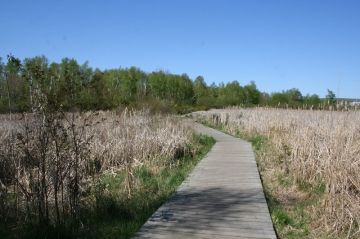 Trail Length:
5+ kilometres
Difficulty:
Easy - Family
Park Amenities
:




Laurier Woods Trails in North Bay, Ontario, Canada are year-round activity trails located in the wetlands of North Bay, Ontario.
The parkland is a protected parcel of land consisting of a forest and wetland environment measuring over 118 acres in size.
The protected park is home to many bird species and some small wildlife. It is said there are over 30+ bird species which nest in the parkland area.
Not only is the Laurier Woods Trails area protecting wildlife - it is also home to sensitive species of fauna and flora. In the large gravel parking lot is an information sign for identifying the flora and fauna in the region.
The trails are strictly used as hiking trails diring the summer and xc ski trails during the winter. NO biking permitted.
The Laurier Woods Trails are considered easy-going, fairly level and - therefore - suitable for all ages and abilities to enjoy.
The activity route is a combination of earthy paths and boardwalk trails measuring 5+ kilometres. Along the path are some developed lookout points and sightseeing benches.
Explore Laurier Woods Trails, North Bay, Northern Ontario, Canada
How To Get ToLaurier Woods
:
How to Get Here:
Travel north on Hwy 11/17 and make a left on Seymour Street and then a right on Franklin Street and then a left on Brule Street. Continue to the parking lot.
No reviews yet for Laurier Woods.