Print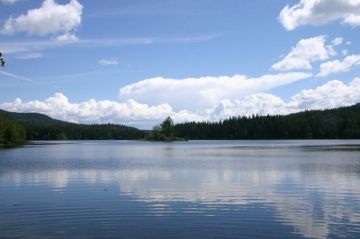 Park Amenities
:



Howard Lake near Village of Lone Butte, South Cariboo-Chilcotin Region, British Columbia, Canada is just one of the many lakes located in the Interlakes Highway region located east of the community of 100 Mile House, BC, Canada. The lake is a high elevation lake under deep forest cover situated in the hills above Canim Lake.
Howard Lake is part of a series of lakes in the region connected by an extensive network of gravel roads and hiking trails. The road system provides access to many lakes in the region. Accessing Howard Lake requires traveling a steep rugged road covered in loose gravel and some pot holes. For vehicles unable to navigate the steep gravel road there is a marked hiking trail on your right located just a couple hundred metres up the road leading to Howard Lake.
Fishing, boating, canoeing, kayaking, atving, dirt biking, wind surfing, wildlife viewing and camping are just a few of the activities enjoyed in the sunshine months. Cross country skiing, snowmobiling and ice fishing are the activities of choice during the winter months. However, the popular activities on and around Howard Lake include fishing, camping, hiking, canoeing and boating.
The campground on the west side of Howard Lake includes thirty wilderness campsites. Each one includes a picnic table and a fire pit. There is some pit toilets onsite also. Most of the campsites enjoy lakefront views while some of the campsites hide under the tree cover. There is a car top boat launch in the campground so to access the lake to fish for Rainbow and Lake Trout. There is a maximum 10 hp restriction on the lake for power boats.
Some of the popular trails in the area include the Donnely Lake, Canim-Mahood Falls and Deception Falls Hiking Trails.
Explore Howard Lake in 100 Mile House, South Cariboo-Chilcotin Region, British Columbia, Canada
How To Get ToHoward Lake
:
How to Get Here:
From 100 Mile House, travel north on Highway 97 for 1 kilometre and then turn right onto Canim Lake Rd. Continue driving until just before Canim Lake. Look for a fork in the road and stay right and continue driving on the south side of Canim for about 9 kilometres (6 mi.). Keep an eye out for a steep gravel road on your right marked with a directional sign pointing to Howard Lake. Follow this road to the lake.
No reviews yet for Howard Lake.