Happy Rolph's Bird Sanctuary & Petting Farm
Print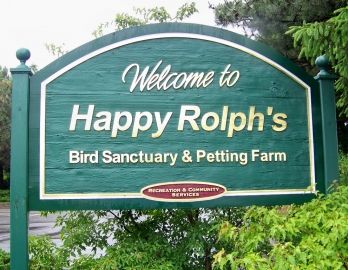 Park Size:
15 Acres
Difficulty:
Easy - Family
Park Amenities
:












Feed the happy animals, watch the swans and turtles (and noisy ducks), take a stroll by the lake, and then let the kids expend their energy on the very nice playground at Happy Rolph's.
Located on the shores of Lake Ontario in the city of St. Catharines in Southern Onario, Happy Rolph's Bird Sanctuary & Petting Farm is a beautiful park with no cost entry.
My favorite is the petting farm area where you'll find chickens, pigs, horses, rabbits, sheep, goats, llamas, as well as the visitors favorite, a donkey named 'Hoti' -- 'Don Quixote'.
For bird lovers there are hundreds of ducks and geese and beautiful native birds that live in and around the sanctuary's nearby pond. The pond's inlet, sheltered by evergreens and bordered by grassy banks and willow trees, offers food and shelter for the resident waterfowl and migratory birds.
Flower lovers, Happy Rolph's boasts one of Canadas most exotic collections of flowering rhododendrons. These showy pink flowers bloom from spring through to early summer and add a splash of color around the park.
A great place for a picnic or family gathering!
Be sure to follow the lovely trail winding through the park, it leads to a peaceful waterfront memorial to Canadian victims of the 9/11 terrorist attacks. Those that died are memorialized by twenty seven varieties of decidious trees that line the trail.
By the lake there is a wheelchair accessible walkway with benchs along the way that enable those walking on the trail to stop, relax and enjoy the beautiful vistas on the shores of Lake Ontario.
This trail is also linked to the Waterfront Trail, which stretches from Niagara to Trenton.
Please note: The animals will be at the park from Victoria Day to Thanksgiving dependent on weather
Address:
Happy Rolph's Bird Sanctuary & Petting Farm
How To Get ToHappy Rolph's Bird Sanctuary & Petting Farm
:
How to Get Here:
Take QEW Niagara, exit at Ontario Street
in St. Catharines (not Beamsville).
Go North on Ontario Street and continue as it turns into Lakeshore Rd.
Cross over the Welland Canal and turn left onto Read Road.
Go to the end of Read Road and Happy Rolph's is on your left.
No reviews yet for Happy Rolph's Bird Sanctuary & Petting Farm.