Print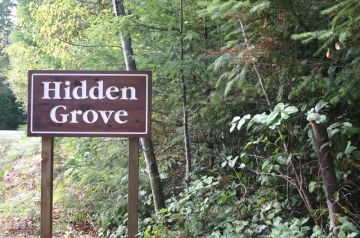 Difficulty:
Easy - Family
Park Amenities
:


Hidden Grove Trail is a trail with great plans in mind. Today it is widely used by bikers and hikers. Bikers for the jumps and drops. The walkers for the scenery and smells.

The Sunshine Coast trail leads through old growth forests, a marsh wetland and leads to the headwaters of Davis Creek. The Hidden Grove Trail section is just a small part of the bigger picture. The region is actually divided into four park sections.

The northern section is slated for mountain bikers with future designs for more mountain bike trails and a proposed technical training area with a parking lot. The trails would be used by both hikers and bikers.

The entrance section is located by the large hidden grove sign on the Sechelt Inlet Road leading toward Tuwanek. The short dirt road leads to a small parking lot and the beginning of the hiking trail. The area is a sensitive eco system so this portion is mainly for hikers, not mountain bikers.

The Hidden Grove section is adjacent to the entrance section. The Hidden Grove section is made up a trail exploring a grove of old growth forests, leading up to the viewpoint and the spur to the "Lonely Giant". A massive tree on its own.

The southern section leads to the Sechelt Heritage Forest.

Hidden Grove Trail, Sunshine Coast, Sechelt, British Columbia, Canada
Address:
Hidden Grove Trail
How To Get ToHidden Grove Trail
:
How to Get Here:
ollow Hwy 101 in Sechelt to the traffic light at Wharf Street and take a right. A couple blocks down take another right on to Porpoise Bay Road which turns into Sechelt Inlet Road. Continue for 4 km (2.5 mi.) and follow the signs to the Porpoise Bay Park. Continue driving past the park for 4 km and on your right you will see the Hidden Grove sign.
No reviews yet for Hidden Grove Trail.