Mayer Lake Picnic Grounds
Print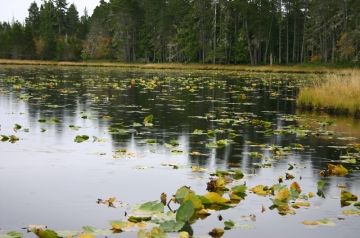 Park Amenities
:


Mayer Lake Picnic Grounds & Boat Launch
Mayer Lake of Haida Gwaii is the largest lake in the Naikoon Provincial Park on Graham Island near both the Tlell and Port Clements areas. Nestled on the southern tip of Mayer Lake is a small picnic campground park with a boat launch. The area is enclosed with a picnic area, small sandy beach and grassy area.

The Mayer Lake Picnic Grounds is an ideal area for swimming, family picnics, relaxing, fishing and launching a boat or canoe . But the park is mostly ideal for boaters as it has an easily accessible boat launch leading to the large fishing lake. Mayer Lake in Naikoon Provincial Park provides lots of room to play on the water.
Although the actual picnic area is very small, it still attracts many people in the summer months. Picnic tables are few, so bring blankets and chairs. The Mayer Lake Parking Lot is of a good size with ample room for boat trailers and parking. The lake frontage is a very short walk from the parking lot.
Mayer Lake Picnic Grounds in Naikoon Park, Haida-Gwaii, British Columbia, Canada
Address:
Mayer Lake Picnic Grounds
How To Get ToMayer Lake Picnic Grounds
:
How to Get Here:
Drive north for 41 kms on Hwy 16 from Skidegate BC Ferry Terminal on Graham Island to the region referred to as Tlell. When approaching Tlell on Hwy 16 keep a sharp eye out for Naikoon Park Headquarters, the Tlell Fire Hall and Wiggens Rd towards Port Clements. 5-8 minutes pass Tlell, on your right, will appear the Mayer Lake Provincial Park Sign near Gold Creek. If you have passed Kumdis River you have gone to far - turn back.
No reviews yet for Mayer Lake Picnic Grounds.