Print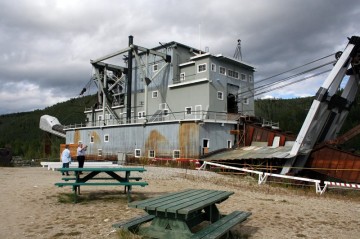 Difficulty:
Easy - Family
Park Amenities
:


Dredge 4
The majority of the big mining operations in the region employed these monster diggers. The machines would troll along the creeks and rivers sifting the soil searching for minerals. The dredge machines were like a walking assembly line with various parts performing various functions.
The dredge machines consisted of parts like the bucket excavator, revolving screen, gold saving sluice, tailings stacker, dredge pivot point, a floating barge and a control room.
The Dredge 4 machine stopped operating in 1960 by accident or was it faith. The unit was working away when it sunk itself in the soft sands of the Bonanza Creek. It remained stuck until 1990 when the government recovered the machine from its soggy grave and restored the unit as a National Historic Site of Canada. Today, there are picnic tables and interpretive signs at the site.
Dredge 4 is the largest wooden hulled, bucket line dredge in North America. It played a big part in the development history of the Yukon. Today it is on display in the mining back country hills near Dawson City. It is said to be one of the more popular attractions in Dawson City. We beg to differ.
Visit the Dredge 4, Dawson City, Yukon Territories, Canada
How To Get ToDredge 4
:
How to Get Here:
Travel to the community of Dawson City, Yukon Territory, Canada. From Dawson City travel east, away from the community, on the Klondike Highway . Just outside of town on your right is Bonanza Creek Road. Turn here. Continue on the gravel road for 12.3 kilometres (7.8 miles) to the Dredge 4 Site. It will be on your left.
No reviews yet for Dredge 4.