Johnstone Strait - Marine Route Vancouver Island
Print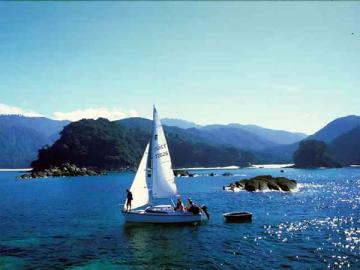 Park Amenities
:




The Johnstone Strait marine route is located along the inside passage of Vancouver Island, BC, Canada. It is a major marine transportation route between the island the mainland of British Columbia for sailboats, freighters, kayaks, tour companies, Coast Guard vessels, tug boats, cruise liners, BC Ferries and fishing boats.

For the leisure marine craft on the water some of the highlights include the Gulf Islands, the Tsitika River Estuary Watershed, Orcas in Robson Bight and Blackfish Sound and the Mamalilaculla First Nations Totem Poles.

Johnstone Strait is 110 kilometres long, 2.5 to 5 kilometers wide, and stretches from Campbell River (south) to Telegraph Cove (north). South of Johnstone Strait is the Discovery Passage.

The closest Vancouver Island communities to Johnstone Strait are Telegraph Cove (north) and Campbell River (south). The closest inhabited Gulf Islands are Quadra and Cortes islands on the south end of the strait and Alert Bay and Sointula on the north end of the strait.

All who navigate the strait need to be prepared. Not only is the marine traffic intense at times but there are natural elments to preapre for like currents, tide rips, heavy winds, changing weather conditions, and reefs. It always wise to wear your life jacket on the water, as well as, equip yourself with a gps, tidal charts, rain gear and navigation charts.

Here is how the currents work. The "flood current" flows down island toward Campbell River. The "ebb current" flows up island towards Haida Gwaii. And the "residual ebb surface" current increases the speed and strength of the current. It is this mixture of currents that creates the challenging conditions.

Wildlife sightings in Johnstone Strait are common. Some of the wildlife to watch for includes black bears, seals, sea lions and whales. In Johnstone Strait, especially in the areas of Robson Bight and Blackfish Sound, are some of the biggest concentrations of Orcas (Killer Whales).

Aside from what we already have mentioned some of the other destinations to chart include Blackney Passage, Telegraph Cove, Beaver Cove, Broughton Strait, Cormorant Island, Malcolm Island, Hanson Island and Hambledown Island.
Address:
Johnstone Strait - Marine Route Vancouver Island
How To Get ToJohnstone Strait - Marine Route Vancouver Island
:
How to Get Here:
Main Boat Launches located in Campbell River, Port McNeill, Telegraph Cove, Port Hardy.
No reviews yet for Johnstone Strait - Marine Route Vancouver Island.