Print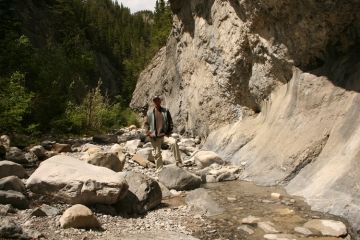 Park Amenities
:
In Canmore Alberta, Canada there is a popular adventure exploring a canyon surrounded by high cliff walls while walking a river bed of polished rocks and flat-rock called the Grotto Canyon Trail.
The Grotto Canyon Trail is a 3.5 kilometre loop route with an elevation gain of 60 metres. It should take 2 hours to complete depending on how curious you are. The canyon is home to pictographs dating back 8000 to 10,000 years old!
The Kananaskis trailhead is located in the parking lot of the Grotto Pond Day Use Recreation Site. The recreation site includes a few picnic tables, a pit toilet and a floating boardwalk bridge extending out onto the pond.
The trail begins by following along a single-track, gravel and pebbled rock path through a forest of trees before leading to a dried out creek bed. Across the creek, on the opposite bank, is a hiker symbol sign marking the trail.
The Kananaskis area trail then transform into a gravel access road before passing by an industrial plant. Continue on the road to the top of the hill. At the top veer right down a hiking trail to the entrance of the canyon marked by a single sitting bench.
At this point, hikers can continue to follow the trail along the canyon cliffs in the trees or walk along the canyon floor. From above views are limited and access down to the canyon are few. Most decide to stay low and walk the polished stones and flat rock of the canyon floor.
How to Get to the Grotto Canyon Trail
Travel towards the community of Canmore Alberta, Canada. From the village follow the Bow Valley Trail Highway east from Canmore to the Grotto Pond Day Use Area. Trailhead is in the parking lot.
Address:
Grotto Canyon Trail
How To Get ToGrotto Canyon Trail
:
No reviews yet for Grotto Canyon Trail.