Print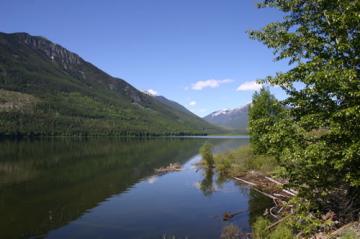 Park Size:
295 hectare
Difficulty:
Easy - Family
Park Amenities
:



St. Mary Lake is a recreation lake located west of the community of Kimberley, BC in the Kootenay region of British Columbia, Canada. The 295 hectare lake rests at an elevation of 930 metres above sea level and is located at the base of Bootleg Mountain.
St. Mary Lake is popular for fishing, canoeing, swimming and birdwatching. The roads and mountains around St. Mary Lake are popular for hiking, cycling, mountain biking and hiking. The St Mary River enters and exits the lake. The exit river is a good put- in point for rafting.
Fishing on the lake is best when trolling. Fish caught in the lake depends on the seasons. Fish in the lake include rainbow, bull trout and cutthroat, white fish and ling cod. Fishing in BC, Canada requires a anglers liscence.
On the north side of the lake, across the road from the lake, is the Kimberley Nature Park and the trailhead to the Alki Creek Hiking Trail.
St. Mary Lake, Kimberley, British Columbia, Canada in the Kootenays
How To Get ToSt. Mary Lake
:
How to Get Here:
Travel to the community of Kimberley, BC. From the community travel south for 5 kilometres to Marysville and then turn west on St Mary's Lake Road. Continue on St. Mary Lake Road for 16 kilometres. Road is paved until just before the lake and then the road turns gravel. The lake will be on your left.
No reviews yet for St. Mary Lake.