Exploring Dildo Newfoundland Quirky Charms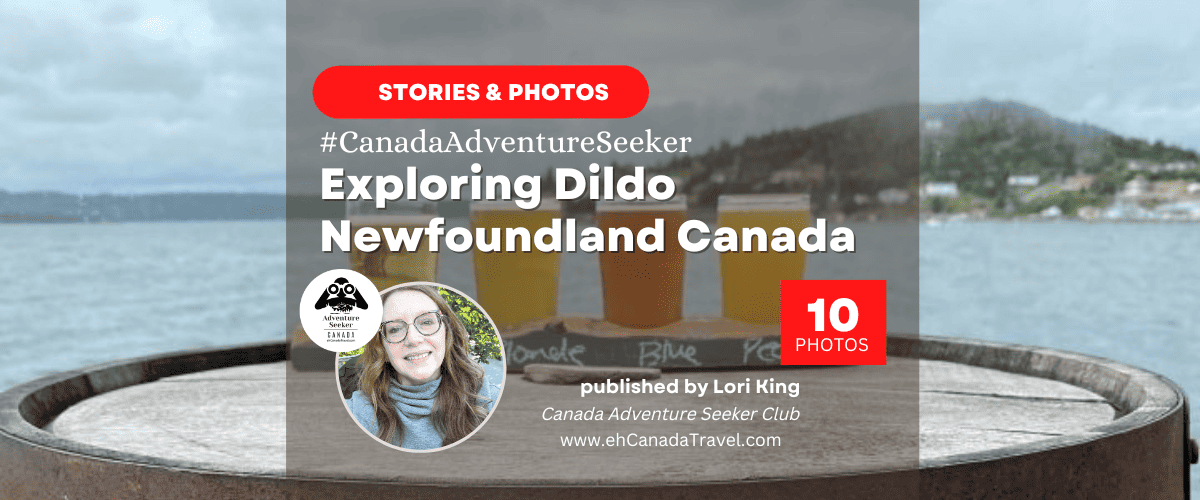 A Day Trip to Dildo Newfoundland and Labrador
There are so many things to explore in this charming town on the east coast of Canada
Exploring Dildo Newfoundland quirky charms is a must-do activity while visiting Newfoundland and Labrador. In 2019, the unofficial honorary mayor of Dildo, Jimmy Kimmel, famously said, "There's a little Dildo in everyone." Upon discovering a small town with an unusual and interesting name on social media, Jimmy was instantly intrigued. Dildo was soon featured on the Tonight Show, and Jimmy's sidekick Quillermo even visited to campaign for Jimmy's seat as mayor. Although he fell in love with the locals, Jimmy himself hasn't had the chance to visit and claim his title as honorary mayor. Dildo is just one of many towns in Newfoundland and Labrador with curious names that have sparked interest over the years, such as Jerry's Nose, Nanny's Hole, Come by Chance, Blow Me Down, Conception Bay, and Spreadeagle.
Exploring Dildo Newfoundland Starts with
its Name?
The origins of the town's name, Dildo, remains a mystery to the locals, but there are a few intriguing theories. One popular idea is that it originated from the Spanish term "Dos Islas," meaning "two islands," which later became Dildo Island. Consequently, the town of Dildo emerged. Others speculate that it came from the 18th-century term "dildo," which refers to a cylindrical object or nautical pin for the oar of a boat. Despite the eyebrow-raising connotations of the latter, the locals insist that their town was established long before the invention of any sex toys.

Rumor has it that the town has considered changing its name in the past, but thank goodness it hasn't. The unique name has undoubtedly contributed to the area's thriving tourism industry, making it a must-see destination for both locals and visitors alike. Whether you're drawn to the town's quirky name, stunning natural scenery, or vibrant community spirit, there's something for everyone in Dildo. Come see for yourself why exploring Dildo Newfoundland has captured the hearts of so many.
Enjoying craft beer is a must when visiting Dildo Newfoundland
The craft beer scene is becoming very trendy in Newfoundland and Labrador, especially in the town of Dildo. Having visited several craft breweries in the province, we've come to appreciate the unique qualities of each one. While each brewery has its own distinct vibe, there's something about The Dildo Brewing Company that stands out to me. Perhaps it's the breathtaking view of the ocean, which you can enjoy all day while listening to the soothing sound of the waves. Plus, they have a great selection of beers on tap, including their popular cider, "Snuggle up be" cider . I love all the cool names that they have for their beers too!

But it's not just the drinks that make The Dildo Brewing Company special. Their menu offers a mix of local favorites and classic pub grub-style items. We indulged in a small charcuterie board, which was the perfect snack to complement our drinks. And if you're lucky, you might even catch one of their live entertainment events. Just be sure to reserve your table ahead of time to avoid disappointment.
If you're in the St. Johns area, The Dildo Brewing Company is definitely worth a day trip. The drive is only about an hour, and the stunning view alone is worth the journey. So why not add it to your list of must-visit breweries in the province? You won't regret it!
Strolling and Shopping Local Will Surely Pass Away the Day in Dildo Newfoundland!

No trip to Dildo, Newfoundland is complete without taking a leisurely stroll around the charming cove and stopping in for some souvenirs. If you're in the market for some unique keepsakes to remember your visit, be sure to check out Nan and Pop's Dildo Souvenir Shop. While the name may cause a chuckle or two, this family-run store offers a wide range of Dildo-themed merchandise, including apparel, keychains, magnets, and more. And don't worry, there are no actual dildos for sale here, folks!

But Nan and Pop's isn't the only game in town when it comes to shopping in Dildo. There are several other local shops in the area worth a visit. Whether you're looking for locally-made crafts, delicious treats, or even more Dildo-themed merchandise from the brewery, you're sure to find something to pique your interest. And while you're out and about exploring the town, be sure to take in the stunning views of the harbor and keep an eye out for local wildlife, including bald eagles and whales. A day spent in Dildo is sure to be a memorable one, full of unique experiences and plenty of laughs.
Why not discover some local hiking while in the Dildo Area!

In addition to the charming town itself, there are also a couple of hiking trails in the area that you can incorporate into your adventure. If you're up for it, we highly recommend the Chance Cove Hiking Trail, which we did early one morning on our way to Dildo from St. John's. The drive to Chance Cove takes just over an hour, and the hike itself is around an hour and a half. Make sure to take your time and snap plenty of photos, and be sure to spend some time relaxing on the beach at the end of the trail. For more details on the Chance Cove Hiking Trail, be sure to check out my blog.

Another hiking option is Willie's Walking Trail, located in nearby New Harbour. With an estimated time of 1 hour and 30 minutes, you could easily tackle this trail on the same day as the Chance Cove hike. Willie's Walking Trail is a great choice for families, featuring delightful fairy gardens along the way and scenic coastal views. You might even spot Willie himself! Plus, there's a spot for a mug up, so you can enjoy a warm drink while taking in the beauty of your surroundings. Both of these trails are conveniently located near Dildo and would make for a fantastic day of outdoor adventure.
A Day Trip to Dildo Newfoundland and Labrador is worth the Drive
While visiting this charming little town you will be amazed by the stunning scenery! You must go to get the selfie of course and sample the craft beers at the ever so popular brewery. This day trip will be memorable for sure so what are you waiting for? For more great ideas on travel to our most wonderful province check out our website StaycationNL!
A Day Exploring Dildo Newfoundland
Exploring the charming town of Dildo., NL
---
Stay Informed
When you subscribe to the blog, we will send you an e-mail when there are new updates on the site so you wouldn't miss them.