Year In Review – eh Canada Travel Style
eh Canada Travel Top 10 Highlights For 2019.
Accolades & Best Moments Of 2019
No better time for a year in review eh Canada Travel style than now. I mean… come on, it is 2020 already! Seems like just yesterday, I was playing in a sand box with my brother and our Tonka trucks building sand castles, bridges, communities and dreams. What happened to the time? Hence why we here at eh Canada Travel like to think that the New Year is a good marker in life to be reminiscent and thankful about all the positive stories and people we have been fortunate enough to connect with in 2019. So here it goes!
A Year In Review Calls For A Movie
2019 was like so many other years gone by. It was full of super positives, as well as, saddled with a few challenging times. Call it a 90/10 split. Same story line as previous years just on a different stage with different characters. Most good! Some bad? In our version of a love, drama, horror and adventure movie, my Bro and I, are the characters on the front lines. We are always playing the good guys. A movie critics dream really.
Rainbow At The End Of The Tunnel
However, we always try to focus on the good news! We have grown the most since my brother and I returned 3 years ago from our 10 year study of small and rural Canadian communities. We are experiencing far more feel-good positive stories working with communities, our new partners and the army of participating front-line community businesses, non profits, volunteers, events and groups across Canada. Thank you for playing a part in our stories and experiences this year, and for joining us on this incredible journey we are all embarking on.
"We set the sail. You are the wind."
Greg Girard – just said it now. Pretty good eh.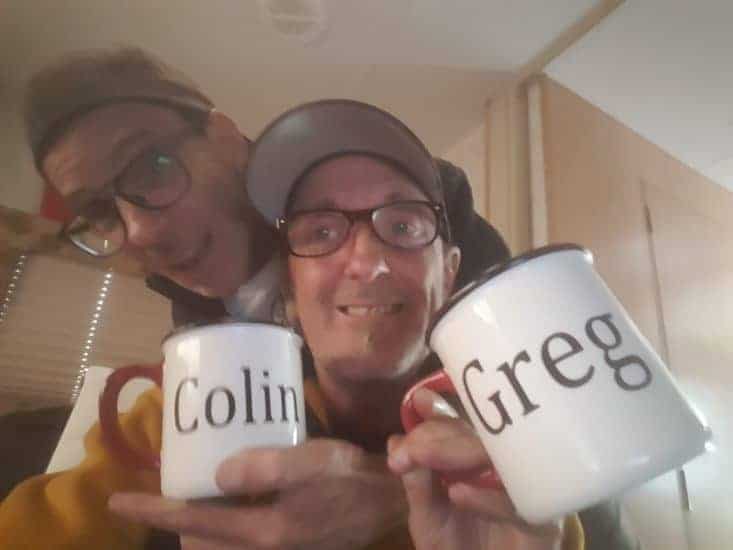 Here is a look back at our Top 10 Highlights For 2019.
GROWING: Canada's Top Travel Website Coming Soon
ehCanadaTravel.com was recognized as a "Top 20 Canada Travel Website To Watch" by FeedSpot. 18 on the list were Government funded tourism associations. We are not. Makes you think right?!
DETERMINED: Continue To Build Dreams
After the completion of our 10 year research study of small and rural Canadian communities we are continuing to develop, grow, and experiment with technology like never before! We are super excited about the results and analytics coming in as we continue to build-out our very unique ehCanadaTravel.com website. Our goal is to set up as many small and rural communities as we can for success.
GRATEFUL: Merritt, British Columbia, Canada
Tourism Nicola Valley located in Merritt BC Canada is the first region in Canada to adopt the "Experience Community Program".
AUTHENTIC: Experience Community Success
We launched our "pilot project" called "Experience Community" in Merritt BC, Canada. The Experience Nicola Valley Blogsite and the Experience Merritt Living Website is the first "Content Marketing Community Program" of its kind created for small communities. The program has exceeded all expectations in its first year of operation including increasing their online visibility (1500+ top 10 search results on top search engines) and association memberships (+512%).
AMAZING: National Recognition
The "Experience Community Program" was nominated for the Tourism Industry of Canada Tourism Innovation Award.
INSIGHTFUL: Top In The World
Our ehCanadaTravel.com Travel and Adventure Blog was ranked #23rd in the "Top 1000 Travel Bloggers In The World" by Global Rise.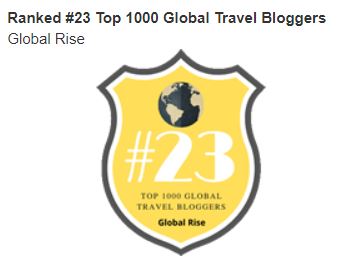 LOVE: Best In Canada
Our ehCanadaTravel.com Travel and Adventure Blog was voted as "Canada's Best Travel Blog" by Expertido.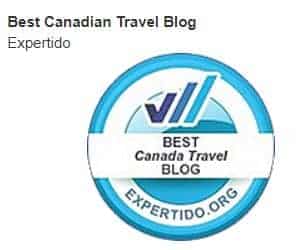 EXCITING: Summer Road Trip To Hixon BC
We could not have a year in review eh Canada Travel style without mentioning our first Maple Leaf RV adventure.
As you recall the summer of 2018 were the province-wide forest fires here in BC which cancelled much of our trip. However, 2019 saw us put some pavement behind us as we explored swaths of Northern BC while visiting with long time clients, now more like frients (friend-clients), at Canyon Creek Campground in Hixon BC Canada. We went waterfalling, golfing, hiking, played horseshoes, met some very good people, as well as, made some time to explore Vanderhoof, Prince George, Valemount and more. Great time to recharge our batteries.
THANKFUL: Island Of Summer
In the summer of 2019 we packed up base camp and headed back home for a few weeks to be with family and some good long-time friends. We are talking just-out-of-high-school friends too. Those special ones we all hold close. We enjoyed camping on the ocean, walking sandy beaches in the sand and basking under the sun. We parked in a friends driveway and bonded for days over beverages and bonfires. We BBQ'd with family. Shared horror stories from our youth, laughing til it hurts. Family and friends. What can I say.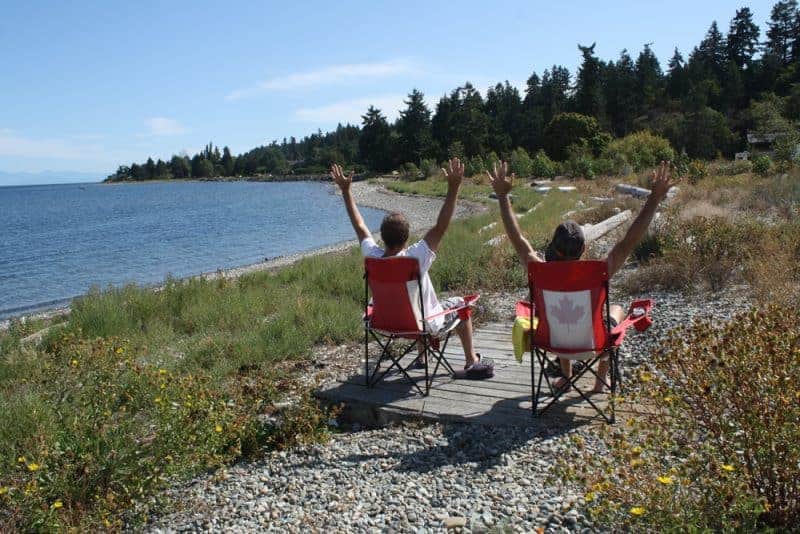 HUG IT OUT: Thankful For You!
Good bye 2019. Thank you for the laughs and lessons learned so we can move forward into 2020. We wish all of you many positive adventures in 2020! Thank you to those of you who support our efforts by spending your hard earn dollars advertising with us, and buying our community programs. A big shout out to the tens of thousands of you who follow us on social media. Thank you to the millions of travelers using our website to plan and book adventures. Thank you to the groups who seek change for asking us to speak to your membership. Thank you 2019 for all the great lessons and memories.
Year In Review – eh Canada Travel style
Looking back at eh Canada Travel in 2019
Share Your Adventure: #ehroadtrip
FOLLOW US: @ehcanadatravel
Canadian Travel Influencer post by : Greg Girard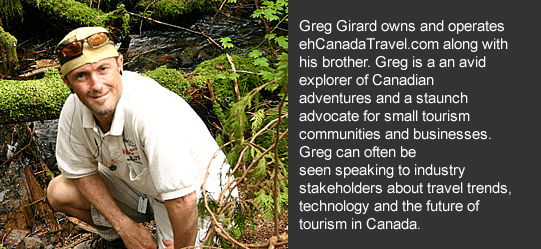 #23 Top 1000 Global Travel Bloggers – Global Rise
Best Canadian Blogger — Expertido 2020
Top 20 Canada Travel Websites to Watch – FeedSpot
#4 Top 60 Canadian Travel Bloggers – BlogSpot
#7 Top 100 Canadian Travel Bloggers – Flight Network
As Seen On: CBC, Huffington Post, Canada.com, Nature Conservancy of Canada, Cottage Life Magazine, TravelTV.com, Travel Industry Today, Yukon Life, TAPS Magazine, HUB Magazine
https://www.ehcanadatravel.com/blog/wp-content/uploads/2020/01/YIR.jpg
375
680
Greg "Gug" Girard
https://www.ehcanadatravel.com/blog/wp-content/uploads/2020/01/ehcanada-logo-340x156-1.png
Greg "Gug" Girard
2020-01-01 15:22:51
2020-01-03 13:35:41
Year In Review – eh Canada Travel Style