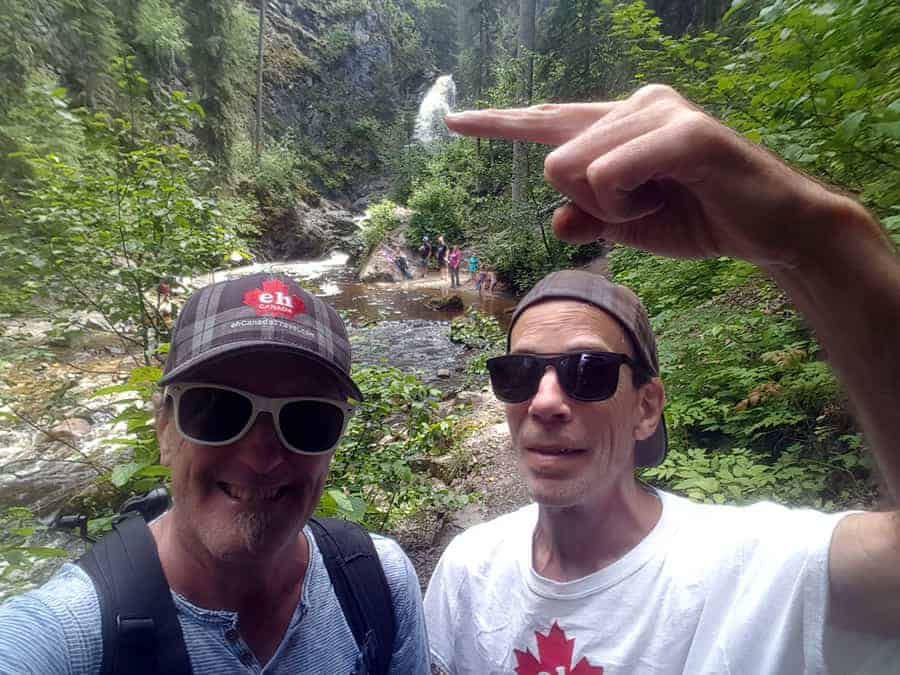 Time To Go Waterfalling in Hixon BC Canada
"I was thinking what a great photo I could get from the other side of the Hixon River. But then common sense set in, in the name of my brother."
A hike to Hixon Falls near the campground in the small community of Hixon BC Canada. Hixon is about 40 kilometres south of Prince George, BC. That was the plan today. A lot happened before the plan, as it usually does, but we can come back to that a bit later in another blog. Lets start our tale with the end of the day and work backwards. Lets talk Hixon Falls first.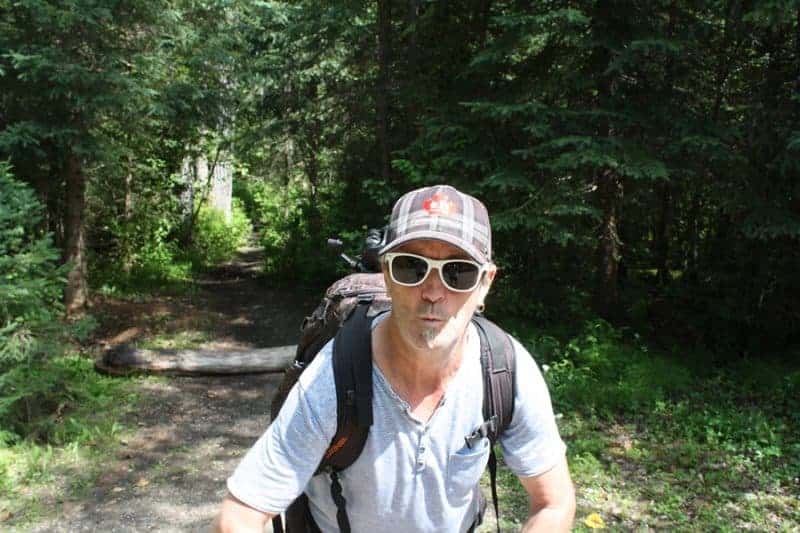 Which Way Did Hixon Falls Go?
"Where is it," Colin asks?
It seems finding the road was harder than it sounded. We soon concluded we went to far. Backtracking we saw that the road was about 100 metres from the entrance of the Canyon Creek Campground, our base camp. OMG! Duh! It was right near the bridge. In the tree was a sign reading Hixon Falls. Off we went laughing.
We Have Lift Off!
The journey to the trailhead follows a gravel road for about 4 kilometres. The road starts off fine, but then natures road crew served us up a ton of pot holes. Big too! Both Colin and I achieved lift off from our seats once. Yet, still we saw some expensive low clearance cars heading up to the falls. Hmmmm? OK then, it is your car?
Did You Say Mud Fight!
We soon arrived at the trailhead parking lot bruise free. We were told the trail is a short walk. Cool right. Ahhh, not so fast. What we did not think about is mud after the rains. So here we are, Colin and I, in sandals (this is me laughing) walking the muddy trail. Loving it really. But lets just say some toes and shins did not make it out mud free.
Hixon Falls Canyon
With all my "mudding" talk you would think it was a long hike. Nope. It is only about 200 metres to the falls. At Hixon Falls we were surprised at how tall and powerful the falls were. The setting was stunning. High canyon walls wallpapered in moss, the white water chutes, and calming sounds of Hixon River. People were swimming in protected pools, one guy was gold panning and all, including us were, smiling.
Plan B Or Not To Be?
However, from where we stood we could not get a good angle to see the waterfall. So what do you do? Plan B. The only way to go full frontal to the falls is if we jumped the churning white water chutes below us or… if we were feeling really stupid… we could try to walk the wet and slippery log placed across the chutes.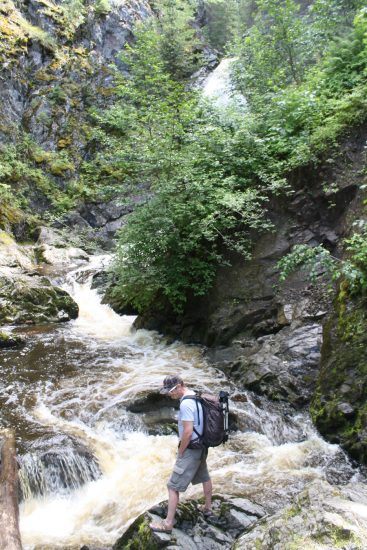 Log Trap
It was a trap! A dare even? Believe me I was eyeballing the log crossing too. I was thinking what a great photo I could get from the other side of the Hixon River. But then common sense set in, in the name of my brother. Good luv em! I was wearing sandals and the log was dripping wet, and…. Colin saying, "Don't be stupid" was good advice. So I bailed on the stupid Greg tricks show today.
"You were so excited about going on an adventure. Your eyes just lit up when you saw the chute crossing. Your eyes were saying yes."

Colin Girard talking to me about the chutes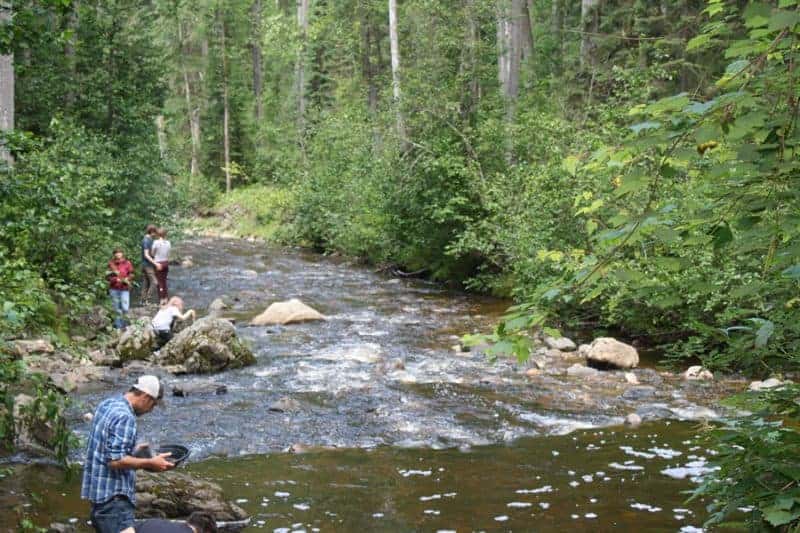 Backwards from Hixon Waterfall
All in all it felt great being outdoors, rumbling down gravel roads, in the bush walking paths and peaking around corners exploring. We later find out that the road going off to the right on the way to the falls takes you to the top of Hixon Falls. Might have to be a return trip.
Solving The World's Problems
This morning, before the falls, I wanted to attend my first morning coffee club with Merve (owner of the Canyon Creek Campground) and his boys. Supposedly they gather in the morning on the weekends and solve the world's problems. I wanted in on that action! How fun would that be with these guys. Way fun!
Coffee Council Adjourned
I sauntered up to the office, coffee in hand, and there is Merve (always happy this guy) with one of the boys. All the others had left already? What happen? I found out that the coffee council already convened and it starts at 7:30 not 9 in the morning. Tomorrow we save the world's problems! 7:30. 7:30; OK Greg get up at 7:30.
Hixon Falls and Waterfall Trail
Some questions I have for you…
What is your favorite waterfall in the region of Prince George?
Do you have a good coffee camping story to share?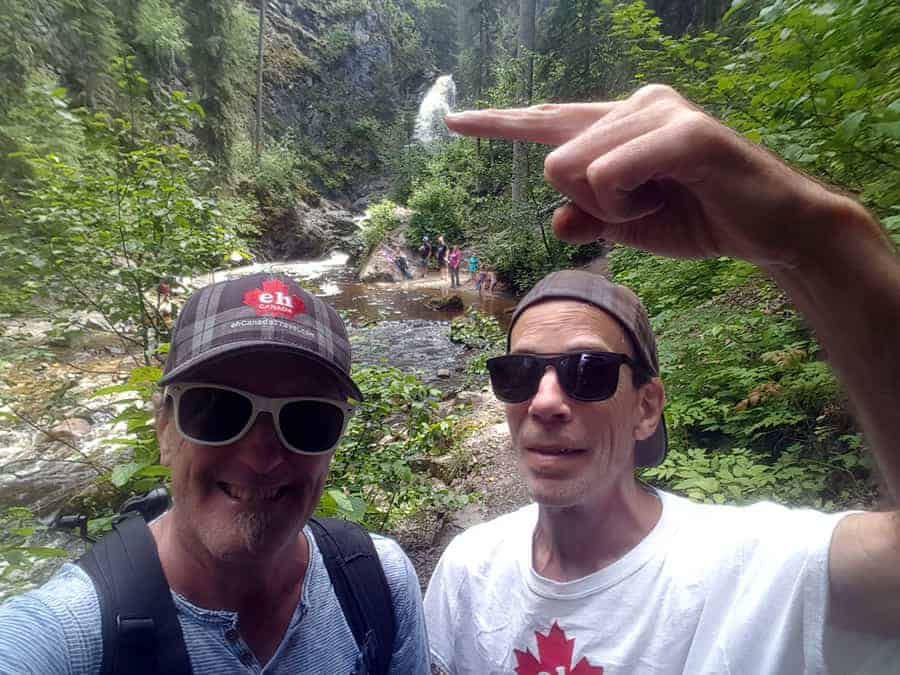 Please share. Sorry for asking. Thank you.
IT IS A CANADIAN THING
https://www.ehcanadatravel.com/blog/wp-content/uploads/2019/07/hixon-falls-colin-greg.jpg
675
900
Greg "Gug" Girard
https://www.ehcanadatravel.com/blog/wp-content/uploads/2020/01/ehcanada-logo-340x156-1.png
Greg "Gug" Girard
2019-07-25 14:41:13
2019-07-25 14:41:15
Hixon Waterfall