Merritt BC Fishing at Lundbom Lake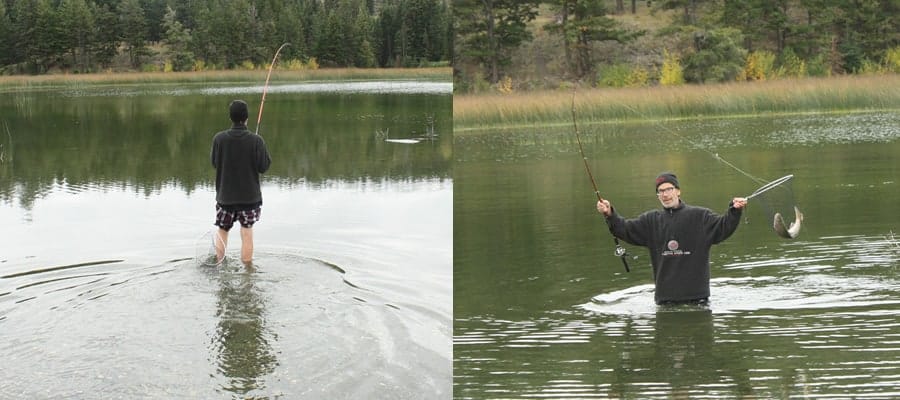 Nicola Valley backcountry fishing adventures
"A lake a day for as long as you stay"
Merritt BC fishing comes easy when you have over 200+ lakes to select from in and around the Nicola Valley. If anything, Merritt, B.C., Canada and the Nicola Valley should be on every lake fisherman's bucket list. For sure it should! The tag line around here is, "A Lake A Day For As Long As You Stay". That alone should, pretty much, sum it up nicely for any of you fishing enthusiast that may have some concerns. There is fish, heck on this recent visit to Lundbom Lake, Brother Fish (aka my brother and co founding partner Colin) has caught 11 rainbow trout so far. And these are not your minnows either. Nope. They are BBQ worthy.
The Big Merritt BC Fishing Question
The big question to ask yourself when coming to the Nicola Valley is which lake are you going to explore? The Experience Nicola Valley blog and Experience Merritt website is a good place to start, HOWEVER that is right after you planned and researched on our ehCanadaTravel.com website of course.
A Lake A Day For As Long As You Stay
The Merritt BC fishing lakes are all over the map here in the Nicola Valley. Some small. Some bigger. Some "way-out" remote. Some easier to access than others. But one thing is clear. All are in the backcountry surrounded by beautiful scenery and nature. And… most likely… you may even come across a cow or two on the journey to your lake. This is ranch country too you know.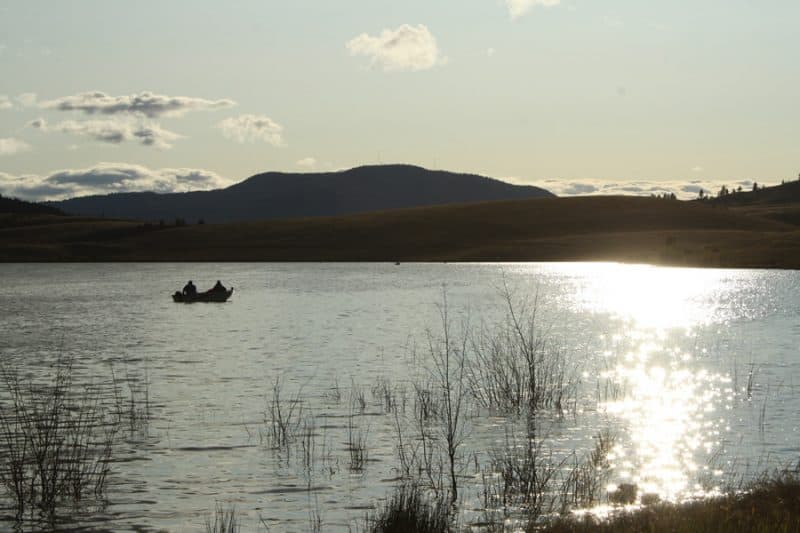 The Delayed Answer
Rambling again wasn't I? Let us get back to my original question. Basically I was asking, "… how do you select which of the Merritt BC fishing lakes to adventure with?"
I would guess the answer has a lot to do with what you are driving and what you plan on doing at the lake. In our case it is a motorhome pulling a jeep and we want camping, fishing and mountain biking. This criteria limits our options greatly because of the rig we are driving not the activities we seek. Of the hundreds of lakes, most are accessed by off roading, hiking, biking and horseback riding. Most of these lakes do not have power, sani-dumps, cell service and paved roads. There is definitely no resorts, B&Bs and McDonald"s drive thru. No these lakes are all "rough-neck" upscale with pit toilets and picnic tables. Others call it "off grid". We call it paradise.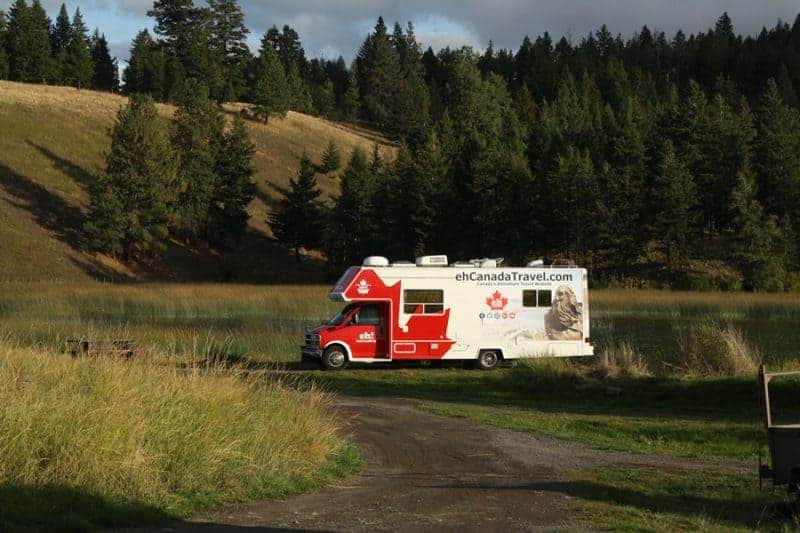 Is It Maple Leaf RV Friendly?
On this trip we are treating the Maple Leaf RV to a Merritt BC fishing adventure. The trick is to find a cool remote and peaceful lake that is RV access friendly. Hate to make a bad choice and rip the Maple Leaf RV to threads because we have been down that gravel road before too. On this adventure we wanted remote and easy access. Lundbom Lake is one of those easy access, RV friendly, Merritt BC fishing lakes in the backcountry wilderness regions of the Nicola Valley. This will be our third visit to this beautiful fishing lake and adventure destination. So stoked!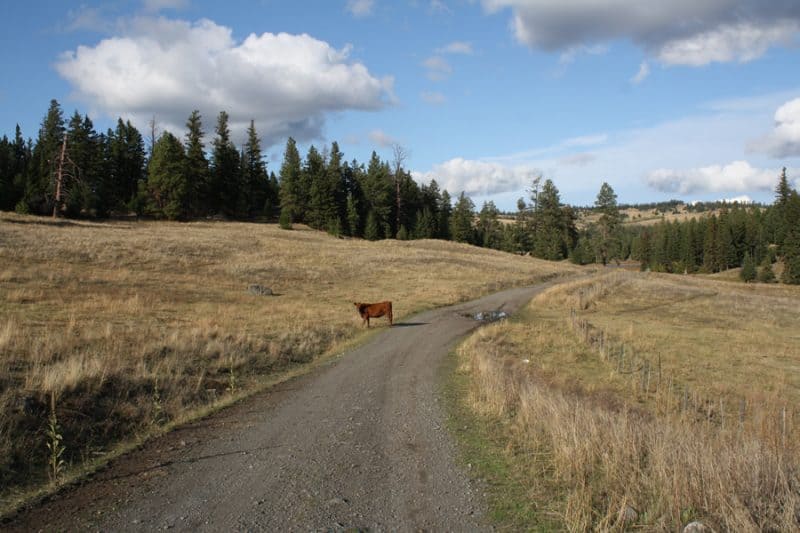 Here are a few points (some call them tips) why Lundbom Lake is a good adventure destination for us here at eh Canada Travel when selecting a "base camp" in the Nicola Valley backcountry.
THE FISHING ROCKS! Had to get that one out.
It is only a short 10 minute drive into Merritt BC Canada. Need groceries, propane, beverages, fishing supplies, etc? Town is only a "hop-skip-and-a-jump-away".
Lundbom Lake is accessible by motorhome! This is a big one. No one wants to risk damage or accident accessing a backcountry lake with their motorhome. Lundbom Lake's access gravel road is exceptional and very RV friendly. However, there are areas of large potholes and cattle guards, so the road can get bumpy and definitely your rig will enjoy some mud (rainy season) and dust (sunshine season).
Lakeside camping with picnic tables and fire pits. There are group sites , private sites, some hidden in the trees and some out in the open. All sizes and great selection.
Lundbom Lake is very quiet and peaceful. Little noise pollution during all 3 of our visits. That is all we have to base it on. So it works for us.
No light pollution either so you can see the stars. If you enjoy campfires and star gazing, Lundbom Lake will not disappoint. You can even see the Milky Way clearly which is a good indication of a good star gazing site.
People here are friendly. Wow. People stopping by to say hi is a common occurrence when you are dressed up in a Maple Leaf RV. On this trip we have met our neighbours on all sides. During the bonding process our camping neighbors have lent us their fishing kayak (Colin was in la-la land), left over some firewood and… best yet they have given us trout. That is like Gold out here.
Popular adventure destination for mountain biking, hiking and horseback riding. There are so many recreation trails leading into the backcountry wilderness and connecting with more remote lakes.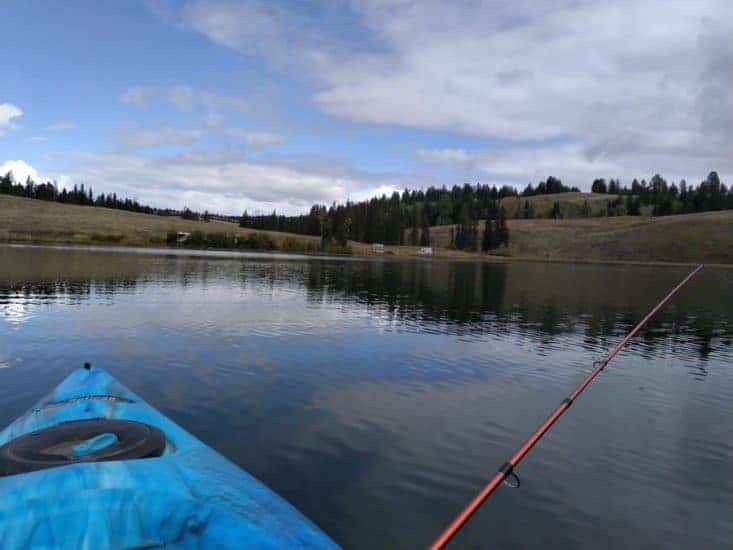 Preparing For Take Off
We have set up base camp before at Lundbom Lake near Merritt BC Canada. Therefore we know many of the positives. However, on this trip, our visit to Lundbom Lake is one of work and convenience prior to our "big move" into our annual winter accommodation. This year our winter base camp will be based out of Kamloops BC Canada. Look out Sun Peaks Ski Resort, here we come!
Things you should know about Merritt BC Fishing Lundbom Lake
Must have a fishing licence. Play fair! Your fishing fees help stock our lakes and maintain the area's fishing adventure industry.
Fishing Lundbom you CANNOT use bait and MUST USE barb-less hooks.
Allowed 2 fish a day. It is your chance for some Rainbow Trout! How yummy is that! With think two trout a day should meet your BBQ quota.
No ice fishing.
Camping fees start at $15 a night.
No power, no sani. You are self reliant at Lundbom Lake.
Pit toilets on site located throughout the campground.
Strong cell signal. However, few remote Merritt BC fishing lakes have cell phone service. The best smart phone reception at Lundbom Lake is on the open side of the lake. Cell service is weaker in the trees.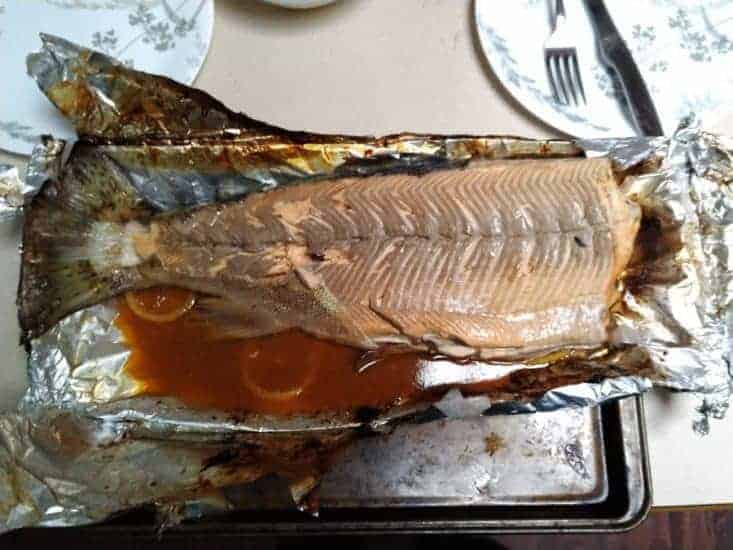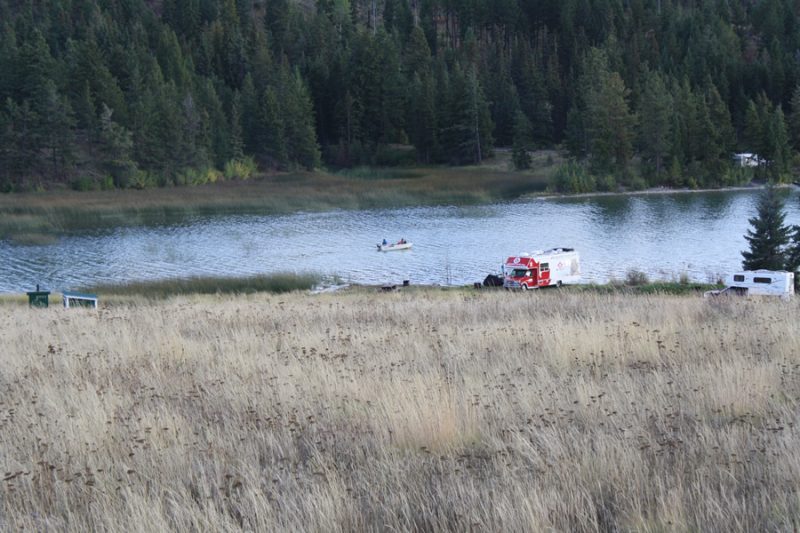 Merritt BC Fishing at Lundbom Lake is a hoot. So many positives for those of us who like to camp in the backcountry with little to no services.
For more information about Lundbom Lake go to www.ExperienceMerritt.com (webite) and www.ExperienceNicolaValley.com (blogsite)
Make sure to come back here and let us know how your fishing adventure at Lundbom Lake worked out for you. Cheers and may the fishing gods be with you!
PLEASE Share. SORRY For Asking. THANK YOU.
It is a Canadian Thing
Follow us on our website and social media for daily updates and some ehCanadaTravel.com highlights.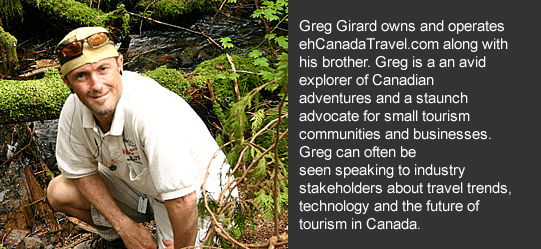 "Top 20 Canada Travel Websites to Follow" – Feed Spot (2019/20)
"Ranked #37 Top 1000 Global Travel Bloggers" – Global Rise (2019/20)
As Seen On: CBC, Huffington Post, Canada.com, Nature Conservancy of Canada, Cottage Life Magazine, TravelTV.com, Travel Industry Today, Yukon Life, TAPS Magazine, HUB Magazine

Head Office
ehCanadaTravel.com
54-120 Finholm Street N.
Parksville, BC, Canada, v9p 1J5Office Phone: 1.250.818.1925
Toll Free (Canada): 1.877.923.3764
Email: media@ehcanadatravel.com
https://www.ehcanadatravel.com/blog/wp-content/uploads/2019/09/colin-fishing.jpg
400
900
Greg "Gug" Girard
https://www.ehcanadatravel.com/blog/wp-content/uploads/2020/01/ehcanada-logo-340x156-1.png
Greg "Gug" Girard
2019-09-26 12:26:52
2020-11-16 00:23:35
Merritt BC Fishing at Lundbom Lake