WIN 3 Adventures in 3 Days in Kaslo, BC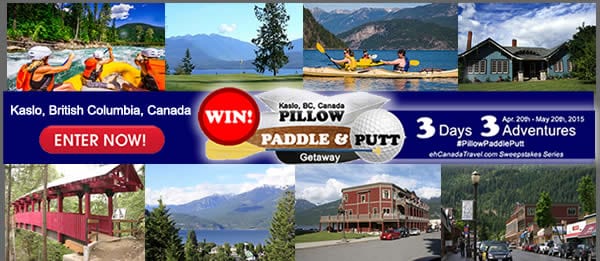 WIN 3 Adventures in 3 Days – 3 Nights
Kaslo, B.C., Canada
"The Pillow, Paddle & Putt Getaway (#pillowpaddleputt) is about exploring lakes and rivers, greens and tees, cabins and comforts."

We are over-the-top, some would say a tad excited, to share with you the next location of our "Somewhere, Canada Travel Sweepstakes Series". Rumor has it that many around the office, while mainly my brother/co founder, would do just about anything to win this adventure getaway located in the Kootenays of British Columbia, Canada. Hmmm… scary thought… hope he does not leave over this one just so he can qualify to enter?
We were very impressed with our social media followers during the pre-contest phase. They seem to have a good take on the geology and landmarks of BC, Canada as many were guessing the right location of the sweepstakes. Maybe there was a leak? Maybe that is how they guessed so well?
None the less, the geography and landmark identification of some of our website, blog, Facebook, Twitter and Google+ followers during the pre-contest photo hint series was very impressive.  So… it is only fitting, that a giant kudos goes out to all who guessed Kaslo, British Columbia, Canada correctly as the location of our next sweepstakes which we are calling the "Pillow, Paddle & Putt Getaway!" Love this name. And for you hash taggers out there please spread the word #pillowpaddleputt.
ehCanadaTravel.com and participating businesses are going to send a Winner and a Guest to Kaslo, British Columbia, Canada in the Kootenays for 3 nights accommodation (True Blue Lodge), a white water river rafting adventure for 2 (Lardeau River Adventures), a kayak or SUP adventure for 2 (Kaslo Kayaking) and a game of golf for 2 (Balfour Golf Course)! You have 3 days to complete 3 different adventures. After each day relax in a a self contained accommodation. We know comfort and relaxation will come in handy after each day of adventure.
The Kaslo BC Sweepstakes is called the, "Pillow, Paddle & Putt Getaway in Kaslo, BC, Canada". The sweepstakes starts April 20th, 2015 and runs until May 20th, 2015. A Winner is selected randomly and will be announced on or before May 25th. The Winner will be notified by email and will have 48 hours to comply to claim their prize.
Most any Canadian resident can enter once per day on the ehCanadaTravel.com website and/or FB page… plus one can enter on all of the Facebook pages and some websites of the participating businesses. But because of laws and politics, we cannot except entries from Quebec. I know we do not like it either, but rules are rules.
"Enter once a day, every day for a month to increase your chances of winning.
Then there are the BONUS ENTRIES too."
1. After you enter every day share our sweepstakes with your group of friends. You receive… ready… 10 BONUS ENTRIES for every friend who enters the sweepstakes coming from your share. So come on, get out there, and do some #pillowpaddleputt "schmoozing" with your friends.
2. After you enter every day visit and LIKE the Facebook Pages of the participating businesses and receive a coupon code for another 5 BONUS ENTRIES! Make sure you LIKE and support the pages of all the businesses who are playing for more entries.
So get out there and share, follow, tweet, text, talk #pillowpaddleputt. We thank all who play travel and adventure with us via our sweepstakes, by using our website and, most importantly, by talking about ehCanadaTravel.com and booking with our participating businesses. We hope you enter often and we wish everyone good luck!
GRAND PRIZE includes:
True Blue Lodge
(3 nights of accommodation) "Our Cabins were fully renovated in 2009 and feature full modern kitchens with ranges, microwave, coffee makers, kettles, toaster and pots and pans. Comfort features include queen feather beds, hardwood floors, HDTV, Ipod charger/player, laundry room. You can enjoy the use of the large courtyard with complimentary BBQ area. When in season help yourself to some fresh fruit from the many trees." True Blue Lodge were also selected by ehCanadaTravel.com as "Stars of Tourism". Check out their Video VLOG below or go to ehTV (You Tube).
ehCanadaTravel.com "Stars of Tourism" Video Vlog: www.ehcanadatravel.com/blog/2014/07/30/kaslo
True Blue Lodge Website: www.truebluelodge.com
True Blue Lodge Facebook Page: www.facebook.com/TrueBlueLodge
Lardeau River Adventures
(river rafting for 2) Win your adventure on the Upper River Rapid Spectacular! Located in the heart of the Kootenay Rockies, Lardeau River Adventures offers an unparalleled whitewater rafting experience on the pristine Lardeau River. Nestled between the Selkirk and Purcell mountains, the crystal waters of the Lardeau wind through breathtaking scenery that is home to an abundance of Rocky Mountain wildlife. With a mix of serene pools, mountain vistas and numerous class 2+ rapids, our 6 hour guided adventure is perfect for both the novice and experienced rafter!
Lardeau River Adventures Website: www.lardeauriveradventures.com
Lardeau River Adventures Facebook Page: www.facebook.com/lardeauriveradventures
Lardeau River Adventures Google+ Page: +Lardeauriveradventures
Kaslo Kayaking
(kayaking or SUP for 2) A fun filled half day of kayaking or SUPing on Kootenay Lake in the Kootenays of British Columbia, Canada. "Kaslo Kayaking is a small sea kayak touring outfit operating out of beautiful Kaslo BC.  They offer tours rentals and lessons.  They have single and tandem kayaks, and leave daily from Kaslo Beach. Our guides will set your mind at ease quickly and safely.  Before you know it you´ll,  be out in a colourful kayak enjoying Kootenay Lake the best way possible."
Kaslo Kayaking Website: www.kaslokayaking.com
Kaslo Kayaking Facebook Page: www.facebook.com/KasloKayaking
Kaslo Kayaking Twitter: @KasloKayaking
Balfour Golf Course
(round of golf with cart for 2) "Get away from it all and enjoy great golf in an unparalleled setting along the peaceful shores of Kootenay Lake at Balfour Golf Course. This magnificent 6510-yard golfing challenge, designed by Les Furber, features private lakefront meadows and majestic forests. Winding up and down through the Selkirk Mountains, stellar fairway and green conditions cap an awe-inspiring golfing experience."
Balfour Golf Course Website: www.golfbalfour.com
Balfour Golf Course Facebook Page: www.facebook.com/balfourgolfcourse
Balfour Golf Course Twitter: @golfbalfour
ABOUT OUR SWEEPSTAKES: The popular ehCanadaTravel.com "Somewhere, Canada Travel Sweepstakes Series" features Canadian tourism businesses and shares information about local and regional parks, trails, scenic destinations, historic sites, activities, landmarks, beaches and so much more. The sweepstakes series is designed to educate travelers about Canadian communities and the many vacation and adventure type of packages one can create when booking and planning Canada travel on ehCanadaTravel.com.
"Travelers CREATE VACATIONS with ehCanadaTravel.com, not just book a hotel room"
**********
ehCanadaTravel.com (eh Canada Travel & Adventure) is the largest travel and adventure website for booking and planning travel in Western and Northern Canada. The "eh Team" of eh Canada Travel & Adventure are a group of travel explorers, called Tourism Ambassadors, who research and write articles, take photos, create videos while researching the many opportunities in travel, tourism, history and adventure in Canada.
We are currently expanding into Eastern and Atlantic Canada.
It is OK to shout us out at public gatherings. It is encouraged and appreciated.
**********
https://www.ehcanadatravel.com/blog/wp-content/uploads/2015/04/ad.jpg
261
600
Greg "Gug" Girard
https://www.ehcanadatravel.com/blog/wp-content/uploads/2020/01/ehcanada-logo-340x156-1.png
Greg "Gug" Girard
2015-04-19 11:19:42
2015-11-30 14:17:11
WIN 3 Adventures in 3 Days in Kaslo, BC